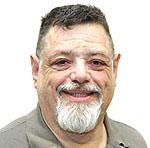 'I' ON CULTURE
David Fincher's new film Gone Girl raised a lot of expectations. The screenplay was by Gillian Flynn, who wrote the incredibly popular book. And happily, the film keeps to its ambivalent examination of marriage and personal relations. There are many victims in the movie, and the institution of marriage may be the chief casualty. The performances are superb, however, and Fincher keeps things moving so smoothly that the film works well.
Nick (Ben Affleck) is the central character at the start of the film. On his fifth anniversary, he starts the day commiserating with his twin sister Margo (Carrie Coon) about his life at the bar they jointly run. He comes home and finds broken furniture in his living room and his wife Amy (Rosamund Pike) missing. He calls the police and quickly finds himself the main target of suspicion. The story is told from his point of view interspersed with flashbacks of his marriage from Amy's diary. They had a romantic meeting. He was a successful writer; she wrote personality quizzes and was the model for a series of very popular children's books written by her parents. "They didn't adopt my life," Amy wisecracks, "they improved it."
Unfortunately, the recession cost both their jobs, and then Nick had to go to Missouri to take care of his sick mother. They moved into a new state where they knew almost no one and had few remaining financial resources. All of this led up to Amy's disappearance. Without going into spoilers about the twists and turns (and there are many of them), it seems clear that both members of the marriage were totally self-centered and both were quite willing to sacrifice the other for their own happiness. In far too many ways, marriage is portrayed as a battlefield, and in this case, each of the partners has goals. Nick has cheated on Amy, and Amy has her own plans for Nick — and they are particularly unpleasant.
About an hour into the movie, there is an abrupt shift in tone. The focus is more on Amy, and the film begins to flit into a savage satire on justice in an era of television news. Nick moves from a sympathetic victim to "the most hated man in America." He is condemned by almost everyone. And, well, you will have to read the book or see the film to learn more.
The performances are all very strong. Affleck gives his best performance in years; he is the central character, but his flaws are very visible. Fincher strips away all of his pretensions; Nick is shallow and, as he puts it, a "con man." We (at least the men) can feel empathy for him even while feeling a measure of disgust for elements of his behavior. Pike is also remarkably strong; her role is a remarkably unsympathetic one, and she creates a tour de force as a woman who will not be denied.
Coon is a standout as Nick's twin. She is clearly torn as she discovers time after time that he has lied while trying to maintain her loyalty to him. When he asks near the end of the film whether she's with him, she replies, "I've been with you even before we were born." Coon should receive an Oscar nomination for her work.
Neil Patrick Harris as one of Amy's former lovers does a really creepy turn, never quite saying anything threatening while somehow projecting menace. Tyler Perry almost steals the movie as a high-priced defense lawyer spending more time worrying about image than evidence. And everyone else is really good and gets a chance, even if a small one, to shine.
This is not an easy picture to like. The hero cheats on his wife, lies and makes the marriage dismal. The wife is a sociopath. The police look at Nick pretty much from the start as an obvious villain and never seem to chase down anything that might absolve him. The ending is far from a happy one. There is no nice resolution.
But this is a tight drama about adult topics. Yes, marriage is seen as a battle, a war. But it also provides enough ambiguity to create effective scenes, ones that often are funny. It is the best drama I have seen this year. I admire it, although it was not always a pleasant experience.