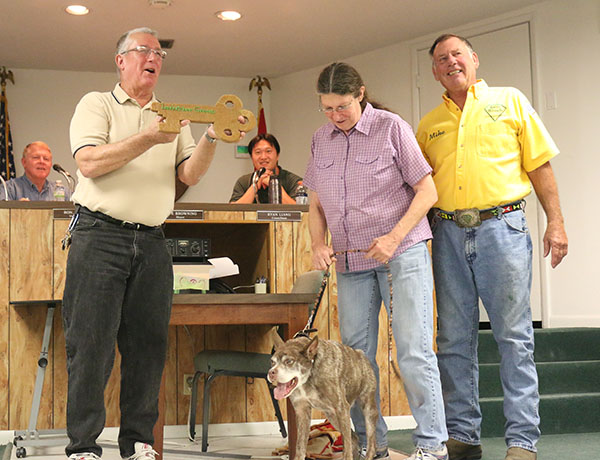 The Loxahatchee Groves Town Council went to the dogs on Tuesday. Well, actually, to just one dog — Quasi Modo, who placed second place in the "World's Ugliest Dog" contest held in California over the summer.
Quasi Modo's human companions, Dr. Ginnie Sayre and Michael Carroll, proudly accepted the "key" to the town as well as other special items on behalf of the canine, presented by Mayor Dave Browning.
"Quasi is an ambassador for our town," Browning said before introducing Sayre and Carroll. "They are really an example of unique people with great character who populate Loxahatchee Groves."
While in California for the contest, Sayre and Carroll headed over to Las Vegas and got married. "What do people do in Las Vegas? They gamble and get married, so we got married in Las Vegas," Sayre said.
Browning, speaking to a jovial crowd, said that there isn't really a key to the town, but presented Quasi Modo with a dog biscuit shaped like a key. "A very unique key for a very unique dog," he said, before also presenting Quasi with a new turtle-patterned leash and a certificate.
"I am used to being upstaged by an animal," Browning said. "This dog is more famous than any of us."
In other business:
• The council reviewed a letter of appreciation for Seminole Ridge High School's National Honor Society for continuing to help with road cleanups. The letter is being sent to sponsor Andrea Caceres-Santamaria. The formal recognition was proposed by Loxahatchee Groves Landowners' Association President Marge Herzog at the last meeting, and action was taken Tuesday night.
• The council, in a unanimous vote, adopted a resolution to confirm Bill Underwood as the new town manager.
Underwood, who owns the town's contracted management company, has taken over day to day operations from former Town Manager Mark Kutney.
According to Underwood, public agendas will be changing. In his administrative update, he thanked the council for the vote of confidence.
"My administrative update, generally, will be in writing to you in advance, so you'll have bullet points," Underwood said.
Browning requested those bullet points be on the agenda, so residents would be aware of items prior to the meetings, and Underwood agreed.
ABOVE: Mayor Dave Browning presents Quasi Modo with his key-shaped dog biscuit as owners Dr. Ginnie Sayre and Michael Carroll look on.