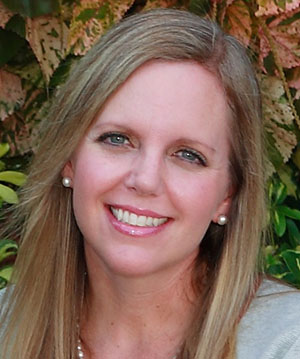 Democratic candidate Melissa McKinlay faces Republican nominee Andrew Schaller and independent candidate Michelle Santamaria in the Nov. 4 general election race for the District 6 seat on the Palm Beach County Commission.
The winner of the race will replace term-limited County Commissioner Jess Santamaria.
McKinlay secured the Democratic nomination by winning an Aug. 26 primary race against former Wellington Mayor Kathy Foster.
Raised in Florida since 1977, McKinlay attended Florida State University and has 20 years of experience in federal, state and local government. Additionally, she has 20 years of community service experience as a volunteer with many local and state organizations doing advocacy work on behalf of women, children and families.
When asked about her top accomplishments, McKinlay's answer came quickly.
"My kids. All three. My children are my greatest accomplishment," she said, of her three teens, Brady, 16; Macey, 14; and Annika, 13.
She cited the Butterfly House, a comprehensive sexual assault response care center on the campus of Wellington Regional Medical Center, as her top professional accomplishment.
"That was a very bipartisan project that I worked on," McKinlay said. "That project opened up in less than a year. It was a wonderful collaboration of public and private enterprise and bipartisan support working together, and I was the team lead. I take great pride in that."
With a multitude of endorsements from local leaders and organizations, McKinlay believes that she is the type of county commissioner that District 6 needs and is ready to take on the challenge.
"I have been in the trenches," she said. "I have been working these issues on behalf of the county now for the last four and a half years as a member of the county's legislative affairs team. I've got the community service background that neither one of my opponents has, and more importantly, I'm the only one in the race who is raising her family right here in this community. I think that we need that perspective on the county commission."
McKinlay explained that infrastructure improvements, economic development and prevention programs are some of her top goals, with a specific focus on the Glades.
"The communities in the far western reaches of this county have been forgotten," she said. "The school board has come in and done some good work on the elementary schools out there, but prevention programs, arts and culture, and you name it, they need it. That entire region has got to be a priority."
With Minto West and other developers waiting in the wings, growth management is a topic McKinlay would like to see the county improve upon and handle differently.
"We need to revisit the regional plans that were done years ago," she said. "We seem to be piecemealing what we do as far as regional development. I favor revisiting the regional plan and bringing it up to date and moving forward with a new plan. I'd like to see them do that differently."
Referencing her experience while working in Sarasota, and the budget process the county government goes through there, McKinlay said she'd like to see something similar occur in Palm Beach County.
"I would like our budget process to be even more transparent than it already is," she said. "We had every department that would come in, in late spring or early summer, and they would sit before the commission in workshops, all noticed so any member of the public and media could come, and they went through every department's budget and every constitutional officer's budget, line by line. And then they would develop it over the summer and then have the public hearings in September."
Growth management, infrastructure, economic development and public safety are the top issues in her campaign, McKinlay said.
With general budget cuts and cuts to the Palm Beach County Sheriff's Office budget proposed, both sensitive topics, McKinlay said she opposes them adamantly and offers focusing on growth management as a means to supplement budgets.
"One of the best ways where you can find more revenues is to promote economic development initiatives," she said. "The best way is to boost the economy in the areas that are hurting. Whether it be the Glades, whether it be Riviera Beach, or certain areas of West Palm Beach or Lake Worth. In high-crime areas, put new economic development in there and hopefully reduce a little bit of that crime. Close up some of those gaps, and that'll help all of the budgets. District 6 is an area that is experiencing some serious public safety issues. I cannot promote a cut to services in District 6 right now."
The Acreage, with only three officers, needs additional patrols, McKinlay said, and cutting money for crime fighting is not something she would support.
Proper leadership, however, is something McKinlay considers extremely important.
"In the last eight years, the one area of leadership that has been lacking in representation has been the District 6 commission seat," she said, adding that she would do more for the Glades than the incumbent. "I am fortunate to have support from all of the mayors in the Glades region. They are looking for somebody who can sit down and work with all three elected bodies. I have the connections in Tallahassee and in Washington to leverage our local tax dollars with state and federal funding. We did it this past session in Tallahassee with road and water and workforce development."
These are all issues that she has worked on from a county staff level.
"I believe, if we could have that elected person in that leadership role, really step up to the plate and back up what staff is doing, and already have those relationships, it would benefit the entire community," McKinlay said. "This isn't something you can cure overnight; this takes long-range planning… and I'm in it for the long haul."
Transportation issues, road financing and development, especially with the current requests for increased density from Minto West, are all issues that will not just go away, McKinlay said.
There is going to be development, she noted, so one option would be to try to negotiate and work with the developers to improve the proposals, increase drainage and work toward bettering community roads.
To support transportation fixes in the western communities, McKinlay said she would "fight like hell to make sure that the impact fees that are generated from any development here are spent on road developments here."
Demonstrations of McKinlay's leadership, she said, include her approach to Minto West and the State Road 7 extension.
"I support the extension of State Road 7. What people need to remember, is that District 6 represents a very small portion of the City of West Palm Beach," she said. "You can't just forget one part of your constituency because you might not agree 100 percent with them on an issue. I would represent them as well."
There are complications about concerns for the water supply as it relates to the SR 7 project, and if the results of testing show that concerns are unfounded, McKinlay would not support litigation from West Palm Beach. "Bottom line, when that study comes back, and if that study says it's OK to move forward, we need to move forward," she said.
The right answer to the challenge of Minto West is complicated, she said, because they have lobbyists, can incorporate and can go to Tallahassee if they do not like local decisions.
"The most important thing to remember about Minto West is that we need to make sure that local growth management decisions are handled locally," McKinlay said. "I want to handle it locally; I don't want to hand it off."
Though Palm Beach County has been said in recent years to have a "culture of corruption," McKinlay thinks the phrase is unfair and inaccurate.
"I would not call it a culture. Do you have elected officials in this county, and some employees at the municipal and the county level, that have done really stupid things and been called out and been sent to prison in some cases and served their time? Absolutely. You're going to have that in any organization," McKinlay said. "We've had an ethics commission and an inspector general that have been put in place — I fully support both of those — and I think that has done a lot to shed that image and help push us in the right direction."
Recently, there has been criticism from her opponents regarding financial issues in McKinlay's background, to which she explained that she was a stay-at-home mom for eight years, and after her divorce, she was back at work within two months.
"My former husband moved out and left us with a house," she said. "I don't think that is a reflection of my ability to lead on the county commission. I think it is an unfortunate circumstance of a very sad situation."
McKinlay believes her long list of supporters are a more accurate display of her leadership abilities.
"I think I am up to 65 different endorsements right now," she said. "That's tremendous community support. It speaks volumes about what people think my capabilities are to serve as a commissioner."
McKinlay cites her top strengths as her ability to build consensus, her bipartisan support and her long history of volunteer and community service. Her weakness, she said, is trying to get everything done.
"I take on a lot, and I empathize with people," she said. "I get what it's like to struggle and to live in the real world, and so I want to help as many people as I possibly can."
Raising a family in a community, 20 years of community service and the background of working at all three levels of government are what make McKinlay stand out against her competitors, she said.
With two opponents instead of one, McKinlay does not find the biggest challenge to be the number of candidates. "I think the dynamic in this race is not the number of candidates, it is the name recognition, and I think that's the biggest hurdle to overcome," she said.
McKinlay believes that voters should choose her because she is the most well-rounded, experienced candidate in the race.
"I am a mom, raising children in this community with a history of community service and a wonderful professional background in all three levels of government, which will be extremely beneficial to this district," she said. "I enjoy wide community bipartisan support, and I'm ready."