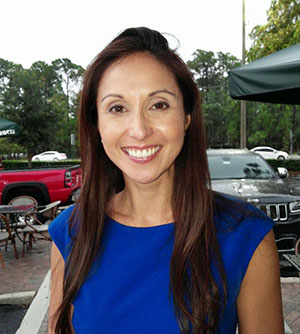 Michelle Santamaria, independent candidate for the District 6 seat on the Palm Beach County Commission, faces Democratic candidate Melissa McKinlay and Republican hopeful Andy Schaller in the general election Tuesday, Nov. 4.
The three candidates are vying to replace Santamaria's father, term-limited County Commissioner Jess Santamaria.
Santamaria grew up in Royal Palm Beach, moving here with her family when she was just 9 months old. She attended local schools, including H.L. Johnson Elementary School starting in the third grade when the school opened 30 years ago. She attended Cardinal Newman High School before heading to the University of Florida.
Earning her bachelor's degree in finance, Santamaria went on to study in Spain before earning her master's degree in business administration from Rollins College and a law degree from the Stetson University College of Law.
"I chose to go there versus all the other law schools I was accepted to because they were No. 1 in the nation for trial advocacy, and I've always had a speaker's background," she said. "I've always loved public speaking."
When she was earning her MBA, Santamaria considered a career in broadcasting and did an internship with a local CBS station in Orlando. "When I was in law school, I pursued what I love, which is trials," she said. "Stetson has the No. 1 trial team in the nation. I tried out for the team. Five percent of the students are on the team, and I was one of the lucky ones who made the team."
While in law school, she also did an internship conducting legal research for the investigative news department at ABC News in Tampa.
Upon graduation, Santamaria worked as a criminal prosecutor with the Palm Beach County State Attorney's Office for several years.
"When I left, I ended up creating a program based on what I saw in the courtroom," she said. "I saw that witnesses had problems testifying, and we'd lose cases occasionally because of it, so I developed my own course based on what would help witnesses testifying in court, so we wouldn't have people reoffending and having more victims in Palm Beach County."
Santamaria started the business locally in 2009 and it spread throughout Florida and across the nation. Within two years, it was picked up by the Federal Bureau of Investigation's Cellular Analysis Survey Team, which investigates violent crimes, including murder-for-hire and kidnapping.
She highlights her top accomplishments as receiving her three degrees, prosecuting criminals and getting them off the street, and starting her own company.
"Being a prosecutor is a very tough job, and I have a lot of admiration for the people who do it, because you will get a lot of pressure, even from people who are victims but recant," Santamaria said. "After I'm able to put the person away, then I'll get a call from the person saying, 'Thank you,' but you don't hear that on the front end."
Santamaria considers leaving a secure job to start her own company as another personal accomplishment.
"I knew that I wanted to provide a service and help law enforcement and prosecutors, but I never imagined it would go national," she said.
All the while, Santamaria grew up in a household where her father has worked to combat corruption in government for decades.
"I would hear conversations over and over again as far as the issues, including for instance with Madison Green," she recalled. "It was supposed to have open green space, when another developer at the time decided to build homes there."
Her father and other concerned citizens won a lawsuit against the Village of Royal Palm Beach. "That's why Madison Green has a golf course as opposed to many more homes there and a ton more traffic," Santamaria said.
She feels that she is the best candidate for the county commission because of her educational background and her work as a criminal prosecutor.
"I think that's important, because you're going to have to deal with contracts and you're going to have to deal with legal terms," Santamaria said. "Also, fighting crime and public safety are a tremendous element of protecting the community at large."
She added that she has been brought up in an environment that put honest government as its top priority. "I've witnessed how you can fight government to make things better," Santamaria said.
Development will continue to be the biggest issues for the area because District 6 is larger than all the other districts combined, she said. "It's the only one that has all this tremendous land to grow into," Santamaria said. "Once you make those decisions as far as growth, you can't take it back."
Her top goals if elected include protecting quality of life to include controlling growth and development, and promoting honesty in government.
Santamaria said she would continue a policy her father initiated of recording all private meetings with special-interest builders and developers, pointing out that he is the only county commissioner who does that.
"That is a hot-button issue where the public gets upset when there is too much growth and development, and yet they have private meetings, so what he does is audio record them, and he has been doing that for eight years," she said.
Santamaria has also offered to modernize the process by video streaming meetings with groups and special interests on the Internet. She said she would also encourage other commissioners to do the same.
"I think that will cut back on a lot of the issues as far as having communication with the builders, developers and the public," she said. "If we can confront it on the front end while the issues are still being talked about and formulated, then you're going to reduce your chances of having so much opposition closer to the vote from the citizens if they were involved in the process."
Increased transparency is one of the things she would like to see the county do differently.
"Even if nothing is going on, people would feel more comfortable and confident knowing they have the option to know what's going on," Santamaria said. "There's not the mystery of what's going on behind closed doors."
She also wants the county to get more involved in the Glades area.
"All of the areas on the coast are wealthier areas," she said. "The Glades needs a lot of help, and I would like to have the county assist them even more, because it's important to realize that we're not just seven individual districts. Whatever happens in each one is going to affect the others."
Santamaria said the top issue in this election is controlling overdevelopment.
"You've got Minto West, and right next door you've got GL Homes, then you've got Avenir, that's in another district, but it's right there," she said. "Whenever we discuss Minto, we should always at the same time discuss GL, because it's right next door, and it's actually larger. They're going to ask for whatever Minto is getting."
She thinks the Minto West project should remain at the previously approved 2,996 homes and 235,000 square feet of non-residential use, and that it should not receive the requested 4,500 homes and 2.1 million square feet of non-residential use.
Santamaria said the majority of citizens she has spoken to are on board with the original approval but against the increase.
Either way, she would like to see the county commission leveraging more money for impact fees from the developer to help mitigate transportation issues.
"Where is that money going to come from if the developer is not going to come up with impact fees?" she asked. "It's coming from our tax dollars."
Regarding solving transportation issues in the area, she said it all comes back to controlling growth and development.
Santamaria supports the completion of the State Road 7 extension on its planned route between Ibis and the West Palm Beach Water Catchment Area as long as there are no water quality issues. She pointed out that a recent study showed that there would be no issue with the water.
To help stimulate the economy and spur job growth, Santamaria said the county should invigorate its work on the inland port project. "There were promises made as far as finding jobs at the inland port," she said. "That hasn't happened. We've also got the old prison that isn't working."
Santamaria said the building is privately owned but that if the county could provide incentives to get an employer in there, they could provide education for workers.
"We've got a vast resource with Lake Okeechobee out in the Glades," she said. "It is completely untapped. It's almost a hidden gem, because there is world-class bass fishing out there. A large majority of the community doesn't utilize it."
To resolve funding issues with the Office of the Inspector General, she said it should be financed by the 0.25 percent vendor fee, which is being challenged in court by a group of municipalities.
She agrees with the county's current search process to find a new administrator to replace the retiring Bob Weisman. That process provides for a nationwide search with allowances to hire from within current staff.
"I think the person should have experience, whether it's across the nation or locally, someone who is 100 percent behind honesty in government and independence of the inspector general," Santamaria said. "I think that is key to having good government decisions that really represent what the people want and not what special interests want."
While some have made allegations of nepotism because she is the daughter of the current commissioner, Santamaria stressed that she has the same core values as her father and is not tied to any special interests.
"He has stood for honesty in government and has been able to prove that for eight years," she said. "With my father and having family money, that is a good thing. I'm not beholden to anyone, and he doesn't have any votes in front of the county commission, so there's no conflict of interest."
Santamaria said she chose to run as an independent rather than as a Democrat, like her father, because she wanted to remain consistent.
"I have always been 'no party affiliation,' and I didn't want to choose at the last minute as a strategic measure," she said. "I wanted to stay consistent and true to myself."
Santamaria said voters should choose her because she will truly represent what the people want, has no strings attached and has a strong background with deep community ties.