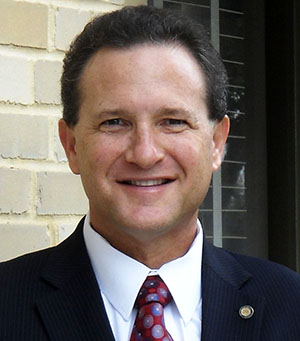 State Rep. Mark Pafford hopes to remain two more years in the role he has held since 2008, as a Democrat representing District 86, which covers Royal Palm Beach, Wellington and Loxahatchee Groves, along with several communities to the east.
With three terms under his belt, Pafford wants to remain in his seat for one more term, before he is set to retire due to term limits. "There's a lot of work to do, especially in terms of education and on environmental issues," he said.
Should he defeat Republican Stuart Mears on Nov. 4, Pafford is set to become minority leader, leading the Democratic caucus in the Florida House of Representatives.
Originally from Miami, Pafford moved to the area in 1993. He is married and has two children who are attending the University of Central Florida. Pafford earned a degree in public administration from Florida International University. He has spent most of his career working with nonprofit organizations. He currently serves as CEO of the Arthur R. Marshall Foundation for the Everglades.
Pafford's top three issues of the campaign are healthcare, education and the environment. "They all have an impact on the average person," he said.
The environment, and especially clean water, is a top issue for Pafford, who places great emphasis on his support for nature. "It's a public commodity," he said. "This isn't privately owned, and yet Florida has basically abandoned taking care of that incredible resource. We've spent a lot of money trying to get companies from out of the state to come here, and give them tax breaks, but we haven't paid attention to the most essential thing all of us need in our daily lives."
Efforts by the legislature to help Florida's economy are a good thing, he said, but planning is a problem. Pafford's suggestion is to bring back the millionaires' tax. "If you want to be bold, then let's talk about providing funding sources just to create students who will be able to work with high skills and be able to meet this new economy we're building outside of beaches and entertainment parks," he said.
This lack of planning is a problem, he said, which trickles down and affects the attractiveness of Florida to major companies. "We're not using common sense, and that's the type of thinking we need," Pafford said. "We don't plan at all in this state, and by not planning for education, for healthcare, by not allowing people to get married who may be of the same sex or not, you're preventing a lot of basic things that Fortune 500 companies already do."
While many of those companies might want to come to Florida, not having these things poses a problem.
"They want to know there's going be education, there's going to be a healthcare system. If they want to invest so much, then we need to build a more fertile base for these companies to come here," Pafford said. "Right now, it's ludicrous. We're providing most of the breaks to the high-end most wealthy."
Pafford has focused his work on representing and helping everyone in his district, from the small child who cannot focus in class because he's hungry to the elderly, the sick and even the furry woodland creatures that inhabit forests.
Working to defend those who cannot defend themselves isn't easy, but is forefront on Pafford's mind and is reflected in his actions.
"I've passed a number of good bills, but I think a lot of legislators get concerned about the amount of bills that they pass. There's another entire, larger side to being a member of the legislature, and that is to basically defend the people of your district against things that are very harmful," he said. "I think I've built a pretty good track record of doing that over six years."
Being outspoken hasn't been the best way to make friends, though. "The largest corporations have labeled me one of their biggest targets because of that, but at the end of the day, I only have the job of representing people," Pafford said. "If the title is representative, then I represent those people. They need it, because I think the legislature has done a very poor job about worrying about the average person's quality of life and their ability to earn a living."
Continuing to speak for those who cannot speak for themselves, representing those who need the most help, is integral to Pafford's approach, including his emphasis on protecting the environment. "I've come to the job with that kind of thinking in mind," he said.
One example is his view on water conservation. Pafford cites the continuous sea level rise he has seen, which is of grave concern. "Fifty percent of Broward's wells have saltwater. Ten percent of Palm Beach's wells have saltwater. We're seeing a dramatic impact right now, and yet there has been little attention," he said.
Florida's public education, on the other hand, has garnered attention. A pivotal part of this election to Pafford's opponent is the Common Core program, currently known as Florida Standards.
"Common Core is not anything so horrible. The problem with Common Core is that it was basically hijacked by the Tea Party," he said. "There is value. I think the problem is when you insert the Florida Standards… Common Core is built to be crafted, to fit a unique situation in every state. The problem is the high-stakes testing; the FCAT-type stuff. That is the major flaw in Florida right now."
Florida's education policy is faulty, Pafford said.
"We're not doing enough," he said. "I don't support corporate vouchers. I think charter schools have a role, but when you're spending $50 million to do maintenance outside of the normal public education system, then there's an issue when in my view, we're not spending enough."
Pafford has been against the cuts to education and has continually opposed the state budget. "I've never voted for a state budget in six years," he said. "The state budget does nothing for affordable housing. It did nothing for expansion of healthcare."
On the Nov. 4 ballot are three amendments: the first deals with land conservation, the second with medical marijuana and the third with judicial vacancies.
Pafford supports the first two but does not back the third. "I like the first one," he said. "It helps the legislature, where they've turned their back on environmental protection and safeguards, and it's very clear that the governor and the legislature have done that."
Personal relationships make it difficult to say no to the second amendment. "I know a lot of people whose normal pharmaceutical regimen is not working anymore," he said.
The third amendment, which would allow a lame-duck governor to prospectively appoint people to certain judicial vacancies, isn't fair, he said. "That's just not playing by the rules," Pafford asserted.
Regarding the Minto West project, Pafford thinks the area is going to be developed, but the question is how. "How is it developed, and is it going to be friendly enough for the areas — Royal Palm Beach, The Acreage, Wellington and Loxahatchee Groves?" he asked. "It's going to be a matter of density, which I think was the big issue, and it's going to be a matter of time."
Flooding in The Acreage, brought to the forefront after Tropical Storm Isaac in 2012, has been a big issue, and Pafford said that the work being done to fix the Corbett dike will go a long way to helping in future events. "It's a major issue that would destroy a tremendous amount of homes and lives, potentially, if you had some sort of hemorrhage in that dike," he said.
The expansion of State Road 7 is another controversial local issue. "It has been in the books forever," he said. "We've got to relieve some of those congested areas. The concern for destroying Grassy Waters, I think, is extremely limited. I think it's needed."
If re-elected, Pafford wants to help central Palm Beach County by making access to quality healthcare more accessible, explaining that he knows many individuals with unresolved healthcare issues because they are outside of the Medicaid system.
A self-proclaimed progressive, Pafford has found that his approach to politics isn't always popular, but is a strong reason for people to vote for him. "I'm very pragmatic, and, unfortunately, because of the partisan stuff, I get branded. But I'm OK with that," he said. "The people who know me up there, I think that's the strength, they understand that I'm a pretty reasonable person. But I will be truthful, and I hold people accountable. I've done the right thing. I think my track record is very clear. I've been extraordinarily consistent, and yet I've taken moments to work with the majority."
Consistency is key, and Pafford believes that is one of the reasons why he is the most qualified candidate for representing the district.
"People might say because I've been doing it for six years, that might make me more qualified," he said. "I've certainly been around long enough to know the issues very well. If I'm not using that, in my view, all of those tools, to end up voting for my constituents, then I might not be the right person."
However, he feels that he has established a good record supporting his constituents.
"All politics is local," he said. "I've tried to do that, and that means taking votes that have been sometimes independent; that means being myself and not forgetting where I came from. At the end of the day, it doesn't matter what leadership title I have. I still am elected from this district, and that's more important than anything else."
Even after his time in the legislature, Pafford plans to continue working for the issues he believes in.
"Every issue I mentioned today, you need people on the outside," he said. "You need people who can influence and who can call people out. I don't mind doing that. Everybody has this belief that you have to be elected to get great things done. That's not true. You can be a writer; you can be a member of an organization that advocates for something. I see that all the time. Sadly, a lot of politicians mess that up."
About his opponent, Mears, Pafford said he doesn't know him very well. While they seem to see many of the same problems, their solutions are different.
"I think it's great that there's a race," Pafford said. "It's a good thing. This process that we do every time is well worth it. People need to hear both sides. If they feel that something I have said is not what their priority is, they have that choice."
For more information, visit www.votemarkpafford.com.