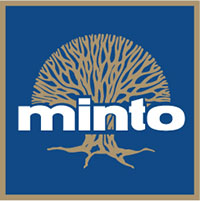 Minto West's petition for increased density comes up for a binding vote before the Palm Beach County Commission on Wednesday, Oct. 29, with additional time allotted on Thursday, Oct. 30 in anticipation of a long meeting.
After a seven-hour meeting in August, with lengthy staff and developer presentations and public comment, mostly against the density increase, Minto received transmittal approval from the commission on a 5-2 vote.
Minto is requesting a comprehensive plan text amendment that would allow consideration of plans to build 4,549 homes and up to 2.1 million square feet of non-residential uses on the 3,735-acre site.
The land is currently approved for 2,996 residential units and 235,000 square feet of non-residential use. The previous owner, Callery-Judge Grove, received the approval under provisions of the Agricultural Enclave Act, which was tailored by the state legislature for that specific piece of property. It entitles it to an intensity of development similar to what has grown up around it — namely, The Acreage and Loxahatchee Groves.
Due to recent changes in state law, the transmittal request in August would have gone to the state's Department of Economic Opportunity — formerly the Department of Community Affairs — for review even if the county commission voted against it.
Wednesday's commission vote is expected to be the final determination for the proposed density increase.
The Palm Beach County Zoning Commission recommended approval of the project's increased density on Oct. 10 in a 6-2 vote. The Palm Beach County Planning Commission recommended denial in a 12-1 vote.
The project has met with widespread public opposition, although some community leaders have shown interest in cooperating in order to reach a better bargaining position.
In mixed decisions, Royal Palm Beach, Loxahatchee Groves and the Indian Trail Improvement District approved resolutions opposing the density increases.
ITID approved a resolution opposing the increased density in a 4-1 decision where Supervisor Michelle Damone said she would prefer working with the county on a regional approach to widespread large-scale development plans for the area, including GL Homes west of The Acreage, Avenir on Northlake Blvd. and Highland Dunes on Southern Blvd.
Although ITID is officially opposed to the expansion, some supervisors say they would like to be in a position to get Persimmon Blvd. off the map as a future thoroughfare should the project go through.
ITID has contracted a team led by attorney Marty Perry, who has adopted a regional approach from the ITID standpoint of its effect on roads, drainage and recreation, which are the primary responsibilities of the district.
At the zoning commission meeting, Perry said ITID has no problem with the currently approved density but is concerned about the requested density increases' effect on traffic.
The Town of Loxahatchee Groves approved a resolution opposing the Minto West density increase in a 3-0 vote with one member absent and another recusing himself.
During the Royal Palm Beach discussion of the resolution opposing the increased density, Vice Mayor Dave Swift said he would like to be in a position to negotiate for increased use of 60th Street as opposed to Okeechobee Blvd. through the village.
Royal Palm Beach has long expressed concern of the Metropolitan Planning Organization's consideration of overpasses on Okeechobee Blvd. if traffic increases to a certain point.
Wellington considered a resolution opposing the expansion, but in a 3-2 decision neither endorsed nor opposed the project.
Minto representatives have said the development would remain 55 percent open space and that they would be able to offer significant drainage and water supply capacity to the surrounding area. They've also said there are plans to donate several hundred acres for recreation and other public uses.
If approved, the project will provide $50 million in proportionate share impact fee payments, $29 million in thoroughfare construction for Seminole Pratt Whitney Road and Persimmon Blvd., and $7.8 million for mitigation and payments for 60th Street North and Persimmon Blvd.
County staff has recommended approval of the request and also determined that the amendments, including "New Urbanism" concepts, comply with the provisions for an agricultural enclave.
For more information, visit www.pbcgov.com/pzb/minto.