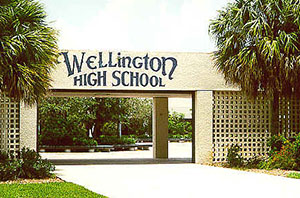 Wellington High School's DECA program and the Village of Wellington will host the popular Trunk or Treat program on Saturday, Oct. 25 at Wellington High School.
Trunk or Treat is a free, creative and energetic experience where rather than going door to door, children go trunk to trunk to get their treats.
"We always run out," said DECA Adviser Susan May, who encourages participating treat givers to bring as much candy as they can.
Hosted by the Village of Wellington, Wellington's DECA program, the Wellington Interfaith Group, Walgreens, the Palm Beach County Sheriff's Office and Palm Beach County Fire-Rescue, children age 10 and under will have a great time in a safe environment.
With more than 700 attendees last year, Trunk or Treat takes place Saturday, Oct. 25 in the Wellington High School parking lot from 3 to 5 p.m. Wellington High School is located at 2101 Greenview Shores Blvd.
DECA students will be dressing up as various characters, including princess favorites Elsa and Anna from Frozen, May said. Other favorites might make an appearance. Elementary school students will also be receiving notices from their school about the event.
With more than 40 cars signed up from high school students alone, there will be plenty to keep children busy. Aside from the candy cars, there will be face painting, bounce houses, a DJ and crafts.
Kids of all ages will enjoy dancing, the food trucks and having their pictures taken with Palm Beach County Fire-Rescue workers, who will also be giving out candy. Historically, everyone goes all-out for the afternoon's trunk contests and costume contests, so be ready for friendly, spooky fun.
The DECA program has approximately 350 students, whose enthusiasm for the event never fails to surprise May.
"We like seeing the smiles on the young kids' faces when they come trick-or-treating," she said. "They asked me in school the other day if they could dress up while participating and doing the face painting. The younger kids love seeing the big kids here."
Nonperishable food items will be collected at the event for Wellington's Hometown Holiday Food Drive.
Trunk or Treat is one of the many community outreach programs associated with Wellington's Safe Neighborhoods office. For more information, or to register a vehicle for Trunk or Treat, call Meridith Tuckwood at (561) 753-2476 or visit www.wellingtonfl.gov.