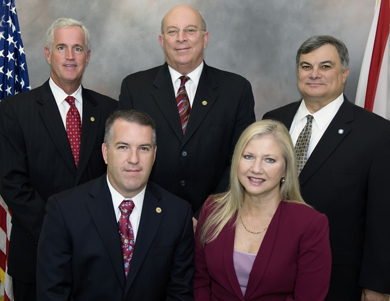 The Wellington Village Council gave preliminary approval Tuesday to an ordinance that would require rental licenses for single-family homes.
Planning & Development Services Director Tim Stillings said the ordinance adds single-family homes to an existing ordinance, which requires licenses for multi-family rentals.
Council members said the ordinance was intended primarily to control corporations that have been buying up large numbers of homes in Wellington and renting them, and are sometimes not diligent in maintaining the properties.
However, resident Christopher Gillette, who rents 11 homes in the village with his wife Dana, said the ordinance would put an undue burden on him.
"I work very hard with code enforcement," Gillette said. "I have a business tax receipt on all my properties, and you can go around and look at them."
Gillette said that costs are very important to his renters, who would absorb the additional license fees. "Most of these people cannot afford to buy homes," he said. "They have to have low-cost homes, and this is a function that I perform to keep the housing cost effective."
He added that changes could be made that would separate punishing the landlord and the tenant. "The objective is to keep the neighborhoods looking great," Gillette said.
Dana Gillette agreed with the village's goal to have a nice-looking community. "We want to live in a house that looks good ourselves, and a neighborhood that looks nice," she said. "We work hard to make that the case, and we would like everyone else to."
She felt the current codes strive to do that.
"We think there's already rules and laws in place, and that those are what should be used," she said. "You've got some things that the owner can control and some things the [renter] can control. The thing that really stuck in my craw was the parking and the garbage cans. We have a renter whose teenage son is parking in the swale quite a lot. We can nag the tenant, but that's pretty much all we can do. You can put a parking ticket on their car. I can't do that. If they don't pull their garbage can in, I might find out about it a couple of days later and go over there and do it for them, but you can put a fine on their water bill."
She said a complaint filed with the landlord is more difficult to enforce than citing the tenant.
"If I go to a judge and say, 'Evict this tenant because he is not pulling the garbage can in,' the judge isn't going to let me evict this tenant," she said. "I can't even turn off their water. If you put a fine on their water for misbehaving, you can turn off their water and get their attention."
Councilman Howard Coates asked the Gillettes if their problem is with the licensing or with the fee. "That's an issue that is being debated up here," he said.
Coates said the ordinance had been presented to the council as a tool for code enforcement .
"The whole purpose of the rental licensing process to begin with was to trigger an opportunity for the village to do inspections to insure that the rental properties were in code compliance," he said.
Christopher Gillette said he agreed with that concept, but felt that the village already had authority to do that because he has to comply with local codes.
While Coates noted that code officials cannot come onto the property other than to knock on the door, Gillette said he would have no problem with code officials coming onto his properties.
Councilman Matt Willhite said he appreciated the Gillettes' coming forward and their willingness to cooperate, but there are many landlords who are not cooperative.
"We have large corporations that are buying up to 120 houses," Willhite said. "That's where we run into the problem, and I just can't differentiate between a multi-family or single-family home."
Willhite added that the corporations are making a profitable business from both types of rentals, and code enforcement currently has no authority to come onto the property to do an inspection to insure that renters have a safe place to live.
Councilwoman Anne Gerwig said the objective had been to address problem homes.
"I don't know that this does a thing about it, and our residents are looking for a solution to the problem homes," Gerwig said. "No one is going to rent a home that is not up to their standards. I don't think what is presented here is of any value."
She added that the $100 inspection fee proposed would not cover the actual inspection cost.
Vice Mayor John Greene asked if village staff had interacted with landlords while drafting the ordinance.
"We're talking about an ordinance that is impacting [the Gillettes'] business, yet we don't ask for his input," Greene said.
Coates said he had a problem charging landlords a fee up front when 90 percent of violation fines are being waived by the magistrate.
Code Enforcement Manager Steven Koch said the benefit of the multi-family license was that it put code enforcement in contact with the owner, and it has been difficult to locate the owners of single-family homes, who sometimes have only a post office box.
"The multi-family licenses have opened up a dialogue between code enforcement and the landlords," Koch said. "The landlords often contact us because they know where we are."
Coates said he would prefer a system that offers the first inspection free, with a charge for a re-inspection, feeling that the first inspection is for the overall benefit of the community.
Village Manager Paul Schofield said that would be consistent with how the village does building inspections, requiring a fee for re-inspections.
Coates made a motion to approve the preliminary reading of the ordinance, with a $50 re-inspection fee. It carried 4-1 with Gerwig opposed. She did not favor having home owners bear the bulk of inspection costs.