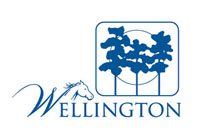 The Wellington Village Council unanimously approved a request last week to rename 40th Street South as Gracida Way in honor of the late Carlos Gracida, who died following a polo accident in February.
Equestrian activist Victoria McCullough, who lives on 40th Street South, made the request.
"The reason I would like that, and I think the community would also, is that one of the greatest polo players in the United States and in the history of the sport had a premature death, as we're all aware of," she said. "His farm was on 40th Street along with his brother, Memo Gracida."
She pointed out that the community has other streets named after famous horses and equestrians, such as Gene Mische Way.
"We have to do something special for Carlos Gracida's departure because there's just no one like him," McCullough said. "I learned to play at those fields, and those farms have been in existence for so many years, and there are very few residents, four of us, on 40th Street presently. There's no objection. Everyone has told me they would be thrilled. It's where his farm and his brother's farm were for 30 years, and it is still to all of us where Carlos lived and where his parties and functions were."
McCullough felt it would be a small but important gesture to rename the street Gracida Way.
"It would be really tremendous if the council would consider allowing the renaming of 40th Street to Gracida Way," she said.
Mayor Bob Margolis asked if there was a format they needed to follow, and Village Manager Paul Schofield said he only needed direction from the council. "This one's relatively easy," Schofield said. "It's more difficult if there are mortgages."
McCullough said she and show promoter Mark Bellissimo are the only residents with addresses actually on the street that would have to be readdressed.
"I don't see any reason why you shouldn't or couldn't do it," Schofield said.
Councilwoman Anne Gerwig said she would wholeheartedly support the name change.
"I was room mom for [Gracida's son] Carlitos when he was in first grade with my daughter, and my first experience with polo was with that family," Gerwig recalled.
Councilman Howard Coates also supported the street's name change.
"Sometimes the best ideas come from that side of the dais," Coates said. "I just want to thank you for bringing that thought and idea to us because it is probably something we should have thought of beforehand."
McCullough said she felt a hole had been created by Gracida's death, and renaming the street would help with his memory.
"This was such a bright star and to lose him so quickly. I just think it would be lovely, and you've made my day," McCullough said.
Gracida died Feb. 25 after a freak polo accident where another player's mallet made contact with Gracida's horse, causing it to stumble. The horse's head went up and hit Gracida's head, knocking him unconscious.
Gracida was airlifted to Delray Medical Center, but was pronounced dead soon after he arrived. He was 53 years old.
Gracida held a 10-goal handicap for 15 years. He won the U.S. Open nine times, the Argentine Open five times and the British Open a record 10 times.