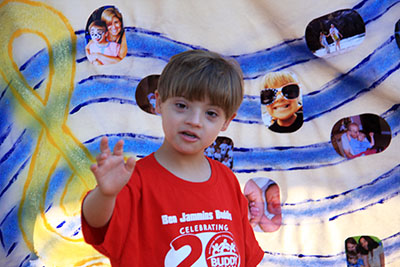 When Wellington's Joe and Chari Sassin told Gold Coast Down Syndrome Organization Executive Director Terri Harmon that their team Benjamin's Buddies had a goal to raise $20,000 for the 20th annual Buddy Walk, Harmon never had a doubt that it would happen. She knew that the Sassins, parents of five-year-old Ben, who is in pre-kindergarten at Panther Run Elementary School, were up for the challenge.
But when the Sassins actually raised more than $27,000, even Harmon was surprised. This year's Buddy Walk, held Oct. 19, raised a record-breaking net of $180,000 and also drew its largest crowd of nearly 3,000 attendees.
Funds from the event will support the Gold Coast Down Syndrome Organization's Resource Center located in Boynton Beach, and education, support, social and advocacy programs.
"We are involved with the Buddy Walk because we have been first-hand recipients of the good that Gold Coast does for the Down syndrome community," Chari Sassin said. "From the phone calls and packet of information we received within days of our diagnosis to having an advocate at our IEP meetings, there is nothing that Gold Coast won't do to help its families be included and succeed."
Sassin said her goal each year is to bring in as much money as possible to help the organization.
"Because of Gold Coast, I know that my Ben will have the best education possible and the best chance to be a successful and happy member of our community," she said.
There were many other people from the western communities involved in the Buddy Walk.
For example, Team CupKates, formed by Wellington residents Will and Janessa Gross to support their almost two-year-old daughter Kate, raised more than $9,000.
Wellington residents serving on the Buddy Walk committee were Toby Brodtman, Todd and Kate Ballard, and Janessa Gross; Royal Palm Beach residents were Tina Trujillo and Cyndi Pampena. Wellington businesses Estate Properties of Palm Beach and Spectrum Speech & Language Services were Silver Level Buddy Walk sponsors. Students from Palm Beach Central and Wellington high schools formed Buddy Walk teams and provided volunteers for the event, while Xtreme Tae Kwon Do of Wellington raised $1,400.
Major sponsors for the Buddy Walk included: presenting sponsor G4S, International Rail Partners, Toshiba Business Solutions Florida, Ace Environmental Services, Amtrust Bank, Florida Crystals, the GEO Group, Raymond James, Searcy Denney Scarola Barnhart & Shipley, Wells Fargo, Beauty & Brains, City Furniture, Coconut Creek Hyundai, Designer Dental, Estate Properties of Palm Beach, McComb Construction, Pilates of Palm Beach, Publix, Vinny's Pizza, FPL, Ernst & Young, Plastridge Insurance, the Sofabed Company, Tuscany 3PL, Spectrum Speech & Language Services, and the Walser Law Firm.
Cindy Calvagne served for the third time as committee chair, and committee members included: Sheri McCants-Hubers, Daniela Chea, Victoria Berardesco, Laila Seagle, Cyndi Pampena, Tina King, Toby Brodtman, Erin Allen, Bethany Pauley, Dean Saunders, Daisy Palmer, Sue Joyner, Susan Sprayberry, Tina Trujillo, Sandy McGregor, Michele Nickles, Wayne Carson, Anita Ford, Janessa Gross, Christa Wilbanks, Jaymie Cabot, Amanda Mostyn, Natali Torres, Sherri Bedoya, Dvorah Hawes, Patti Steinberg, Andrea Calvagne, Sue Davis-Killian, Kate and Todd Ballard, Terri Harmon and Anne Dichele.
The Gold Coast Down Syndrome Organization is a health, educational resource, support and advocacy organization, which has been empowering individuals with Down syndrome and their families since 1980. Visit www.goldcoastdownsyndrome.org for more information.
ABOVE: The family of Ben Sassin (above) raised more than $27,000 at this year's Gold Coast Down Syndrome Organization Buddy Walk.