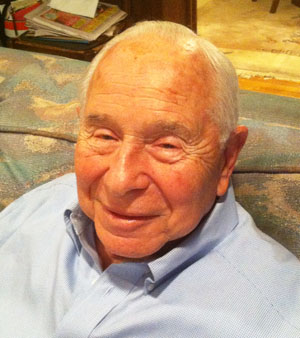 FOOTLOOSE AND… 
He may not have been a Michael Jordan or a LeBron James, but Ernie Vandeweghe, who died earlier this month, was a true NBA star as a seven-year regular starter for the New York Knickerbockers. In addition, the 6'3" guard was the father of former NBA, two-time All Star Kiki, who averaged a rather healthy 19.7 points per game during his career!
Ernie V. was grandfather to Coco, who is ranked 40th among the world's women's professional tennis players. Also his daughter, Tauna, won the United States backstroke swimming championship and competed in the 1976 Olympics. Son Bruk was a beach volleyball champion, and granddaughter Heather captained the U..S women's polo team.
Ernie V. was also a former coach of the New Jersey Nets. His association with sports included using his medical degree and license as Los Angeles Lakers team physician when that franchise moved to California from Minneapolis.
More about the fascinating star, who averaged almost 20 points per game during his four All-American undergraduate years at Colgate University? Well he was chairman of the President's Council on Physical Fitness in Sports and also served on the U.S. Olympic Sports Commission. Wonder what he did in his spare time… if there was any.