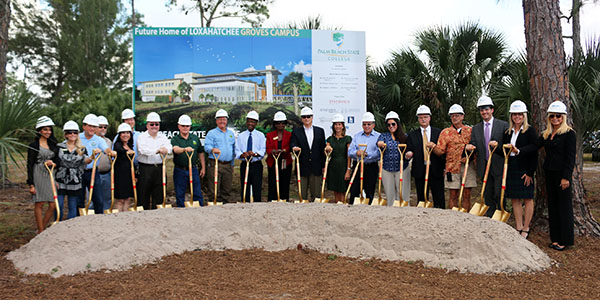 On Friday, Nov. 7, more than 100 people gathered for the groundbreaking celebration at Palm Beach State College's new Loxahatchee Groves campus.
Palm Beach State College President Dr. Dennis P. Gallon welcomed the attendees, who included local dignitaries, politicians and college officials.
"This is the day that we've all been waiting for," he said. "It is certainly a pleasure for me to have the opportunity to say 'good afternoon and welcome' to each of you for taking the time to come to help us celebrate this milestone in the life of the college."
The 75-acre campus site is located at the northwest corner of Southern Blvd. and B Road.
As Gallon looked around, he encouraged attendees to look at the environment and made a point to reassure them that the land is not just going to be plowed over for development.
"This is an incredible piece of property," he said. "It has some three wetlands, it has cypress trees that are part of those wetlands, and ladies and gentleman, I want to let you know that we have included in our master plan — the master plan that has been approved by the board of trustees and that we have shared with the town council — we are assuring each of you in this community that we want to preserve those to be a part of the campus environment that we are creating here."
Palm Beach State College currently has locations in Belle Glade, Boca Raton, Lake Worth and Palm Beach Gardens.
"In each of those locations, we have an incredible relationship with the municipalities. That symbiotic relationship that exists is just incredible, and I have no doubt that the relationship that we have and are establishing with the Town of Loxahatchee Groves is going to be just as great," Gallon said.
The first building at the campus will hold general education classrooms, offices for administrative staff and faculty, student support services, ancillary support services and a 250-seat lecture hall.
"This campus will be designed to meet the long-range needs of the college, as well as this geographical area. In addition, we will maintain our commitment to the Town of Loxahatchee Groves that the college will develop the campus with a priority of preserving the rural and natural beauty of this site and this community," Gallon said, recounting his first tour of the property with Loxahatchee Groves Mayor David Browning.
Wendy Link, vice chair of the Palm Beach State College Board of Trustees, called the project "a labor of love."
"We're so excited that it happened," she said. "The students, the future leaders of Palm Beach County, are going to be attending school here."
Kent Long from Balfour Beatty Construction, which is developing the site for the college, has been looking forward to the groundbreaking.
"A groundbreaking is symbolic of many different things — not only just the physical start of construction, which as a builder, that's what we certainly want to do, but in this particular case it means a lot more to Balfour Beatty," he said. "We recognize not only the vision and mission of Palm Beach State College, but we also recognize the impact this building will have on the people who enter it and interact with it every day, and what it means in their lives."
It will have an impact on the local area, as well as the entire State of Florida, he said.
"We certainly understand the responsibility that goes along with that, and you have our commitment today that Balfour Beatty is going to make this a very, very successful project and one that we can be very, very proud of for many years," Long said.
Browning followed with a brief history of the town before addressing the town's relationship with the school.
"The Town of Loxahatchee Groves is more than boundaries and acres," he said. "It is the heart of our residents, past, present and future, who call this home. I am thankful for this event and the opportunity to welcome our newest resident, Palm Beach State College."
Many others were on hand for the ceremony, including several state officials.
"I think this is an example of what we can do as elected officials, when we use our power to do great things," said State Rep. Mark Pafford (D-District 86). "This is a great opportunity to serve community needs and business needs, for decades to come."
State Rep. Lori Berman (D-District 90) promised that, as the incoming chair of the Palm Beach County Legislative Delegation, she will make fighting for campus funding a priority. "Good luck; let's go forward," she said.
The Loxahatchee Groves campus will be a full-service campus, where students can earn an associate's degree. Construction of the campus is expected to begin in January 2015.
"At that point, we will begin the process of converting this 75 acres into a college campus that will have thousands of students walking around, professors, administrators, to help create that environment for good teaching and learning, where education is going to take place," Gallon said. "This is what this campus, this ground you're sitting on, is going to allow us to do."
Substantial completion of the first phase is expected in May 2016.
"What an opportunity," Gallon said, drawing parallels between the first building and a masterpiece.
The campus will be a 30- or 40-year project, he said.
"Come back and join us in about 35 or 40 years, because this is going to take that long," Gallon said. "This site has that kind of growth potential before it builds out to completion."
ABOVE: College officials and area dignitaries gather for the new campus' groundbreaking ceremony.