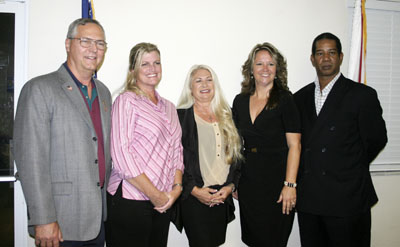 The Indian Trail Improvement District Board of Supervisors decided 3-2 last week not to go forward with litigation seeking to get the Palm Beach County Commission to back down or reverse its approval of Minto West.
Attorney Marty Perry, representing ITID in dealing with the Minto West project, said at the Nov. 19 meeting that not much had changed since he last reported to the board. That was right after conditions on the decision had been placed by Commissioner Shelley Vana that improvements to Persimmon Blvd. and 60th Street would not be made until 2,700 homes were built in the development, and he estimated that would be about seven or eight years from now.
"The Palm Beach County Commission voted Oct. 29 to approve comprehensive plan text amendments for the project, as well as a resolution approving the zoning application," Perry said. "The only thing that was left open for discussion… was the fact that although your consulting team had argued fairly vigorously against any increase in the 2,996 [homes] and the non-residential intensity, it was clear that the board was going to go forward, and we argued at a minimum there [should be] a modification of conditions regarding Persimmon and 60th Street."
Perry said they had asked for buffering on 60th Street, which they did not get, and that access to Persimmon Blvd. be withheld until permits for 3,000 homes had been granted.
"That was approved by the board on a 5-2 vote," he said. "It was reduced to 2,700 permits. When the resolution came out, that was not in there. There have been continuous discussions between Commissioner Vana, who made the motion, myself and county staff that resulted in just earlier this week my getting a revised resolution from Assistant County Attorney Bob Banks. That resolution is scheduled to go before the board on Dec. 4 for review and approval, and it's a resolution correcting the zoning resolution. It now includes the language that no connection of Persimmon Blvd. shall be made at 140th Avenue until the issuance of the 2,700th dwelling permit."
Perry said he is confident that the resolution will be approved, and he pointed out that Minto still has to come to ITID for a permit relative to Persimmon Blvd.
"That means that the district still has the ability to control whatever requirements the district wants relative to Persimmon," Perry said.
He added that there was discussion that Minto has to pay the county $1.5 million in the event that Minto is unable to reach an understanding with ITID about the Persimmon access.
"The county engineer, George Webb, stated that the $1.5 million would be utilized by the county for maintenance if the county was responsible for maintenance of Persimmon," Perry said. "If the county were not responsible, then the county would turn that $1.5 million over to Indian Trail."
Perry said that stipulation is not in the conditions, only that Minto would turn the $1.5 million over to the county.
"The county is on record in that transcript at the hearing as having made that statement," he said. "I believe that's enforceable, and I believe the county will adhere to that. So, at this point it's really in your hands whether to follow any permit discussions with Minto relative to Persimmon."
Perry reiterated that he felt it made little sense to try to litigate the county's decision further on the zoning, and that if the board wanted to pursue litigation, it should be to the comp plan text amendment.
"The case law and the statutes are really not very clear," he said. "It's my personal opinion that there is a lot more time for taking action desired; however, taking a conservative approach is probably the best approach, and that would need to be taken within 30 days of adoption, which was Oct. 29, so that gives a limited time period. If your desire is to litigate, you need to make a decision tonight."
Supervisor Michelle Damone made a motion that ITID not participate in further litigation and instead continue a conversation with the county and Minto.
During public comment, many residents spoke both for and against further litigation.
John Rivera said he did not want litigation but thought the equestrian community had not been factored into the process sufficiently.
"They're going to build, there's nothing we can do about it," Rivera said. "If you're going to use money for litigation, I want some for the equestrians. I want a public arena. Let's get some lights up and build some barns, and shelter for horses in case of hurricanes, at least for the aftermath. That's money better spent, if you ask me."
Seminole Ridge High School graduate Ashley Stanton said young people in The Acreage are bored and need more local activities.
"The greatest thing that ever happened to The Acreage is McDonald's," Stanton said. "We should work with Minto instead of fighting a pointless fight. We are going to Wellington and Royal Palm to do what I want to do. I actually want to have fun in my own community instead of leaving my community to go somewhere else."
Anne Kuhl said she thought money should be spent at least for an administrative hearing.
"That is not even litigation," she said. "That is just to challenge a formal process; a board that had no consideration for us. You have a responsibility to protect our roads."
Kuhl alleged that two of the three supervisors recently re-elected to their seats had pledged to protect district roads, but Michele Meredith pointed out that both President Carol Jacobs and Supervisor Ralph Bair had pledged to work with Minto, and that Bair's opponent, Alan Ballweg, an outspoken Minto opponent, had lost the election.
"[District 6 County Commissioner] Melissa McKinlay said she also wanted to work with developers to come up with a plan, and she won also, so I think the silent majority has won at the polls," Meredith said.
John Meredith said he was against litigation. "That money could be spent on parks and roads," he said. "Since Tropical Storm Isaac, do we know that drainage is working fully? I don't know that for sure. We need more east-west roads for our kids going to high school. It takes 45 minutes for our kids to get to high school. That's pretty ridiculous."
Supervisor Jennifer Hager read several emails advocating continued litigation, as well as some accusing Damone of having a conflict of interest by working for a roofing company, and Jacobs for owning a construction company with her husband. Damone and Jacobs both said that they had asked ITID Attorney Mary Viator if there were conflicts, and she said there were not.
Supervisor Gary Dunkley said that he did not want to spend more money on a lawsuit but believed that it was necessary in order to get cooperation from Minto.
"I believe in a lawsuit so we can have leverage," Dunkley said. "There are members of my community who believe that this is the only way to negotiate, through strength and not through weakness."
Several residents had alleged that the county would be using eminent domain to acquire easements on 60th Street, but Damone said she had spoken to county staff who said there are no plans or necessity to take private property.
"The fear-mongering of condemnation on 60th Street is just that," Damone said. "I do not support litigation. I believe we can resolve all the issues that were brought up this evening. I believe that Minto is our neighbor, not our enemy."
Bair pointed out that the money they had spent on the legal team was to find out where they had legal standing, as well as to persuade the county commission not to increase density, and that the research would continue to be useful.
He said the district has legal standing in opposing the opening of Persimmon Blvd. and he would continue to oppose it, but he was against continued litigation.
Hager, however, favored litigation.
"I believe this is a clear violation of the comp plan," she said. "Why create the comp plan in the first place if you're going to keep changing it? Without filing an administrative challenge, we won't even be able to enter into the argument."
Jacobs said she did not favor continued litigation because the district had limited power, and said she was tired of conflict that was tearing apart the community.
"We are up here to protect the district any way we can," she said. "Our own lawyer said it was a waste of money to fight the county because we're not going to win. It's better to come to the county and the developer for certain things. It's better to get along."
Damone's motion not to support litigation and enter negotiations with the county and Minto carried 3-2, with Dunkley and Hager opposed.