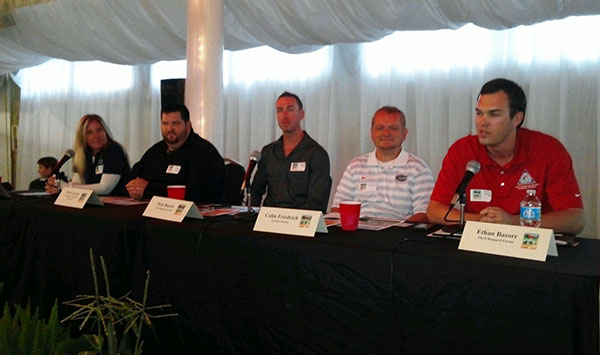 The Central Palm Beach County Chamber of Commerce hosted its annual Farm City luncheon on Wednesday, Nov. 19, focusing on young farmers, with the theme of "Millennial Farmers."
Five young, local farmers sat on a panel to answer questions about the future of agriculture in Palm Beach County from moderator Mark Sodders, District 17 director of the Florida Farm Bureau.
Panelists were Ethan Basore, secretary of the Palm Beach County Young Farmers & Ranchers and harvest supervisor for TKM-Bengard Farms; Colin Friedrich, inventory manager for Excelsa Gardens; Nick Basore, financial analyst for TKM-Bengard Farms; Nick Larson, scientist with the Everglades Research & Education Center and owner of NK Lago Farm; and Krista Erickson, co-owner of Erickson Farms.
"Up until a few years ago, I was the young generation, but that has passed me by," Sodders said. "Fortunately, we have a panel of superstars on the rise. They have the potential to keep Palm Beach County number one in agriculture east of the Mississippi. Remember, we are the winter vegetable capital of the United States. We can't do enough as agriculturalists, especially in the schools, to explain this, not just to the students. It's wonderful that the teachers know this."
Asked what makes them confident that agriculture in general in the county, and their farming operations in particular, will remain competitive, Erickson, who is a mango farmer, said she has confidence in her father, who keeps his hand on the pulse of the business.
"Over the years, as imports started taking over, we couldn't package two mangos for the same price as they could bring in 50 pounds," she said. "We started researching. We went from growing about four varieties to almost 50. Most of what we grow is too delicate to be able to import, and instead of having customers who stop by and buy a couple, we have customers who drive from Orlando, Stuart, Homestead and from the west coast, and they go home with 14 boxes."
Larson said one thing that keeps agriculture healthy is that "people aren't going to quit eating."
"Most of us up here are produce farmers, and there's the whole thing about 'let's eat healthier,' so that's a good tailwind to have in the industry," he said. "For me, I grow mostly specialty bananas and plantains. As long as more Hispanic and Caribbean people come into the southern half of the state, that means more customers for me because they're used to eating plantains. A lot of it is me getting out and teaching people about the different varieties of bananas and getting them to realize there's a thousand different varieties. I grow 34 of them. Once they get to taste them, they start to like them. That's what builds the business."
Larson said he has also researched farming methods so that he does not need to use as much fertilizer as has been done in the past, which cuts down the cost.
Nick Basore said he thinks the country will continue to try to feed itself rather than import from other countries. "The one thing we need to keep an eye on, though, is legislation in a regulatory environment," he said. "It may impact agriculture in a horrific way. I believe that the average citizen will always want to grow food in this country and not import it."
He said his farm keeps competitive by following a successful business model, adding that, "We're always willing to research and try new things."
Basore's primary product, lettuce, is a highly perishable crop and difficult to import, which gives them an upper hand.
Friedrich said the upswing in people's interest in growing their own food has led his nursery to sell plants that customers can take home and plant.
"Seeing a fruit or vegetable develop in your own yard, there is a satisfaction to that," he said, explaining that his father and mother had always stressed quality in their products. "There is always a tendency of nurseries to grow things cheap, and move plants in quantity, but if you can grow a higher-quality product, the customer will appreciate that and be willing to spend a little more for higher quality."
Ethan Basore said they are constantly looking for better ways to farm, pointing out that they have GPS locators on their tractors that enable them to put out less seed and less fertilizer for better profit margins and higher yields. "We're always looking for better technology," he said.
Asked what competition they have geographically and what drives their market prices, Erickson said that as a specialty mango grower, her farm really doesn't have a lot of competition.
"We also grow lychees and longans," she said. "There's quite a bit of lychee competition, but again, my father was able to get us varieties that they don't have. It takes a while to get the market to realize what you have and why the price is what it is, and finding the people willing to pay for the quality. Once you get into this market, we've been very blessed."
Erickson said that all their products are harvested by hand, which also adds to the price but improves the quality. "We have little niche markets where we don't have much competition," she said. "We have to find our own or we wouldn't still be there."
Larson said his greatest competition is Latin America.
"They grow bananas there, too, but they don't grow bananas like I do," he said, explaining that his bananas are not like those you buy in the store. "They taste better because they're fresh. They haven't sat. The product is not three weeks old by the time it gets to you, and people are willing to pay for that."
He said one of his biggest challenges is figuring out how much people are willing to pay for a specialty banana.
"I know how much it cost to make it, but how much is someone willing to pay for it?" Larson said. "I've raised my prices each year and people are still paying for it, so I guess that's a good thing. Special bananas for special people."
He added that plantains are relatively inexpensive to grow locally, which keeps him in competition with imports. "It costs a ton of money to get something from Colombia to the Port of Miami compared to what I can do it for here," Larson said.
Nick Basore said their produce farm's chief competition is Yuma, Ariz. "The fact that their supply comes into market at the same time as our supply does, and the availability of lettuce, drives the market," he said.
Ethan Basore agreed with his brother that Yuma farms are their main competitor.
"They're growing lettuce at the same time as we are, but where we have the advantage is we are on the east coast," he said. "We do a lot of regional deals. They're not going to spend money on fuel to ship it over the mountains to come into a processor on our side, so that's where we kind of have the advantage."
He reiterated that lettuce is highly perishable. "Instead of a five-day trip from Arizona to the east coast, we can go up as far north as Michigan or New York in 24 to 48 hours," he said.
Friedrich said his nursery remains competitive by going to other countries and bringing back plants that are new to Florida.
"We have a reputation for having consistent quality, and there's a scarcity, and the customer will always have these neat plants that aren't native to Florida," he said. "We can grow a lot of plants here in South Florida that North Florida can't grow."
ABOVE: The five young farmers take part in the panel discussion.