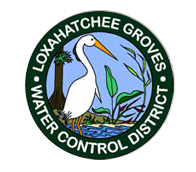 The Loxahatchee Groves Water Control District Board of Supervisors approved an agreement Monday with the Town of Loxahatchee Groves for reimbursement of expenses in preparing and recording maintenance easement maps for public recreational trails, which led to a discussion of whether the district should become dependent to the town.
Only a few people attended the meeting, although local Internet chat rooms have been busy recently with comments for and against the district becoming dependent to the town, centering on allegations that the LGWCD board does not support the equestrian community.
LGWCD Administrator Steve Yohe said the interlocal agreement complies with a local bill approved last year by the state legislature providing for the use of maintenance easements for public recreational and equestrian trails through district permits issued to the town.
"The purpose of the interlocal agreement is to establish a basis for the town to reimburse the district for expenses incurred for professional services, mapping services and recording those maintenance easement maps showing public recreational trails," Yohe said.
Supervisor Don Widing made a motion to approve the agreement and asked that it be transmitted to the town for approval. He noted that he was concerned about negative comments he had read about the district. "They alluded we were not supportive of equestrians and our community," Widing said. "I was very concerned and disappointed."
Widing noted that the LGWCD has done a great deal for the equestrian community over the past decade. "We got the $40,000 from the county, and now we're working with the town," he said. "I don't know how widespread it is, but anything that we can do to make sure that the people we represent [have] a factual view of what this board has done with respect to the equestrian community would be appreciated."
Widing suggested that the matter be taken up by the Intergovernmental Coordination Committee.
"The equestrian interest out here in the Groves is part of our economic engine," he said. "I don't intend to respond on those types of public e-mail processes; however, I think we need to work a little harder to get this information out."
Supervisor John Ryan said that former Roadway, Equestrian Trails & Greenway Advisory Committee Chairman Keith Harris and Councilman Tom Goltzené appeared to be the voices of a lot of negativism toward the district. Harris was removed from the RETGAC group last week on a motion by his appointer, Councilman Ryan Liang, after Councilman Ron Jarriel criticized Harris for allegedly being abusive to other members at a recent meeting. Goltzené did not attend the council meeting where Harris was removed.
Ryan said that at the last Intergovernmental Coordination Committee meeting, members got consensus to have a discussion about the postings that have been circulating on the Internet.
"We specifically offered a videotaped, noticed meeting to deal with facts and specific concerns and questions to try and get a public record that can't be provided in limited discussion in meetings," Ryan said. "This would be a real suggestion to Councilman Goltzené and Keith Harris to sit down with Steve and myself to clear the air of these items because they are badly laid out."
Ryan said he had heard that a petition is being circulated to make the district dependent to the town.
"I hope this is limited to a few people, but I hate to see blogs or public discussion at public meetings where these negative charges are brought out, and primarily as reflecting concerns that landowners or equestrians have made, and just does no service to the town or the district to have it in that kind of form," Ryan said, pointing out that Yohe had made formal invitations to Goltzené and Harris to have the meeting.
LGWCD Chairman David DeMarois said he thought the board has been supportive of equestrians, citing $40,000 obtained by the district seven years ago, as well as work done on F Road to open an equestrian trail and provide fencing. "It's not that we are against equestrians, but it is an election year and you are going to have some comments like this," DeMarois said.
Jarriel's and Liang's council seats will be up for election on March 2015.
Supervisor Frank Schiola said the comments are a springboard for people considering running for office. "There is a petition going around," Schiola said. "That's really good, but petitions do not get this board dissolved or dependent."
Ryan pointed out that a study done by the board in 2008 did not reveal any overlaps or redundancy between the town council and the district board, with no economic advantage of combining them.
LGWCD Attorney Mary Viator said an act of the state legislature would be necessary to dissolve the board.
Schiola added that some council members have questioned taking on the current responsibilities of the district due to the amount of work they have to do and issues of their own to resolve.
"People don't have a clue what they're talking about with dissolution," he said.
Widing's motion to approve the agreement carried 4-0, with Supervisor Robert Snowball absent.
In a related item, the board approved professional survey and mapping services with Erdman Anthony of Florida to prepare maintenance easement maps for district roads and public recreational equestrian trails.