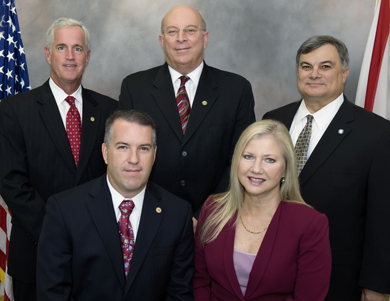 The Wellington Village Council gave final approval Tuesday to an amended comp plan and master plan for Binks Pointe, a 90-home townhouse community planned for a 15-acre parcel that was previously part of the Binks Forest Golf Course.
The 90 homes will sit on land that was once the golf course's driving range, known as Pod L, a 15.27-acre piece of land with a 0.26-acre parcel preserve, known as Parcel V, contained within it.
Parcel V was the subject of a small-scale comp plan amendment from commercial recreation to residential with the condition that no residential units would be assigned to the area.
Planning & Development Services Director Tim Stillings explained that the quarter-acre parcel had been a preservation area on the Binks Forest development plan, but that it is not jurisdictional wetland and is being incorporated with other land into a 0.3-acre preserve area within the new site plan, which will be dedicated on the new plat.
The developer who recently bought the property has reduced the previously approved building heights from three to two stories and moved the buildings farther away from the perimeter of the development by moving parking to the outside of the complex.
The Planning, Zoning & Adjustment Board recommended denial of the comp plan amendment at its May 7 hearing, but recommended approval at its last meeting. The board approved the master plan amendment in August. Village staff also recommended approval.
A 4-1 vote was required by the council for final approval, and it voted 5-0 to approve the comp plan amendment at its first reading.
Councilman Howard Coates asked why the zoning board had recommended denial initially, and Village Attorney Laurie Cohen said several residents had attended that meeting voicing concerns about the development.
"There was a lot of discussion about rental units, who might be renting those units, maybe some comments about Section 8 housing that probably were not an appropriate basis to deny it," Cohen said. "I think the second time around, those concerns were not as important to them."
Councilman Matt Willhite echoed another comment by Coates, saying he was concerned that while the comp plan amendment requires a supermajority vote of the council, the developer can come back and get a variance at staff level.
Village Manager Paul Schofield said village staff cannot approve a statutory variance.
"There are variances that staff can deal with, and they are very clearly outlined in the code," Schofield said, listing alternative setbacks and parking plans. "They are usually very minimal, about 5 percent one way or the other."
Schofield said additional protection can be put on the preserve area by designating it as a conservation easement.
Willhite said he and residents were concerned about setbacks on the south side of the development.
"We can approve this with those setbacks; any applicant could come back and staff could approve that setback to be less than what we approved on this, knowing that this is what we were told, because that is one of the aspects that you could change," he said. "You changed it on Section 34 — the village approved it at staff level that those setbacks, those barriers, those landscape developers could be changed. It happened on the east side of Section 34."
Stillings said the Section 34 variance was actually approved through the planning board.
"The variance was on the landscaping material," Stillings said. "The buffer was not removed, but what was required to be put in the buffer was what they were requesting a variance on."
Willhite said that procedures should be looked at more closely regarding staff variances.
Schofield said village staff cannot change council-imposed conditions.
"If you are uncomfortable in this case, what you do in the approval condition is list the buffer that you want," Schofield said. "Once it's in a council-imposed condition, then it must come back to the council. It can't be changed at a staff level or the PZA level."
Councilwoman Anne Gerwig asked what is on the existing preserve site.
"My understanding is that the proposed preserve site is in better condition than the existing preserve site," Gerwig said.
Stillings said the applicant had submitted an environmental assessment of the preserve that found there were no longer any wetlands present, although there were some remnant cypress trees.
"At some point it had some preserve quality, but over time it became overgrown with Brazilian pepper and other invasives," he said.
Gerwig asked who would be responsible for maintenance of the preserve area, and Schofield said it would be dedicated to the homeowners' association, which would have to get council approval to make any changes.
Gerwig said she understood that there would be some enhancements to the preserve, and Stillings said specifics would come in with the site plan.
Vice Mayor John Greene asked whether there were limitations on what could be done to the preserve, and Stillings said plans were currently for a walking path and a gazebo, and that any plans would require site plan approval.
Jennifer Vail with Land Design South, representing the developer, said there have been many prior approvals for the property, including several dating back to before Wellington's incorporation. Pod L was designated for low residential in 2004 and later amended in 2006. The 90 units were approved as part of a settlement agreement in 2008, as well as a site plan for the 90 units.
"Unfortunately, when these final approvals did occur, it was the downturn of the economy, so the site has sat vacant," Vail said. "My client purchased this property a little over a year ago, and it looked as if they had two options to develop this site. One, to develop as the plan is currently approved for the 90 units, or, two, make it a bit more marketable plan for today's current trends, and also to utilize a product type that they are familiar with."
Vail said the preserve area is being redefined in order to capture more natural material. She added that construction traffic will be from Flying Cow Road and the FPL easement, and none will be from Binks Forest Drive.
Coates made a motion to approve the comp plan amendment, which carried 5-0, and Greene made a motion to approve the master plan, which also carried 5-0.