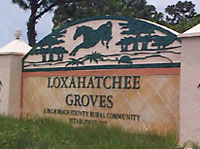 The Loxahatchee Groves Town Council authorized its staff Tuesday to proceed with the purchase of the Central Palm Beach County Chamber of Commerce building at F Road and Southern Blvd.
Town Manager Bill Underwood said he had gotten two appraisals of $581,635 and $583,824, which does not include the land because that belongs to the county. However, council members are hopeful that the county will deed the land to the town.
Underwood also pointed out that he had spoken with Greenacres Mayor Sam Ferreri, an architect, who was involved in the building's construction, who said it was very well-built.
Although Underwood did not know the hurricane rating of the building, he said it complies with the 2010 building code.
He added that he had done several cost analyses, with and without inflation, and found that the town would come out well ahead financially over a 30-year period by buying the building rather than continuing to rent facilities.
Councilman Jim Rockett made a motion to negotiate a purchase with the chamber, adding that he could not imagine a homeowner turning down the opportunity to buy a home as opposed to renting.
Rockett added that he is frustrated with the office the town rents. "It's not a place that we should continue to function in," he said. "I don't see a reason to do anything but move forward."
Councilman Tom Goltzené said he did not favor getting a mortgage or taking the money out of the capital improvements fund.
"To buy this building would definitely affect other capital projects," Goltzené said. "I don't know that a town hall is a high priority for people who are choking on dust."
Goltzené said he had not heard a lot of feedback from residents and would like to have a referendum on whether to buy the building.
"For me to vote for it, I would like to see a vote of the people," he said.
Rockett said he doubted that another such opportunity would come again, and added that it would greatly improve the face of the town.
"I think it's prudent to spend the town's money in a prudent way," he said.
Councilman Ryan Liang said he thought buying the building would be a good investment for the future of the town.
"We're not just thinking about tomorrow or next year, but 50 years from now," Liang said. "If we decide we don't want the town hall there, we could refit it as a community center."
Vice Mayor Ron Jarriel agreed with Rockett and Liang.
"This could be beneficial to all the residents," Jarriel said. "We can make use of that building in that location. If we found a better deal, we could turn it into something that could benefit the equestrians."
Jarriel added that the building would provide added safety in the event of a hurricane.
Mayor Dave Browning was glad that Underwood had put the report together but noted that it did not point out that if the town continued to rent facilities, at the end of 30 years it would have nothing to show for it.
"I'm ready to consider it," Browning said, adding that county commissioners have indicated they will pay for a traffic light on Okeechobee Blvd. that the town currently has budgeted in its capital improvements program. "They have effectively paid for half the building. I don't know many people wouldn't buy a house if they had the opportunity."
During public comment, Virginia Standish said the chamber property floods. "Right there you need to drop the price," she said, adding that she did not see a lot of other people seeking to buy it.
Philomena Liang said this was the best time to buy a building and pointed out that the town already pays to hold committee meetings there. "There is a need for it," she said. "Every meeting is in someone else's building. At the end of 30 years, it will be ours. As elected officials, this is your opportunity of a lifetime."
Lung Chiu compared the purchase of the building to other council accomplishments, including paving roads and persuading Palm Beach State College to locate in the town.
Rockett's motion to start negotiations carried 4-1, with Goltzené opposed.