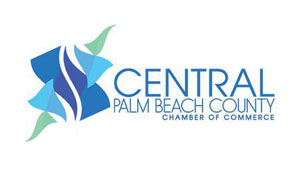 Minto Communities Vice President of Planning & Development John Carter was the featured speaker at a Central Palm Beach County Chamber of Commerce luncheon held Thursday, Nov. 6 at the Binks Forest Golf Club in Wellington.
Minto recently received land use and zoning approval for Minto West, a development of up to 4,549 homes and 2.1 million square feet of non-residential uses on the 3,800-acre former Callery-Judge Grove property.
The land is about 17 miles from the coast and surrounded by 33 square miles of largely single-family homes that Carter called a "monolithic land use," predating modern planning principles.
"Having such a monolithic land use in one section of the county presents some unique problems, and that's back to the land-use program that we talk about," he said. "We are trying to ameliorate some of those issues."
Carter, a certified professional planner, has more than 20 years of experience as a civil engineer focusing on urban management and large-scale development.
He pointed out that in 1964, the entire area was an extension of the Everglades. The main feature of the Minto West property at the time was the M Canal, which had just been completed and feeds the Grassy Waters Preserve and West Palm Beach Water Catchment Area.
The former owners bought the property in 1966 to create an orange grove, and by 1968, canals had been put in place, draining the former swampland and dramatically changing the landscape.
"One of the centerpieces that we are particularly proud of is that we didn't come in here and look to see how many units we could cram on the property," he said. "We really looked to see, from a land use perspective, what could we put in place to really create a sustainable project with responsible development notions that we're centered on today."
About 55 percent of the property will remain green space, he said.
"That's a little over 2,000 acres," Carter said. "As part of the overall development plan, we have also recommended a town center. This isn't a regional mall. This is more of a community-serving retail. Again, in a 33-square-mile area that surrounds this property, we are surrounded by about 18,000 residences and a population of about 40,000 people. Within this region of the county, you really have a significant deficit of non-residential uses that you would normally think about as you would plan to develop."
He said Minto's principals looked strategically at what forms of non-residential should be included on the property and came up with the idea of the town center.
"We came up with 2.1 million square feet," he said. "Only 500,000 square feet is dedicated to retail operations, [which will] be community-serving types of shopping opportunities."
Part of the remainder of the non-residential will be dedicated to civic uses, such as day care, community centers and churches.
A large portion of the non-residential is earmarked for light, clean industrial and work centers, Carter said, pointing out that Business Development Board CEO Kelly Smallridge has stated that opportunities for employers are dwindling.
According to Carter, the Minto West plan was put in place "to provide this long-term sustainability to the county."
The zoning plan was developed concurrently with the comp plan in accordance with land planning policies recently established by the state. Since the development falls under the Agricultural Enclave Act, Carter said the community would be different from others.
In order to minimize the impact on the neighboring area, higher density is clustered to the center and reduces dramatically toward the perimeter, he said.
The non-residential uses are focused largely in the center of the property along Seminole Pratt Whitney Road.
Plans include a 150-room hotel, 450,000 square feet of professional and medical offices, more than 1 million square feet of light industrial research and development, plus a 3,000-student college.
Minto's vision for Seminole Pratt Whitney Road is to shield the view of the road from the adjacent homes. "The only exception would be when you get up to the town center," he said. "There, the corridor would open up and give you some views of the town center area."
In looking at some of the shortcomings of the surrounding area, Carter said they came up with the concept of putting a community center within the town center. They are also obliged to dedicate 5 acres for a fire station.
"Currently, the fire station is in a defunct Winn-Dixie plaza with the truck parked in the parking lot," he said. "There is a clear need from a governmental service delivery model to do things better. I'm very proud that this project can be the facilitator of that."
The project will also dedicate 7 acres for a governmental area, including for a Palm Beach County Sheriff's Office local substation, which is now housed in a county building in Royal Palm Beach, as well as a 12-acre school site adjacent to Seminole Ridge High School.
About 240 acres will be set aside for parks, which is about five times what is required, Carter said.
"One of the reasons why we did that was that it was simply the way we wanted to design the community as an active lifestyle type of community," he said, adding that they have partnered with the Acreage Athletic League to expand its services, which are currently strained.
Carter said the entire project will take about 25 years to build. When finished, it will have created 7,100 long-term jobs. The project itself will require 840 workers annually, and when complete, will have made a $1.04 billion impact on the county.
Creating community-serving retail will also reduce the carbon footprint, he said.
"People drive 12 or 15 miles one way for a loaf of bread," he said. "This will dramatically reduce travel, as well as reduce the carbon footprint of that 32-square-mile region surrounding us."
Carter added that the now defunct grove operation used about 3 billion gallons of water annually.
"There is a huge opportunity for restoration of water back to the Grassy Waters Preserve, potentially going back to the headwaters of the Loxahatchee River, as well as recharging the surficial aquifer," he said. "We are talking about restoring the environment, not taking away from it."
He pointed out that the surrounding community is on wells and septic tanks, but Minto West will be connected to potable water and sewer.
Carter said that Minto West aims to be compatible with the area, and not change the lifestyle of the nearby residents.
"We clearly recognize that we're surrounded by large 1-acre lots," he said. "We saw there was an opportunity here not to change the large lots that surround us. Yes, some of those people have chickens, some have goats, but we said we want to recognize and embrace that, but not change it."