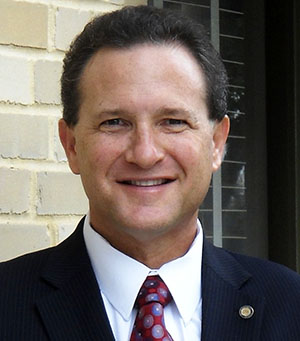 State Rep. Mark Pafford (D-District 86) easily won re-election to his fourth and final term Tuesday, defeating Republican challenger Stuart Mears, but the significance is that he will return to Tallahassee as the minority leader of the Florida House of Representatives.
Pafford took 27,705 votes (59.8 percent) to 18,641 votes (40.2 percent) for Mears, according to unofficial results.
As Pafford looks toward his new post, he had hoped it would be under a Democratic governor, but Republican Gov. Rick Scott narrowly defeated Democratic challenger Charlie Crist on Tuesday.
House Democratic membership also dropped below 40, which triggers a veto-proof Republican super-majority. However, while that would have made the job of a Democratic governor much more difficult, it is less of a factor now that Scott won re-election.
"That was only important if, in fact, we had a Democratic governor," Pafford said.
District 86 covers all of Loxahatchee Groves, Wellington and Royal Palm Beach, along with several eastern communities. It tends to vote Democratic, which makes his victory unsurprising. However, he believes the margin of his win shows higher-than-average approval of his performance.
"I'm very pleased looking at the numbers," he said. "I kind of over-performed a little bit. I've gone over the times I've been on the ballot, and I went above the way it should have performed. I think the voters paid attention, and selected me largely because of my ability."
Pafford said he has worked hard to provide constituent services, which he thinks may have affected the vote. For that he credits his staff, who he said does much of the heavy work in that area.
There is a lot to accomplish over the next two years on issues he feels remain important.
"In my case, it's healthcare for people and environmental issues, which I feel very strongly about, but also when it comes to just quality of life," Pafford said. "There are so many people who are working so hard every single day, full-time jobs, and they are really struggling. Those remain the top issues for me personally."
He said he has friends in the legislature who do good things that he plans to support.
"Every time you have an election, it's a new opportunity to do things differently," Pafford said. "You're always optimistic. You always hope that the folks we're dealing with up there understand some of the issues that you bring from your own district, and they're agreeable to working on things that make people's lives better."
He is pleased that the Democratic caucus asked him to serve as minority leader.
"What I do is help organize the members," he said. "I help the members be the best they can be on issues. We organize ourselves from the floor when we're on the floor. There's a lot to it, and it takes a lot of attention. You're the go-between between the speaker's office and our caucus. There's a lot to do, and it should be a lot of fun. It's also a lot of responsibility."
Pafford also sees many opportunities for bipartisanship in the coming sessions.
"I've got some very good friends who are Republicans," he said. "If you talk about Pat Rooney [R-District 85] as an example, Pat's one of those people in the legislature who always does a great job. He represents his people very well in the legislature. So we'll continue to look for those opportunities where we can all work together, but I think the bipartisan stuff really comes from our Palm Beach County delegation. There are so many common issues that we work together on, it just naturally occurs."
The picture for Democrats in Tallahassee is very different.
"The Democrats in the legislature have not been part of the agenda for 16 years," he said. "This will be the 18th year once we're done with this two-year session. I don't want to forecast that there's something bad that I don't like. Obviously you're never comfortable being put in a position of voting against bills that are just horrible, or bills that slight or remove a person's civil rights, let's say, or the ability to make medical decisions for themselves."
Pafford said he prefers to look on the bright side of the next two years. "I don't really look at things in a negative way, otherwise I wouldn't want to do this job," he said. "I look at things in a constructive way. I look at my role. Part of it is to find the good that occurs, so that is where I keep my attention."