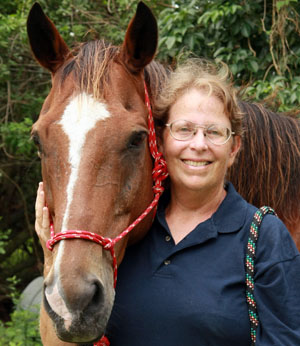 TALES FROM THE TRAILS
The weekend of Oct. 11-12 featured wonderful weather: not too warm, low humidity, rain-free. How could you not want to go outside and do… well, anything, really?
What 15 or so people chose to do was bring their horses to Sunshine Meadows in Delray Beach for a horsemanship clinic offered by 26-year-old trainer Tyler Klees. He had come from Colorado with his Quarter Horse, Spade, to teach "Leadership Through Horsemanship."
"My pursuit of leadership through horsemanship started at the end of my high school years," Tyler said. "I grew up around horses and was comfortable on them, but lacked knowledge. I studied under Leif Forrester during my first summer at the C Lazy U Ranch in Colorado. Leif had just returned to the ranch as horse foremen after spending four years as an assistant to Buck Brannaman. After that, I spent as much time as possible at Buck's clinics, watching or riding. Any good horsemanship I have to this day is due to Buck's influence and Leif's time and efforts helping me learn good skills and values through the horse."
It was at the C Lazy U Ranch that Tracy Kim of Lighthouse Point first met Tyler. She had gone there on vacation five years ago and attended some of his clinics.
"We clicked immediately," Tracy recalled. "I loved what he taught in his Leadership Through Horsemanship clinic. It made so much sense. Then I went on a cattle drive with him, and the connection got stronger. He inspired me. I wanted to be able to do what he does on a horse."
Specifically, there was one horse that Tracy wanted help with.
"I had an Appendix gelding named Romeo who was having navicular problems and lameness issues, and I thought Tyler could help," she said. "I ended up giving Romeo to him, and the horse is doing great now. I've been out to see him, and he's completely sound. I rode him on a three-hour trail ride, up and down mountains, and jumped over ditches."
Ever since, Tracy has been bugging Tyler to come to South Florida and give a clinic, and it finally came to fruition. There were four sessions, morning and afternoon on both Saturday and Sunday, covering groundwork, teaching the horse to respect the person's space and horsemanship under saddle. Tracy watched as her daughter, Danielle, 13, took part with Vanessa, their Holsteiner mare.
"It's so cool to watch what he does," Tracy said. "He allows the rider to know the horse better, giving both the self-confidence to build a strong relationship. One man had taken a bad fall a few months ago and had so much fear that he couldn't get back on the horse. Within an hour-and-a-half, Tyler had them cantering around, perfectly fine. Tyler is great at reading both horses and people, and dealing with their baggage and problems."
This was Tyler's first trip to South Florida, and he was impressed.
"It's a fun area," he said. "In terms of horses, there's lots going on, a lot of different riding styles, what with hunters, jumpers, dressage, all the big shows, even polo, in addition to all the Western disciplines. It's quite an eye-opener. I'm used to mostly working horse stuff out in Colorado. I didn't know there was a place like this. It's a whole new world."
Tyler is proud of the work he does helping others through horses.
"I ride at the Strawberry Creek Ranch in Granby, Colorado. Dedicating specific time to both horsemanship and leadership every day has allowed me to progress significantly with both horses and people," he said. "What I've come to truly believe in is leadership through horses. I want to teach horsemanship and leadership skills together to help others reach their full potential, in hopes they do the same for others."
Tyler said the biggest mistake many riders make is not having a solid foundation in the basics, starting with groundwork.
"A lot of people ride their horses on a tight contact all the time, so the horse loses his self-confidence and natural forwardness. He comes to rely on the rider for everything, instead of there being a true half-and-half partnership," he explained. "Riders have to learn how to release their horses, and to always give when the horse does something right, so there's a reward. That breakthrough is wonderful. They're both able to relax and move forward. I most love seeing the rider change, and the horse always reaps the benefits. It makes the horse's life a lot better."
During his visit, Tyler took his first-ever English riding lesson and did a little jumping. "It was kinda fun. I'd like to learn more about it, and try it again. Perhaps a little higher next time," he said. "I think Spade might have to learn a little jumping, and I'd love to try polo. Who knows what else I'll get into?"
Tyler was so impressed that he is considering moving here permanently.
"In Colorado, the riding is very seasonal," he said. "Everything basically shuts down during the winter, and the rest of the year people get out and ride now and then, mostly on weekends. I've never seen a place where people are so serious about their riding, and work every day and take lessons every week. I believe I'd be able to have a more steady clientele here with a more dependable source of income. Right now, I'm trying to figure a reason not to move here."
The idea of Tyler moving to Florida made Tracy happy.
"I'm hoping like mad that he'll decide to move here," Tracy said. "There's so much opportunity for him to give clinics and private lessons. Danielle and I will be his first clients. I'm hoping he'll say yes."
For more information, visit www.horseproblemsolved.com.