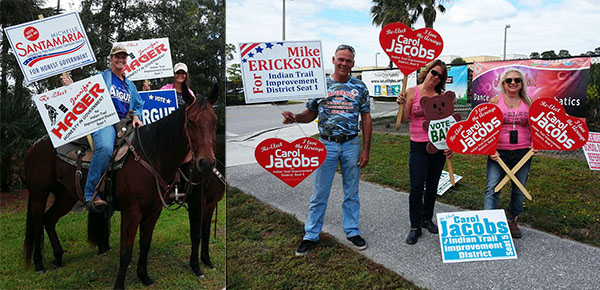 Incumbents Ralph Bair, Jennifer Hager and Carol Jacobs retained their seats Tuesday on the Indian Trail Improvement District Board of Supervisors.
Seat 1 incumbent Hager took 6,178 votes (53.5 percent), defeating former Supervisor Mike Erickson, who took 5,361 votes (46.5 percent).
Seat 3 incumbent Bair took 6,316 votes (57 percent), defeating Alan Ballweg, who took 4,761 votes (43 percent).
Seat 5 incumbent Jacobs, currently serving as ITID president, took 5,755 (51.5 percent), defeating Betty Argue, who took 5,413 votes (48.5 percent)
Bair, who is now entering his fifth term as a supervisor, said he is ecstatic about the win.
"I was facing a good candidate who at least had a good idea of what was going on in the district," he said. "He did a good job. I felt like I had the upper hand, though, with my knowledge of the district and the fact that I've lived here so long. I love the area so much that I just couldn't say no to one more time. I tried to, but I couldn't do it."
Bair said he truly appreciates the support shown by voters. "They were very kind, and even the ones who I didn't agree with were respectful, and I respect them," he said.
Bair said he thought the campaign was clean, for the most part.
"I don't talk about the candidate that I'm running against because I just don't feel that that's up to me," he said. "My job is to promote myself and talk about what I have done and what I've accomplished. We've come a long way from where we started in 1996 when I was first elected. We've basically built the parks we have and put in the roads we have, and we're working on the drainage system to see if we can make it even better. We've been doing that for a long time, too."
In the next four years, Bair wants to complete the State Road 7 extension to Northlake Blvd., complete the Acreage Community Park south project, and continue to work on drainage and possibly an alternative water storage area.
"We'll do whatever we can to improve [drainage] without costing the district a fortune," he said.
Hager, mounting much of her campaign from atop a horse with the hopes of "keeping The Acreage rural," said her victory tells her that she is doing something right in the eyes of the people.
"It has been a really trying, learning experience, having a full-time job and sitting up there on that board, but I'm ready for the next four years," she said.
Hager said she wants to find a happy medium in a community that is divided.
"With limited space left in Florida to be able to live somewhere for a lifestyle, I think this area is one of those few places, especially south of Orlando," she said. "They've started to realize that encroachment of developers is real, but they've also started to realize that they have a voice in the process, and that together we can accomplish something. That's what I'm hearing from the people who support me."
Her goals over the next four years include fighting overdevelopment and doing all she can to limit its impact on The Acreage, especially on roads.
"I really don't want to see us paved over," she said. "I don't want to see this area become a thoroughfare for Minto and GL Homes. I'm not saying seal the borders and put up a wall, but as far as the district is concerned, the residents are going to pay some way, either monetarily or with their way of life. It's really something worth fighting for."
Hager said some people want to yield to developers because they think it's not worth the fight, but she believes that it is.
"I'm not interested in negotiating with developers," she said. "They do not have our best interests."
Regarding the recent campaign, Hager said that she ran a clean race.
"I stayed positive; I did not give in to negative campaigning," she said. "I did not say one negative thing. I didn't print one negative thing. I ran my own race."
Jacobs said she is happy to have pulled out with a win in a close race, but her joy was muted due to the other outcomes.
"I was hoping Mike Erickson would get in," she said. "He has a way of negotiating and talking to professionals at different levels that we need on that board, and he is really good at it."
Jacobs credits her opponent for running a great race, especially in her first time running for office.
"She didn't get dirty or nasty," Jacobs said. "I'm happy I got a third term. I'm going to try my best to get things finished, get things done, and try to mend this community mainly."
Jacobs cited the need to negotiate with Minto to minimize the impact of the development on The Acreage.
"My goal is to bring this community back together," she said. "Minto divided it terribly. We used to have our green market with all our different groups, and we'd gather and everybody loved each other. It was so much fun, and now it's ugly, real ugly. You don't even know if you want to go in your local grocery store because some people have been saying some really nasty things."
Jacobs wants to help people get on with their lives, and try to minimize the impact by working with the county to get as much of the impact fees from Minto West as they can for road improvements.
"Our roads, whether Minto came or not, the county needs to get out here and widen Northlake, and some of these roads need to go through east to west," she said. "It's ridiculous. They keep building houses in The Acreage even without Minto. You have to go around and it takes half an hour."
She also wants to finish the Acreage Community Park project.
"We have some bonds that should be paid off soon," she said. "I'm hoping to start a community center also."
ABOVE: (Left) Supervisor Jennifer Hager campaigns on horseback. (Right) Candidate Mike Erickson and supervisors Michelle Damone and Carol Jacobs campaign together in The Acreage.