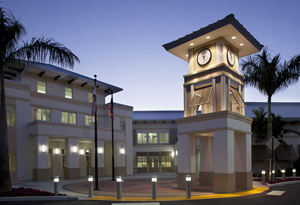 The Wellington Village Council approved a resolution last week to send a letter strongly objecting to a Palm Beach County Commission proposal to change its land planning advisory body from the Treasure Coast Regional Planning Council to the South Florida Regional Planning Council.
At the council's Oct. 28 meeting, Village Manager Paul Schofield said the resolution is in response to a request for support from the Palm Beach County League of Cities that Palm Beach County remain in the TCRPC.
Councilman Matt Willhite, who sits on the League of Cities board of directors, said the resolution supports a position that the board took to send a similarly worded letter objecting to the county plan.
Last month, the county commission discussed whether Palm Beach County wants to be more like its less crowded, slow-growth neighbors to the north or the more urban metropolis to the south, voting 4-3 to move forward with a change.
"It's about a $318,000 savings to Palm Beach County," Willhite said. "The issue I have with it is that first of all, we have worked very well with the Treasure Coast organization. The staff has been very responsive to us. We've had nothing but good work with them."
Willhite said he thought the TCRPC was more of a like mind with Martin County's restraint on growth as opposed to Miami-Dade and Broward counties' laxity.
"I do believe our growth is working; I think that the development is at a good rate," Willhite said. "I don't see that it benefits us, and especially because if we move to the South Florida Regional Planning Council, we get less representation from a Palm Beach County aspect than we get from Treasure Coast right now."
Willhite pointed out that Palm Beach County has seven representatives on TCRPC, and that with SFRPC, it would have only five.
"The difference is that some of those positions are already taken by the Board of County Commissioners, so if there's only five, and they put three on there, we only get two," he said. "The municipalities have more representation on the Treasure Coast board and have better say on what happens."
The League of Cities is asking all 38 county municipalities to pass resolutions so that when the league goes to the county, it can say that the municipalities do not support the change.
Councilwoman Anne Gerwig, who represents Wellington on the TCRPC, agreed with Willhite.
"The Treasure Coast Regional Planning Council staff is one of the best in the state," Gerwig said. "We've used them. They're working with our equestrian master plan and our equestrian committee. We've used them for other things as well."
People from all across the state look to the TCRPC for advice, she noted.
"They don't just serve this area, because others look to them for their expertise," Gerwig said. "We border the Everglades. We have some real significant environmental positions that align much better with those to our north than those to our south — especially to Wellington's benefit."
Schofield said that the village staff's recommendation is to support the League of Cities' position. "We have 25 years of history with the Treasure Coast Regional Planning Council," he said.
Willhite made a motion to approve the resolution, which carried unanimously.
Palm Beach County League of Cities Executive Director Richard Radcliffe said Palm Beach County was part of the South Florida Regional Planning Council in 1976 when the county commission made a conscious effort to leave that council, not liking the way regional planning was going to the south.
"They did not want to be like Broward," Radcliffe told the Town-Crier Tuesday. "They said we don't like where this is going. I don't know what is driving us back. They're coming up here for water. What kind of regional planning is that?"