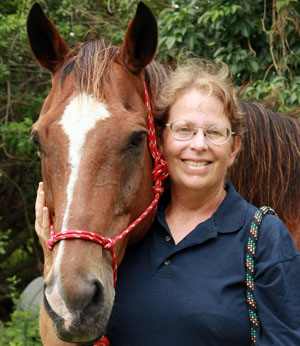 TALES FROM THE TRAILS
Despite her youth, Crystal Pena knows exactly what she wants to do with her life and is well on her way toward achieving it. Although she is only 19, Crystal owns and operates her own horse service company.
"I started it in 2010, and at that time I called it Crystal Equine Services," she explained. "I decided to rename it in 2012 and picked Equus Unlimited. We're still relatively small, but I have hopes that we'll be growing much bigger."
Crystal is pleased at her venture's success and sees only good things in the future. Equus Unlimited serves all of Palm Beach County, and its services include full and part-time grooms, horse and pet sitting, horse clipping, exercise riding, sheath cleaning, breaking and training, and local horse transport.
"Basically, we're able to help people with anything equine-related," she said. "We work year-round but, of course, we're much busier during the main horse show season from December through April."
Crystal's background includes both English and Western riding. She began riding at age 7, and showed hunters for three years. Then she morphed into the higher fences of jumpers and did that for another six years. Finally, it was barrel racing that captured her attention.
"I'm comfortable riding any sort of horse and any sort of discipline," she said. "I've also done a little basic dressage."
Crystal's idea for a business is interestingly simple. She hires experienced horse people, contracts for jobs and then sends them out to complete the work. She does some of the jobs herself, including the training, breaking and horse transportation, but she employs others to help out, paying them a guaranteed fee and keeping the difference between that and what the customer pays.
Equus Unlimited charges reasonable rates. Body clipping ranges from $100 to $150. Exercise riding is $35 for a half-hour and $45 for a full hour. Full-time grooms are $600 a week, and part-time grooms are $12.50 per hour. Breaking and training runs $400 a month if the horse is brought to Crystal's facility, or $500 if she travels to yours. Horse transportation depends on the mileage but is also reasonably priced.
And she's looking to hire more people.
"This is a great way for someone to earn a little extra money, working either part-time or full-time," Crystal said. "We're always looking for more employees. We could always use grooms. They should have horse show experience and know how to work with horses."
Typical duties include feeding, mucking out stalls, turning out horses, hot-walking them, tacking and untacking them.
"Our employees must have reliable transportation, have a good work ethic and show up promptly on time, and be able to work on their own as well as be part of a team and get along well with others," she said.
Last year, Crystal had five employees. This year, the company is growing. She thinks she'll need at least 10, and now is when she's gearing up for the upcoming season.
The most popular service is body clipping. She would also like to hire an experienced braider, so she can add that to her list of services.
"I enjoy working with horses and people," Crystal said. "Training horses is a lot of fun and gives me a great deal of satisfaction. Typically, I do either 30, 60 or 90 days of training with a horse, either at my facility or at the client's barn.
Her two main specialties are barrel racing and hunter/jumper.
"I can teach a horse the pattern, or help with tighter turns. For hunters, I can teach a horse anything from cavaletti to bigger fences," she said. "I'm also experienced in helping clients deal with problems they may be experiencing with their horses. Common issues are things like bucking, rearing, being barn-sour or buddy-sour, any jumping issues, or anything else that might crop up. For example, some barrel horses have a problem with going in or out of an arena gate at a show. I've dealt with all of these problems and can be of service in helping others to overcome them."
Robbie Partain lives in The Acreage with her four horses. She has used Crystal's services a number of times. "She has done some riding for me, and has also taken care of my horses," Robbie said. "She is especially good at clipping. Amazing, really — the best I've ever used. She is meticulous and really gets them ready for shows. I'd highly recommend her to anyone."
Heidi Lengyel, owner of Wall Street farm, is also a customer.
"Crystal body-clips horses for me," Heidi said. "She is very good, very dependable, courteous and professional. She shows up promptly and gets the job done, even if the horse is acting up."
Tammie Rheney has also used Equus Unlimited. Her Acreage home includes eight horses.
"Crystal is a great young local equestrian who is skilled in many different disciplines," she said. "I used to barrel race, and I always used her for clipping. Now I mostly ride pleasure and a little reining. I still use her for clipping and training. What I like about her training is that she is always using positive things rather than negative ones. She is all about praise rather than punishment. She has a gentle way about her. I'd definitely recommend her and her services. She's very trustworthy."
Crystal said that what gives her the most satisfaction is helping out the horses and making her customers happy.
If you are interested in employing Equus Unlimited or possibly signing on as an employee, call Crystal at (561) 889-8680 or visit her Facebook page at www.facebook.com/EquusUnltd.