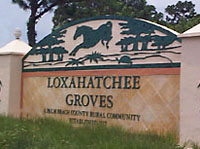 The Loxahatchee Groves Town Council on Tuesday approved a six-month moratorium on commercial development approvals along Okeechobee Blvd. to give town staff time to come back with recommendations on how to address further commercial applications on the thoroughfare.
The council decided on a moratorium rather than approve the preliminary reading of an ordinance presented by its staff that would have set criteria for development on Okeechobee Blvd.
The Loxahatchee Groves Planning & Zoning Board had recommended a moratorium or a "zoning in progress" designation at its Nov. 20 meeting after finding issues with the ordinance, which included language about "cottage industry" and an "activity center." The board also had questions about what was an acceptable floor-area ratio (FAR) for the corridor.
"They thought it was a good first draft," Town Manager Bill Underwood said. "There was discussion on cottage industry and an activity center and limiting commercial."
Vice Mayor Ron Jarriel said he wanted to table the ordinance and invoke a six-month moratorium until town staff and the planning board have had more time to work on the ordinance.
Councilman Tom Goltzené said he did not see that the ordinance was necessary, explaining that he thought the current agricultural residential use along the corridor was sufficient protection. He noted that the Day family had gone through a lawsuit with the town to get a zoning change for low-density commercial for their 10-acre property at the southwest corner of Folsom Road and Okeechobee Blvd.
"I don't understand why we would do this," Goltzené said. "With the current [agricultural residential] zoning, people would have to go through the process."
He added that there does not appear to be a lot of immediate pressure from property owners along the corridor for commercial development.
"I don't think there is a crying need to do this," Goltzené said. "It's not like there is a big economic need for commercial there. In order to have commercial, you have to have a need."
Councilman Jim Rockett said the ordinance was to protect the town by fixing issues uncovered with the comp plan when the Day family went through the process.
"Town management is trying to be proactive," Rockett said. "They are trying to shore up things that are poorly written. This gives us the opportunity to put some kind of stake in the ground."
Rockett added that he wanted to remove references to cottage industry, which he thought would create more problems, and have the planning board focus on limiting commercial development.
Councilman Ryan Liang favored a moratorium in order to have more time to work on the ordinance.
"This is something we have been kicking down the road for quite a while," Liang said. "We need to attend to that before it bites us."
Mayor Dave Browning said that there are issues in the comp plan that must be addressed, pointing out that he was surprised when the Day application came through with a 0.1 FAR and the comp plan allowed it. The town went through litigation with the Days that arrived at a 0.074 FAR.
"I think this is just another tool that becomes another hurdle for developers," Browning said, adding that he thought a 0.05 FAR would be the maximum he would want to allow.
Town Attorney Michael Cirullo said that if the ordinance passes, it would go to the Florida Department of Economic Opportunity for review then come back to the town for final approval.
He explained that the ordinance would strengthen the council's position to negotiate with developers, and that a moratorium would create a "time-out" on Okeechobee Blvd. for further commercial development.
Planning & Zoning Board Chair Grace Joyce, a professional planner, explained that a moratorium would halt development, whereas a "zoning in progress" would allow a developer to apply for a zoning change as long as it is within the anticipated boundaries of the new zoning.
"Zoning in progress means you're going to be changing things, but you can bring in an application as long as it's consistent with the changes," Joyce said. "A moratorium means nothing comes in. I don't think we're in a position to do a zoning in progress."
She agreed with Goltzené that the Day property was an exceptional case, but also agreed with Rockett that the town has to protect itself against loopholes that developers will exploit.
Joyce added that she also thought the proposed ordinance needed more work.
"I would caution you not to transmit this to the state," she said. "We don't have defendable detail that we can send to the state. I don't think we're quite there yet."
Joyce said she believed there were some "town-serving" commercial uses that might be beneficial for the Okeechobee corridor. She suggested that the town do a marketing study, which would put it in a position to tell developers what it wants there.
"We've got Minto West coming in, and that's going to be a big change for Okeechobee," she said. "I think it's going to be a different conversation. We need to stand together, and I would really hope that you look at this."
Browning asked Joyce whether she wanted a moratorium, and she said that would "start the clock ticking" to make desired changes.
"You really need to have a strategy," Joyce said. "We're here tonight with two options but no strategy."
Joyce added that she believes that the council should table the ordinance, explaining that there did not appear to be any applications imminent.
Cirullo said a six-month moratorium seemed reasonable to allow town staff and the planning board to make the adjustments. Rockett made a motion for the six-month moratorium, which carried 5-0.