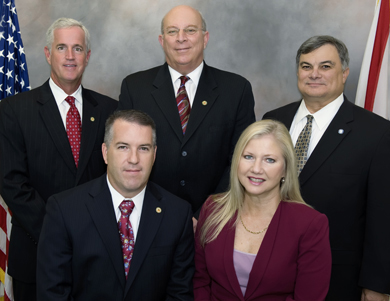 The Wanderers Club has rejected the Village of Wellington's offer of $700,000 for its unused executive golf course.
The Wellington Village Council approved a resolution to purchase the Wanderers Club's 38-acre defunct executive golf course last week, but at a lower price than what had been asked by the owners.
The land is located near the corner of Greenbriar Blvd. and Aero Club Drive, and is currently zoned commercial recreation. The unused course has been out of play for about seven years. "I won't say it's absolutely dead," Village Manager Paul Schofield told the Town-Crier Wednesday. "The original offer was $1.2 million. The council said to go back and negotiate their best and final price, which came back at a million."
The response from the council on Tuesday, Nov. 25 was that $1 million was too much, and the council decided to offer $700,000.
"They said, 'Thank you, but no thank you. We're not interested in making a counteroffer,' and where they left it on the table was, 'Any time the village wants to pay a million for it, we'll sell it, but we're in no big rush,'" Schofield said.
Schofield said the Wanderers Club never made a commitment to sell the property to the village, but he is not aware of anyone else waiting to make an offer for it. He pointed out that the property is unusually configured, winding around a residential area. It is not really suitable for development other than as a passive park, Schofield said.
Wanderers Club President of Operations John Wash said the club would keep the property rather than accept the lower offer.
"We've talked to village staff for a number of years about those 35 acres over there," Wash told the Town-Crier on Wednesday. "We've never really had any intent, but we never really looked for it to be sold. We were just looking for different ideas for beneficial uses to the community, and just thought it would be a wonderful piece of property for the Village of Wellington to add green space to the community."
He said his company's independent appraisal was about $1.3 million originally, which was a similar amount to three of the village's appraisals, except one for $700,000.
"We came off that price, and it never was really a matter of price," Wash said. "It was a deal at $1 million. They had an appraisal there of $700,000, which was done wrong. That person appraised it as a golf course in its current condition."
The course is currently an unofficial walking and jogging trail used by local residents, although the village has determined that the asphalt cart path needs repair, wooden decking and handrails need replacement and the existing restrooms need renovation, if Wellington was to buy it.
"We've been maintaining it, as we needed to," Wash said. "It's there. The piece of property came with the original sale when we bought the old Wellington Golf & Country Club. There's really no plans that we have to do anything with it, so we're holding on to it. It's costing us very little to hold on to."
However, Wash said he still thinks it would make a great public park.
"Anybody that took it would have to put some money into it," he said. "I think the village had some ideas and plans for it, but nowhere did we ever agree or were we willing to negotiate a price of $700,000."
Wash added that at several community meetings, the residents of Lakefield South were positive about the possible purchase by the village.
"It's not the Wanderers Club that is holding the deal up or killing the deal," he said. "It's the village that has decided. At one point in our conversations along the way, there was almost unanimous support for the purchase of the property, so I'm not sure what all of a sudden turned around."
While some council members were concerned about the costs associated with retrofitting the property, Wash thought it should be a given that any purchaser would assume that they are going to have to invest more into the property than just the purchase price.
He reiterated that the property is not a great burden on the Wanderers Club.
"We've never actively marketed that piece of property, nor do we want to market it," Wash said. "It's not like we're soliciting bids from other entities. Timing in any sort of deal is key. It would be a great amenity for the Village of Wellington to have. We can always look at it tomorrow if they change their mind. Hopefully, the council will come back to a voice of reason and really see the benefit of that piece of property to the Village of Wellington."
For now, he said the property will remain open for use but had concerns about liability. "Those are concerns that we have, but we at least try to be a good neighbor," Wash said.