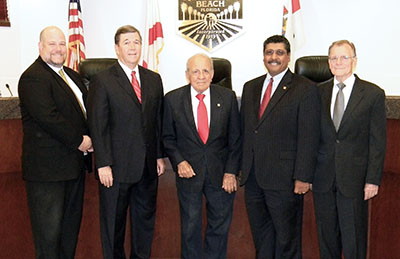 By Briana D'Andrea
As it does every year, the Royal Palm Beach Village Council last week formally authorized the upcoming village election set for Tuesday, March 10.
Seats 2 and 4, held by Vice Mayor David Swift and Councilman Fred Pinto, respectively, are up for election. Both plan to seek re-election, but the vote will only be held if challengers come forward.
However, at the Dec. 18 council meeting, officials discussed the role of the village in vetting potential council candidates.
"Since we had the proclamation and we're talking about laws, there has been an issue that has been bugging me for a while," Councilman Richard Valuntas said. "I find it a little bit disturbing that the Village of Royal Palm Beach conducts a criminal background check on every single person that it hires, except for the five of us sitting up here."
He added that he didn't understand that hole in the law.
"It doesn't make sense even more, because if you are convicted of a felony, you can still work for the village, but you can't sit up here, and the village at this point does nothing to confirm that," Valuntas said.
He said he would like to find out why background checks aren't performed and add the discussion as a future agenda item for the council. "To my understanding, we do nothing, and that's problematic for me," Valuntas said.
It was not the first time the issue has come up, but Swift urged caution.
"I've heard this now and then," he said. "I understand your concern, but I think you have a legal problem with the elections office. It's up to your candidate to do the background check and all that. We're kind of breaking new legal ground by doing that, so I'd like to have some sort of legal opinion. There are some reasons why the state doesn't do that."
Pinto supported investigating the idea.
"I support the request; let's at least get educated on it and why the rules are the way the rules are," Pinto said. "Just from a practical standpoint, there's some logic to it. If someone is elected for office, you want to find out if they have a criminal background."
In other business:
• Pinto gave a report regarding his concerns with the Florida Department of Transportation and the State Road 7 extension project.
"The FDOT has decided to push back the funding schedule for the next segment of the SR 7 extension," Pinto said.
He requested that the District 4 FDOT representative come to a council meeting to explain why the project is being postponed.
"I'm hearing all kinds of stories. One story was the funding was shifted to some project in West Palm Beach, because people in West Palm Beach are complaining, and if that's true, now we're creating an east-versus-west problem, and I have a concern about that," Pinto said.
The project is slated to create a connection from 60th Street North to Northlake Blvd. It was expected to begin in 2016, but now has been pushed back several years.
Village Manager Ray Liggins said he will aim to get an FDOT representative at the next council meeting.
Councilman Jeff Hmara said the change was made due to pending legal action. "I had a conversation with State Rep. Mark Pafford," Hmara said. "He got the impression with a number of people that the possibility of a lawsuit was more than just a possibility, but imminent, which could constitute a two-year delay in the development of that extension."
However, Hmara was hopeful that more money could be found to move the project up.
"Rep. Pafford did say he's committed to finding the money and putting it back as best he could do that through the budget advisory commission they have," he said. "Maybe hearing from FDOT would be a good idea."
Liggins said getting the money back will be a challenge.
"While there's a lot of optimism that the money will move forward, there's a lot of work for us to do to get it to move forward," he said.
Liggins said construction projects have increased in cost. "With the economy coming back, prices are going up," he said. "Meanwhile, West Palm Beach has been successful in making it a more expensive mitigation project."
He said that the mitigation project, coupled with a number of other projects on the radar, forced it to be pushed back.
"It is not in the District 4 budget, and we don't think it's in the draft budget. We will try to get the money allocated. The state has a billion dollars to decide what to do with, and I think we can help them," he said.
Although they are expecting a challenge from West Palm Beach, Liggins said the state has kept its commitment to the project and sees it as a priority.
• The council also unanimously approved a new awning for bus drop off and pickup at the Renaissance Charter School at Palms West.
"The site plan modification will allow for the inclusion of a bus staging area and a covered walkway and traffic flow plan," Planning & Zoning Administrator Bradford O'Brien said. "One of the conditions of approval on the previous site plan was that any change to the traffic plan be reviewed."
The school is at the northwest corner of Southern and Crestwood boulevards. The Planning & Zoning Commission considered the application on Dec. 3 and recommended approval, as did village staff.
"I was very impressed that we were able to contain the traffic circulation," Swift said. "As far as I can tell, it hasn't been a concern for our residents. I go by there a lot in the peak hours, and traffic seems to be moving properly."
He initially had been concerned about traffic flow in the area.
"There won't be any negative impacts," O'Brien said. "It actually gets some of the buses that are currently there out of the traffic circulation aisles and over to the side."
ABOVE: The Royal Palm Beach Village Council.