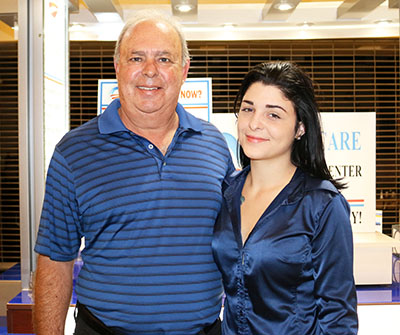 Prominent in the Mall at Wellington Green is an insurance kiosk with signs for "Obamacare" and the Affordable Care Act. The kiosk — ACA Health Advisors — is just outside the mall's Grand Court near the Patio Verde Food Court.
The Affordable Care Act, signed into law by President Barack Obama in 2010, is set up with a subsidy system, Jack Polsky explained, but many people are not aware of the availability of the subsidies.
"What we decided to do, among other enrollment centers throughout the country, is to make certain communities aware of the subsidies that may be available to them," he said.
The mall, an epicenter for shoppers coming from Wellington, The Acreage, Loxahatchee Groves, Royal Palm Beach, Greenacres, West Palm Beach and other communities, offers a variety of shopping experiences through its many different stores.
"This is a very diverse mall. That's one of the reasons we chose it," Polsky explained. "What we've been able to do is to create a little bit of a sense of urgency to come and check if you are entitled to any sort of subsidy that the government may help you pay toward your insurance."
So far, since open enrollment began Nov. 15, ACA Health Advisors has signed up close to 400 people and hopes to see the numbers increase. "Probably 20 to 25 percent of them have gotten free coverage," he said, noting that many enrollees are getting insurance coverage for $20 to $30 a month because they're getting $400 in monthly subsidies.
This service, Polsky said, is one that ACA Health Advisors provides at no cost to the consumer.
"There is no charge or fees. We get paid from the insurance companies directly," he said. "Essentially, it's a free enrollment, no-fee service."
The motivation behind the company, he said, is helping people get the coverage they need.
"We act in an advisory capacity as health advisers to clarify the air, so to speak, about what this is all about. A lot of people have pre-existing conditions, which are no longer excluded under the act. You can have pre-existing conditions and be covered," he explained.
AHA Health Advisors offers a helping hand toward navigating the health insurance marketplace and the many different plan options and insurance companies offering plans in Florida.
"People need coverage," Polsky said. "A lot of them are confused, so we're really trying to clear the air and cater to those demographics that are not being catered to."
Through ACA Health Advisors, people can get answers to basic questions that might have been lost in the politicization of the recent healthcare changes.
"What we really bring to the table is our expertise and knowledge in the plans and going over the plans," Polsky said. "What does it cover? What doesn't it cover? Copays, maximum out of pockets, who is covered, who is not. It's a combination of educating, creating urgency and enrolling them."
The questions Polsky is asked run the gamut from whether current doctors are covered, if individuals are qualified, how to qualify and how to get free coverage, to what exactly is covered under the act.
"I think the satisfaction of seeing customers and people who are enrolling walk away happy and referring a friend is what it's all about," he said. "Now they can see a doctor, and that's what's most gratifying about what we do here."
Open enrollment lasts until Feb. 15. Coverage for all 2014 marketplace plans ends Dec. 31, and 2015 coverage begins Jan. 1, 2015.
ACA Health Advisors is multilingual, with employees who speak Spanish and French Creole.
For more information about ACA Health Advisors, call (877) 803-8823 or (561) 809-7887, visit info.acaexpress.com, www.facebook.com/affordablecareactt or e-mail info@acahealthadvisors.com. ACA Health Advisors also will be at the South Florida Fair next month.
ABOVE: Jack Polsky with enrollment assistant Rachel Garcia.