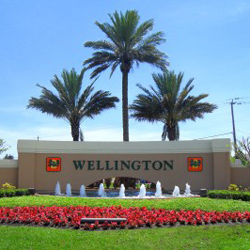 Wellington Equestrian Preserve Committee members again reviewed design plans for paving projects in Saddle Trail Park last week, which led to more discussion about the approval process, although their instructions were to stick to the design plan.
In November, the committee voted unanimously to oppose paving of roads in the Saddle Trail community, even though the Wellington Village Council had approved the project unanimously in April based on a request from residents.
Last winter, residents in the southern part of Saddle Trail, south of Greenbriar Blvd., asked the council to help the community by using a special assessment process to pay for the improvements. The project includes building a bridle trail, paving roads, reworking drainage swales and installing new potable water pipelines and fire hydrants throughout the southern part of Saddle Trail.
At the Dec. 10 meeting, Village Engineer Bill Riebe again presented the plans to the equestrian committee.
"The only real change from what we presented to you in November was that at the last resident meeting, they recommended that we provide openings in the three-rail fence for the properties on the opposite side of the bridle trails," Riebe said, explaining that those residents on the opposite side of the road from the trail will have access through the fence.
The road will be 20 feet wide with 11-foot swales on both sides, and a 14-foot bridle trail.
At the previous meeting, several members objected to plans to remove trees and other vegetation growing in the rights of way.
Committee Chair Linda Elie asked Riebe whether he had asked property owners or if they had contacted him about their views on removing landscaping as necessary to improve the road.
Riebe said that village staff had sent letters to individual property owners along with aerial diagrams of the plans, noting areas where vegetation would be removed or relocated, as well as mailboxes and water meters. Several owners had contacted village staff with questions about water meters and removing or relocating vegetation.
Riebe said several property owners had asked about the number of water meters they would need if they had more than one lot. The village is very flexible about that, he said, including providing more than one meter for one lot.
Elie said she noticed that there is still a traffic calming island coming in off of Greenbriar Blvd., and Riebe said that it is to mark that drivers are entering an equestrian community. He added that signs will be installed and the circle will be built so that there is no conflict with large trucks navigating through it.
During public comment, Saddle Trail resident Brad Biggs commended the committee on its action at the previous meeting. "I think you did the right thing," he said.
Biggs, a lawyer, said a couple of issues had not been brought up. "I think this is an Acme issue and I think it's a water control district issue, and I think those are water control district lands," he said, explaining that although the Acme Improvement District is a dependent district, it is a separate taxing body. "I think sometimes people don't get that."
He pointed out that his property tax bill has separate lines for Acme and Wellington, and Acme controls roads and resurfacing. He predicted those issues would arise in future public hearings. He also pointed out that equestrians are assessed at an increased benefit.
"People have been saying it's a done deal, and the council has been moving pretty much in lockstep to move this project forward, but it's not done yet, so I hope they will reconsider some of their actions," Biggs said.
Committee Member Houston Meigs said he thought the project would affect many more people than just residents of southern Saddle Trail, and asked whether residents outside Saddle Trail had been contacted.
Riebe stressed that the topic of the meeting was not about assessments or the process. "Those types of things are under the purview of the council," Riebe said. "We're specifically here tonight to talk about the design details for a project in a neighborhood, which involves equestrian activities."
He explained that the council had asked him to get the committee's input on the design details, not whether they liked the project or the special assessment process.
Committee Member Linda Smith-Faver said the committee opposes the project. "We're sort of being forced into making decisions about a project that we don't agree should happen," Smith-Faver said. "I think the council asked our opinion and then ignored us."
"Unfortunately, they do have the option of doing that," Elie said.
Riebe pointed out that some changes were made. For example, equestrian crossing islands were removed at the request of the committee.
Smith-Faver said she considered that a small change and that members never were asked if they favored paving roads in the Equestrian Preserve Area.
"It's going to affect a lot more people than those 70 or 80 people who wanted this, and that's my concern," she said. "We're supposed to be speaking for the entire equestrian community, not just Saddle Trail Park south."
Committee Vice Chair Michael Whitlow thanked Biggs for opening up the discussion.
"I understand what Mr. Riebe has said about limiting our scope, but that was discussed last night at the council meeting," Whitlow said. "Once again, people are unhappy with the idea of covering things on a piecemeal basis."
Elie said that there are design elements the committee needs to address, whether they like the project or not. "If it does go forward, we need to have some input into it," she said.
She asked how hedge heights were going to be addressed and enforced so that drivers can see that horses are coming and riders can see that cars are coming.
Riebe said the hedges will be along the property line, and if there is a line-of-sight issue at access points, there are engineering standards and ordinances the village can enforce to see that property owners lower them.
Meigs also asked about property owners' entry gates. Although they will be required to open inward so they don't interfere with the bridle path, and the entry button will be within the property line, it would still leave half of a vehicle sitting in the bridle trail while gaining entry.
"That means the entry gate would have to be moved 20 feet into the property," Meigs said.
Elie agreed, pointing out that she had a delivery truck sitting outside her property recently waiting to gain entry, and horses on the bridle trial had to wait for the truck to get in.
Riebe said that condition exists now. "We are not going to engineer every circumstance," he said.
Elie said the condition would be happening on a routine basis, forcing horses and riders onto the slippery pavement in order to get around vehicles, but Riebe said it is illegal to block a bridle trail.
"There are other bridle trails in Wellington," he said, "and we've not seen those issues with that type of setup."
He added that residents had asked for paving because of dust. He also pointed out that there are a variety of conflicts on the roads already with horses, golf carts, vehicles and pedestrians.
"The dust is so bad in there during the season that there are times that you cannot see down the road," Riebe said.