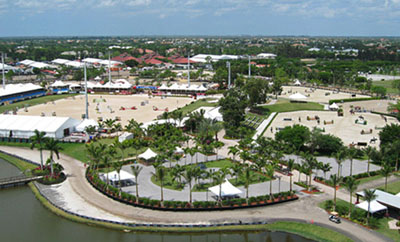 The Wellington Village Council approved three special-use permits Tuesday for equestrian events, including two for Equestrian Sports Productions involving temporary parking and access at the Winter Equestrian Festival and the Global Dressage Festival.
The council approved a seasonal permit for the Palm Beach International Equestrian Center for equestrian events from December through April that included two temporary accesses and temporary parking on the west side of Gene Mische Way.
Planning & Development Services Director Tim Stillings said the permit asks for two temporary access points between the PBIEC and Grand Prix Farms, as well as temporary parking on Gene Mische Way. "The request is before the council because for the access points, only the council can authorize external access to a planned unit development," Stillings said. "And the temporary parking is greater than what can be approved administratively in relation to an equestrian show use."
Stillings said the northern access point will be for ingress only and the southern access point is two-way. The parking requested is about 475 feet south of Pierson Road and runs the length of the PBIEC property down to the southern property line, including about 100 spaces.
Village staff recommended approval of the access request but denial of the parking because parking in swales or landscape buffers, as well as backing into a road, is prohibited by code.
"The area west of Gene Mische Way is approximately 20 feet, which is the typical dimension of a perpendicular parking stall, and we just didn't feel there was sufficient room to provide that parking," Stillings said.
Vice Mayor John Greene asked who uses that parking, and Stillings said it is primarily those using the stabling or visiting the site.
Greene noted that the village has been talking with Equestrian Sport Productions to come up with a more permanent parking solution.
"We've seen this with other venues and other landowners where they held events and parking was an issue, so I'm sure we'll work as closely as we can to accommodate a permanent solution," Greene said.
Councilwoman Anne Gerwig asked about the possibility of parallel parking there, but Councilman Matt Willhite said that would also not be allowed.
"No matter what kind of parking it is, you're potentially going to have to back out into a roadway, even if you're parallel-parked," he said. "It's still a landscape and a swale, so even if you came up with another aspect of parking, it's still not allowed."
Stillings said the permanent solution will be to address it as part of the master plan, which does not show parking in that area.
Willhite said he thought a prohibition against parking on swales and in landscaping was written into the code for good reason.
"It's a large venue, it's busy and there's a lot of moving parts, and that's one of the major thoroughfares," he said. "I'd say it's an artery of the facility. I don't see how they can provide an alternative unless it's somewhere else."
Stillings said part of the plan was to provide temporary parking this year and to develop a permanent solution, either to relocate it or address the existing issues on Gene Mische Way.
"We've had challenges on this in trying to get the property owner to deal with the parking issues, which is why we've taken a fairly hard stance on this request," Stillings said.
Michael Sexton with Sexton Engineering, agent for Equestrian Sport Productions, said the area is used primarily for stabling competition horses, and that Gene Mische Way is a private roadway within PBIEC.
The temporary accesses to Gene Mische Way are in the same places as last year, Sexton said, pointing out that the horse trailers are brought in and taken out virtually every week, and the access points allow them to get in and out comfortably.
Sexton said they are trying to address staff's drainage concerns for the temporary parking by reducing the number of slots to 95 and installing silt fences around all of the existing drainage inlets so that cars would not park on them.
He said there is about 21 feet between the property line and Gene Mische Way, and they have utilized 18.5 feet for the parking space, and between the parking space and the road is stabilized subgrade, which holds up well throughout the season.
"What we've provided is the geometry that is consistent with a service road or any road through a Wellington parking lot as far as the backup distance," Sexton said, explaining that the people who use the spaces are not spectators, but primarily grooms and people working with the riders and horses who have passes to access the area. "It's all people who are familiar with the horse show."
Mark Bellissimo, managing partner of Wellington Equestrian Partners and CEO of Equestrian Sport Productions, said the parking and the access points along Gene Mische Way have been used for more than 10 years, but it has been challenged the last two years after WEP purchased the barns located in Grand Prix Village.
"We went to great expense to buy those," Bellissimo said. "They cost us more than $9 million. That allowed us to expand the international portion of the show."
He said the access points will allow more parking with the facility, which will ease parking issues along Gene Mische Way, pointing out that Gene Mische Way is a private road, and not an artery.
"Arteries go places," Bellissimo said. "Gene Mische goes up the road and has a circle toward the end, so this road is really an access to parking." He pointed out that there are also parking areas to the east and west of the road.
Bellissimo acknowledged that there are code issues along the road. "We understand and respect that, and we are trying to figure out a way to address that," he said, explaining that the growth of the festival has created problems they had not anticipated. "We're really trying to work collaboratively with village staff. Staff has issues, but we were hoping, instead of making it an either/or solution, that there is an opportunity for us to use it this year and then allow us to make some text amendments, which I believe are in process."
Greene made a motion to approve the resolution with conditions that include submitting a permanent parking plan by January. The motion carried 4-1 with Willhite opposed.
The council also approved a seasonal permit for the Equestrian Village site to conduct equestrian shows from December through April. Stillings said that last year, Equestrian Village was designated by the council as a commercial equestrian arena, and as a part of that, it set a number of conditions including onsite and offsite improvements.
"Several of those conditions have not been satisfied within the completion deadline, so they exercised their right to get an extension, but by doing so, that also extended their beneficial use as a commercial equestrian arena, so they are before you tonight to request use of the facility for spectator events," Stillings said, adding that the permit is identical to the permit approved last year, including the conditions and number of dates and spectators.
Coates made a motion to approve the permit, which carried 5-0.
The third permit was for the Ridge at Wellington to host up to 25 equestrian shows from Dec. 10 through April 15. The permit included temporary tents for 60 stalls. The Ridge is located on Palm Beach Pointe Blvd.
Stillings said the request came before the council because it exceeds the number of events per year permitted for administrative approval.
Willhite asked about a provision that no trailers or RVs may be occupied when parked overnight.
Stillings said RVs can be parked there overnight but not occupied at night, although they can be used during the day as offices or for other uses.
Councilman Howard Coates made a motion to approve the resolution, which carried 5-0.
ABOVE: The Palm Beach International Equestrian Center.