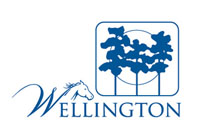 The upcoming year is expected to be a year of change in Wellington, starting right off the bat with a new member of the Wellington Village Council.
"What's new for 2015? A new council member," Councilman Matt Willhite told the Town-Crier on Tuesday, referring to Councilman Howard Coates' appointment this week to a circuit court judgeship.
Coates will need to resign from the council upon taking his seat on the bench. The council will have 30 days to fill the vacancy, Willhite said.
Be it a council appointee or other decisions, Willhite is optimistic when looking forward to 2015.
"I am sure that whatever the council decides, they feel it will be for the betterment of Wellington," he said. "I think no matter what any of our differences are, we all, in our mind and in our hearts, feel whatever we do, it's for the betterment of Wellington."
Differences of opinions arise, Willhite explained, but the intent is always to make Wellington better.
Making Wellington better is important to Councilwoman Anne Gerwig, who notes that council strife has become a focal point in Wellington.
"Everything that happens in Wellington is a good thing," she said. "We've kind of gotten famous for arguing and really long meetings. I'm hoping that we can get to not the really long meetings, getting more efficient in how we do things with the residents and each other."
Village Manager Paul Schofield feels that 2014 has been a year of progress, and he expects 2015 to be one as well.
"I'm very pleased and very proud of what both my council and my staff have accomplished over the last year," he said. "Council [members have] come a long way. They've made progress on the equestrian venues, they have set policy as it relates to how we do in total construction. A lot of stuff goes into running a municipality of nearly 60,000 people. It's not the most exciting stuff you'll ever do, but they've come a long way. I'm very pleased with their efforts, and 2014 was one of our better years."
One project from 2014 is particularly important to Gerwig, who is excited to work on education issues, which is not usually a council focus.
"We have to stay on top of what is happening at our schools," she said. "That's why I'm very proud of the Keely Spinelli grant program and how effective it has been for helping our local schools. That $25,000 grant for each public school in Wellington has just been reinstated. It has been very successful."
Special events such as Wellington Idol, the Food Truck Invasion and equestrian events are also important to Gerwig.
"This is what we are. We're Wellington," she said. "We do a great job at education, we do a great job at recreation, and we're the winter equestrian capital of the world."
Some of the most successful events, Gerwig said, take place at the Wellington Amphitheater, such as Wellington Idol and previews of high school musicals.
"Those are the kinds of things I'm hoping to do more of, if I can find other ways to tap into the local arts and make the best use of that amphitheater," she said.
In the future, though, Gerwig would like to see more variety at the amphitheater.
"It's great to have the cover bands," she said, "but I would like to see it be a little more hometown as far as what's happening there. That's why I like Wellington Idol and the high school musical preview."
One of Gerwig's favorite events is the Fourth of July celebration. "All we need is really great weather, and then we're good for that one, because our staff does such a fantastic job putting on those events," she said.
K-Park, the much-coveted parcel of land on SR 7 in Wellington, is going to be at the forefront in 2015.
"We have proposals from $16 million to $25 million for the piece of property, if it's going to be [sold] and how it's going to be developed," Willhite said. "We're hopefully going to decide early in January. We're going to rank the applicants on how we felt their presentations were, hopefully short-listing three out of the six. Then we're probably going to come down to a decision on which one we're going to offer it to."
Coming up also is the new Wellington Tennis Center, which should be ready by April, Schofield said.
"The new tennis center will be open early next year," he said. "Then we will start construction on the [new] Wellington Community Center. We've got projects to improve drainage that start next year and will continue over the next decade after that."
Other action will come from the Equestrian Preserve Committee, which is drawing up a new equestrian master plan, and the Charter Review Committee, which is set to complete its tasks in 2015.
The new community center will be a huge project for Wellington, Gerwig said.
"The groundbreaking at the community center is going to be a big deal," she said. "We're finally going to have a functional building for that. It was so hard for Wellington Seniors Club [members] to walk up that incline — it's hard for me to walk up that incline."
One thing that bothers Willhite is the ongoing litigation that is occurring. "I hope that any of the litigation and the differences of opinions that we've had with individuals, will hopefully, to some extent, come to some resolution," he said.
Willhite would prefer keeping focus on the positive, not the negative.
"We have so many good things going in Wellington. We have some of the best schools in the state. We have one of the best park systems in the state. We have so much growing in our equestrian area. Our building department is just swamped with permit applications and reviews and inspections that are going on. Things are just growing in Wellington," Willhite said.
With growth, however, comes drainage, and drainage issues will continue to be a focus, as well as connections to equestrian trails, Willhite said.
The many changes in Wellington are working toward the betterment of the area, Schofield explained.
"Lots of things are improving in Wellington," he said. "The economy has improved… Foreclosures are down; new construction is up. We're investing more money in our infrastructure. Those are the kinds of things that are going on next year."
While many things are changing, Schofield hopes some things remain the same. "I'm really, really looking forward to getting the new community center up and running. We're looking at doing some parks improvements and those kinds of things, but for us, those are kind of the highlights," Schofield said. "We like to remain the quiet, comfortable community that we are. It's hard to say much more than that. We're a great place to live and raise your family, and we just want to continue that."