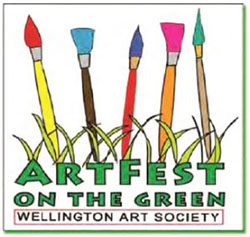 The Wellington Art Society will present its ninth annual Artfest on the Green at the Wellington Amphitheater (12100 W. Forest Hill Blvd., Wellington) on Saturday, Jan. 31 from 9 a.m. to 5 p.m. and Sunday, Feb. 1 from 10 a.m. to 4 p.m.
The juried fine art and fine craft show will feature artists from around the country showing off unique designs across multiple mediums, including painting, sculpture, pottery, jewelry, textiles, photography and more.
"Our goal is to bring art and community together," said Leslie Pfeiffer of the Wellington Art Society. "Artfest gives the community an opportunity to interact with artists, learn more about the creative processes, different mediums and techniques, and learn about the artists' lives."
This year's judge, she said, will be Anita Lovitt, who is an educator, illustrator, graphic design artist and highly regarded art judge.
Several artists will be working on site, Pfeiffer said, and the 51 fine artists participating in the festival were selected for their creativity, mastery of the techniques and level of excellence.
Pfeiffer, past president of the organization, is one of the three co-chairs for Artfest, along with Adrianne Hetherington and Wellington Art Society President Donna Donelan.
The trio will be on hand to assist visitors as they navigate through a children's art activity area where art can be created, shared and taken home, as well as through the fine art selection by professional and emerging artists from across the region displaying their original artwork.
With a wide variety of works of art for sale, Pfeiffer is sure there will be something for everyone at the show.
"It's a celebration of art, of life, enjoying a wonderful day at the beautiful amphitheater," Pfeiffer said.
Original art — nothing manufactured or reproduced — will be available for purchase.
The 100 members of the Wellington Art Society, founded in 1981, cover a vast variety of mediums. The group is open to all artists and provides a place for regional and local artists to share their work and their craft.
The proceeds from Artfest help finance the Wellington Art Society's longstanding scholarship program.
"We're very proud that every year we're able to award scholarships to local high school students going on to careers related to art. We're going on our tenth year of awarding scholarships," Pfeiffer said, noting that high school teachers receive a notice to encourage students to apply.
While the art is enjoyed, there will be food trucks to satisfy stomachs, musicians to satisfy ears, and all the art that can be imagined. It will be a community event, and everyone is encouraged to attend, Pfeiffer said.
"Art can unite a community. It also informs, inspires and enriches our lives tremendously. We're committed to having art very much a part of our life experience here in Wellington," she said. "We encourage people to take in art in all forms wherever they may travel, because it does definitely reflect the human experience."
Artfest is free to the public, thanks in part to national and local sponsors, including Whole Foods Market, the Town-Crier, Jerry's Artarama, the Village of Wellington, the Wellington Preservation Coalition and the Jacobs family, Wellington The Magazine, the Children's Hospital at Palms West, Graphic-Signs and Republic Services of Palm Beach.
The Wellington Art Society meets the second Wednesday of the month, September through May, starting at 6:30 p.m. with refreshments and following with a demonstration, speaker or activity at 7:30 p.m.
Meetings are currently being held at Village Park (11700 Pierson Road) and are open to the public. The next meeting will be Wednesday, Feb. 11, featuring a pastel and watercolor demonstration by Deborah LaFogg Docherty.
To learn more about the Wellington Art Society, visit www.wellingtonartsociety.org or www.wellingtonartsociety.blogspot.com.