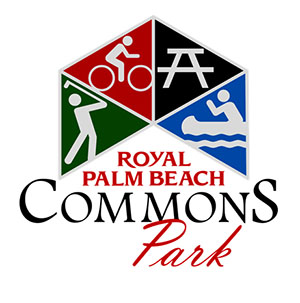 By Lynn Demarest
Eighteen concrete-slab disc golf tee boxes, four 75-foot-tall Great Lawn light poles, and a 2.5-acre dog park, all at Royal Palm Beach Commons Park, are among the park upgrades scheduled to be completed this year, Royal Palm Beach Parks & Recreation Director Lou Recchio told Recreation Advisory Board members Monday.
Disc golf, a 50-year-old game in which players throw flying discs at eye-level chain baskets, is exploding in popularity, Recchio said. The village's 18-hole course is the fourth in Palm Beach County and, according to reviewers at www.dgcoursereview.com, the best by a narrow margin. The others are at Okeeheelee Park, PGA National Park and the Florida Atlantic University campus in Jupiter.
The 6-foot-by-12-foot slabs, which cost $8,200, are scheduled to be completed by the end of February.
"Every day, there's somebody out there playing disc golf," said Recchio, longtime director of the department set to spend $3.4 million this year for capital improvements.
The $42,000 set of four light poles will be positioned around the perimeter of the Great Lawn at Commons Park, alleviating the need to use portable rental lighting during nighttime events. They'll look like sports field lights but will be individually controlled and have fixtures on both sides so that the two volleyball courts and two playgrounds skirting the Great Lawn can also be lighted. Electrical work is already underway, Recchio said.
The $236,000 dog park — which Recchio has called "one jewel of a dog park" — will be near the center of Commons Park. Scheduled to be completed in May, it will include three areas. One will admit dogs weighing up to 30 pounds. A second will be for larger dogs. A third area will be opened to either dog group when its regular area is undergoing flea and tick treatments and sod repairs. Each area will have a shade pavilion. "People are excited about it," Recchio said.
The village already has several smaller dog parks at Crestwood Park (2700 Pine Road), Todd A. Robiner Park (350 LaMancha Ave.) and Homeplace Park (1016 Grandview Circle).
Other improvements slated for the coming year include:
• New, more energy-efficient field lighting controllable with a smartphone, to be installed at the Bob Marcello Baseball Complex and Preservation Park at a cost of $160,000.
• A $25,000 irrigation-system component at the sprawling Commons Park that will inject fertilizer into the outgoing water so it will no longer need to be spread manually. Recchio said the system will be installed in the next 30 days.
• Demolition of the 6-year-old boardwalk at Wetlands Park, a small natural area on the west side of Crestwood Boulevard South, a few blocks north of Southern Blvd. "We are looking to take it down," Recchio said. "It is totally infested with termites."
• Replacement of decade-old bleacher shade covers at the Bob Marcello Baseball Complex at Willows Park, the Katz Soccer Complex at Preservation Park and Vivian A. Ferrin Memorial Park already have been replaced at a cost of $35,000, Recchio told the board.
Some of the planned improvements will be financed with grants, including:
• A Land and Water grant to install walkways and a floating dock to enable handicapped access to the kayak facilities at Commons Park.
• A $200,000 Florida Recreation Development Assistance Program (FRDAP) grant to refurbish Field 5 at the Bob Marcello Baseball Complex, including batting cages, lighting, a picnic pavilion, exercise equipment and a small fishing dock. Under the terms of the grant, Recchio said, the work must be done by the end of the year.
• A $200,000 FRDAP grant to help construct the amphitheater with sound and lighting at Commons Park.
• A FRDAP Recreational Trails Program grant to construct a pedestrian entry walkway at the northeast edge of Commons Park, at the site of a foreclosed home purchased by the village.
Recchio also told the board about park improvements to be completed in 2016 and beyond, including:
• $150,000 worth of renovations to the kitchen and bathrooms at the Royal Palm Beach Cultural Center, which date back to 1992. The bid process on the project is already underway. The lighting also will be upgraded, which is important, Recchio said, because senior citizens are now using the facility during the day.
• A $550,000 amphitheater at Commons Park, for which grant money is being sought. Completion is expected in 2017.
• A $250,000 mini-golf course and a set of three full-sized golf holes to accompany the existing driving range and 18-hole putting green at Commons Park. Shade covers for the driving range tees also are planned for 2016. Royal Palm Beach will know in mid-2015 whether it will be awarded grants to complete the projects. The mini-golf course will be built in 2016, the three full-sized holes the following year.
• Replacement of playground equipment and new tennis lights at Camellia Park, and restroom renovations at the Bob Marcello Baseball Complex and Vivian A. Ferrin Memorial Park.
• New restrooms on the east and west sides of the Commons Park Great Lawn, slated for 2017 and 2018.
• Paving the grass overflow lots at Commons Park.
• 2016 skate park improvements, including additional ramps and apparatuses, costing $110,000. "There are kids in that park every single day," Recchio said.
Recchio reported to board members that $27,400 is being spent to repair the 10-year-old interactive fountain used by children at Veterans Park. The village shut down the fountain after Palm Beach County Health Department public swimming pool inspectors declared the water unsafe.
The problem arose, Recchio said, because water treatment chemicals were stored in the same area as the pumps and controls, slowly destroying them over time, which made it difficult to keep the chemicals at safe levels. "It was just a mess," he said. "It just kept eating away and eating away."
The problem will be solved simply by separating the chemicals and pumping equipment, he said.
Program supervisors Sheryl Sawyer and Steven Poyner, as well as Cultural and Community Events Superintendent Carlos Morales, presented a rundown of upcoming events and programs, which included everything from early childhood programs to balance control classes for seniors.
The village has long supported its Parks & Recreation Department. Only the $7 million contract with the Palm Beach County Sheriff's Office consumes more of its yearly operating budget.
Recchio, proud of the organization he has fostered over the past 17 years, said he doubted that there is any community more dedicated to its parks. Commons Park, built on the site of a 160-acre former golf course, is his department's crown jewel.
Board members had few comments, but both Vice Chair Phyllis Katz and Board Member Sean Fitzpatrick asked whether something could be done about the traffic backups during popular events at Commons Park. Fitzpatrick said traffic tie-ups made him miss the tree lighting ceremony last month. "The traffic actually started at Okeechobee and Royal Palm," he said.
Conversely, Katz said she had trouble getting home after an event. "I live across the street from the park," she said. "It took me over an hour to get home."
Recchio blamed the gridlock on the popularity of the department's programs. "We had 25,000 [people] for Winter Fest, which we never anticipated," he said.
Recchio said the department is learning as it goes. He invited board members to suggest traffic solutions. "Traffic is an issue," he said. "There's one way in and one way out. There's no way around it."
Fitzpatrick suggested a second entrance south of the existing one, for use only during big events, but Recchio did not think that would do much to ease the gridlock.
A foreclosed home bordering the northeastern quadrant of the park has been purchased and will be razed in order to create an alternative entrance for bikers, pedestrians and emergency vehicles, but Councilman Richard Valuntas, the recreation board's council liaison, noted that residents living near the property objected strenuously even to using it for pedestrians, so allowing cars to enter the park there is a non-starter.
"It's going to be a mess," Katz declared, "no matter what we do."