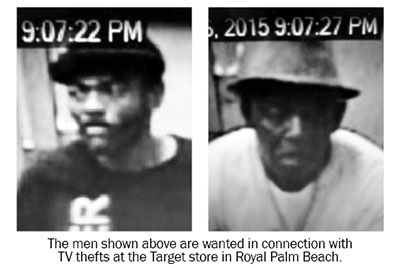 The Palm Beach County Sheriff's Office is seeking the public's help in finding two unknown black males wanted in connection with television thefts at the Target store in Royal Palm Beach on Tuesday, Jan. 6.
The men were captured on surveillance video loading three 32-inch TVs into a cart and rolling it out of the store without paying for them. They loaded the TVs into a blue, four-door truck and drove away.
If anyone can identify the suspects, they are urged to contact Crime Stoppers at 1-800-458-TIPS.