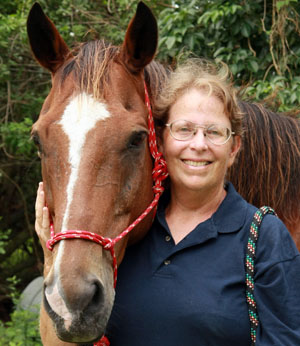 TALES FROM THE TRAILS
If you're free the next few Thursdays, here's something fun and free you might consider attending. Now in its fifth year, the Lunch & Learn weekly educational series takes place each Thursday during the Winter Equestrian Festival at the Wellington Club, located on the show grounds right next to the International Arena. They run from 11:30 a.m. to 1 p.m. each week until March 26. The topic changes weekly.
The free lunches are catered by White Horse Tavern, and there are exciting door prizes, given by the sponsors and relevant to each session — everything from supplements to saddle pads and tack. The season finale prizes include a custom tack trunk by Clever Jumps & Trunks and a TheraPlate.
"The subjects of the talks are always horse industry-related and geared to help educate everyone in the horse community, whether professional or amateur," said Laura Bostwick, sponsorship events coordinator. "We try to make each session fun and accessible. Our presenters are very knowledgeable and eager to answer questions. It's a great opportunity to enjoy a free lunch, learn something and network with other riding enthusiasts while further developing your skills and knowledge."
Upcoming topics are:
• Feb. 5 — Cryotherapy for the Equine Athlete: Not Only Laminitis Prevention, presented by veterinarians Robert P. Boswell of Wellington and James A. Orsini of New Bolton Center, sponsored by Merial and TERF (the Thoroughbred Education and Research Foundation).
• Feb. 12 — Developing and Maintaining the Perfect Back, presented by veterinarian Wade A. Tenney of Tufts University and Robin Moore, sponsored by World Equestrian Brands and Tackeria.
• Feb. 19 — Equine Joint Health, sponsored by Adequan.
• Feb. 26 — Muscle Recovery in the Performance Horse, sponsored by Nutrena and Progressive Nutrition Supplements.
• March 5 — Integration of Imaging Services and Alternative Therapies for Performance Enhancement, sponsored by Palm Beach Equine Clinic and Zoetis.
• March 12 — Developing Products with a Purpose, sponsored by Horseware Ireland.
• March 19 — Simplifying Nutrition for the Equine Athlete, sponsored by Platinum Performance.
• March 26 — Sound Year Round: 10 Top Tips Your Veterinarian May Have Forgotten to Tell You to Help Maintain Year-Round Soundness in Performance Horses, sponsored by Theraplate.
Liz Berkos of Wellington plans to attend a few of the sessions. She has gone for the past three years. "I'm particularly interested in the one on equine influenza," she said, referring to a session held on Jan. 22. "I remember when all the shows shut down a few years back due to a contagious disease."
Berkos likes the topics that explain veterinary subjects.
"I always learn so much. I definitely recommend this for horse enthusiasts at any level," she said. "I especially like touching base with people from all over, not just locals. The presenters are entertaining, sincerely interested in sharing their knowledge, and even stay after and answer any questions you might have. They always do a wonderful job. It's a great way to spend a very nice afternoon connecting with other horse people."
Lyndi Prettyman Caruso lives in Maryland and regularly travels to WEF. She's an "r" judge who trains and gives clinics, and always makes time to attend the Lunch & Learn series.
"I like the wide diversity of topics," she said. "They're all very interesting. I owned a stallion, and there was a great talk on breeding the second year. Last year, I attended two on new healing therapies. I like keeping up with current ideas in the industry."
She always recommends the series to people. "I most definitely recommend this. I think it's a wonderful forum to find out about a lot of new topics," Caruso said. "I'm a knowledge-seeker, always eager to learn more. This is a great opportunity for anyone to take advantage of free educational material. Plus, they offer a really great spread of healthful food. I hope they continue this and that more people come. They do a very good job."
Nancy Solomon lives in Wellington, rides dressage and aspires to show. She also attends the Lunch & Learn sessions. "It's very well-organized, with wonderful topics and beautiful lunches. I especially liked the one last year on nutrition," she said. "They talked about different types of hay. You could even meet with them and give them samples of the hay you were feeding and have it analyzed in terms of protein, sugar content and minerals. They consulted with us individually on our specific horses' needs."
She even changed her feed formula after the talk.
"I had been feeding straight timothy, which was lower in protein and higher in sugar," Solomon said. "I started adding more alfalfa, which has very little sugar and is good for horses with ulcers. Like a lot of people, I always thought alfalfa was too rich and made horses 'hot.' I was surprised to find out that's just a myth. Since I changed my hay, my horse, Waikiki, a 10-year-old Canadian Warmblood, is going great. We've made huge strides."
Solomon called the Lunch & Learn series "one of the best things in Wellington."
"The lectures are very engaging. The whole event is elegant and professionally done on a very high level," she said. "The food is terrific. I make it the main meal of my day. And they give out wonderful door prizes. I never won anything in my life, and last year I won an espresso machine. It's totally worth going."
Bostwick said the series has been steadily growing.
"Since our inaugural year in 2011, our attendance has grown annually," she said. "Last year, about 60 to 75 people attended each session. This year, we're hoping for a hundred."
For more information, contact Bostwick at laura@equestriansport.com or (561) 784-1130.