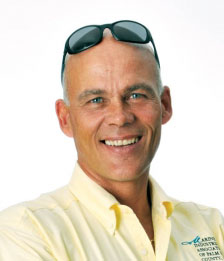 Former Indian Trail Improvement District Supervisor Mike Erickson has been appointed to the Palm Beach County Planning Commission, where he hopes to help shape policy on future development in the western communities.
"Commissioner [Melissa] McKinlay asked me to sit on the planning commission or the zoning board, and I told her I'd be happy to sit on the planning commission because I think I can make a difference out here in our community," Erickson told the Town-Crier on Tuesday. "I firmly supported her during her campaign, and I think she was the best candidate out there. I think we can finally maybe see some progress. The progress can be both positive and negative, but I hope to influence the negative into positive as much as I can."
For example, Erickson said that Minto West will affect the western communities in undesirable ways, but it also has potentially positive aspects.
"Even with the approach to Minto West, there are a lot of positives that are going to come from Minto West for the community," he said, listing "the community center, equestrian trails and connectivity through the community" among those positives.
"We can concentrate on the negatives, but the reality is that it has been approved and it's moving forward," he said. "Obviously, each person has a different perspective on things."
Erickson said he believes in looking at both sides and weighing the return for the community.
"I hope that I can influence the process and the planning process, one, to start properly planning it," he said. "Hopefully, we can get a comprehensive approach to what's left, and, two, if you go through the process and you're willing to have discussions with the developer, there's a lot more positive things you can get from it."
Erickson said increased traffic will be the negative impact that will be the most difficult to look at positively, but that everyone will still have to work together to accommodate the traffic in the best way possible, and look for innovative ways to deal with it.
"With my past six or seven years being active in the community, I think I can bring a lot to the table, and obviously Commissioner McKinlay thought that, too," he said. "I've always been a big proponent of transportation solutions, a big proponent of minimizing the impacts of things and trying to find a positive out of stuff, and that's what I'm going to continue to do. Hopefully I can do that in the position she has put me in."
He said the first round of considerations for the board in 2015 will be not only developer requests but also proposed map and text changes by staff.
"One of the things they are looking at is the non-residential aspects in the county, and they're proactively reviewing that right now, such as light industrial… That's one of the things that's really a missing element in our community specifically. How can we go about creating the proper comp plan amendments and text amendments that give us more of an opportunity to create jobs in the non-residential sections that have been designated in the county? I think that's a positive review that's going forward that we'll be talking about and the county will be reviewing."
Another item under review is to have the State Road 7 extension end at Northlake Blvd. rather than its current projected continuation eventually to the Beeline Highway. "In 2015 Round One they're removing, or putting into conservation, the original section north of Northlake to the Beeline," he said, explaining that it was a condition the Fish & Wildlife Conservation Commission required as part of the approval of the SR 7 extension to Northlake Blvd.
"They made some comments about State Road 7 getting to Northlake, and one of the things they don't want to see is it going through the natural area north of Northlake, so that's being removed from the maps in this round," he said, explaining that the action will take care of what has already been negotiated by county staff as part of getting the SR 7 extension to Northlake.
Erickson said he envisions that the biggest advantage to his membership on the planning body will be to have knowledge of issues early in the process.
"We'll have that knowledge and information pretty much before it goes in front of any boards, and we can be a little more proactive at a planning level for the community, instead of just having to come up there and do public comment after the fact of what has been planned," he said.
His most serious concern is transportation planning. "I hope that I can get involved in that," Erickson said, explaining that he is much more interested in planning than zoning. "Zoning is really kind of after the fact. Forward thinking, forward planning is really what I like. To review things and see if they are according to zoning laws, that really didn't excite me too much, but I think from a planning aspect, that is really what I've always been about."
ABOVE: Mike Erickson