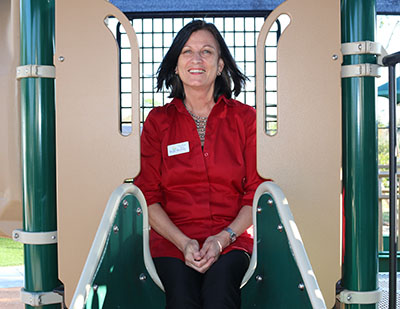 Learning is the key to a bright future at Bright Horizons Early Education & Preschool, located at 3220 S. State Road 7 in Wellington, sharing a parking lot with the Renaissance Charter School at Wellington.
This Saturday, Jan. 24, the smiling staff at Bright Horizons will host a grand opening celebration at the new facility. The school is able to accommodate up to 198 children from six weeks to 5 years old.
From 10 a.m. to 1 p.m., there will be welcoming activities, a ribbon-cutting ceremony, circus acts, swim demonstrations, classroom demonstrations and more, as parents, children, teachers and administrators mingle. Everyone is welcome to the free celebration, and there will be plenty of fun activities for children of all ages.
Regional Manager Randy Netko and Center Director Penny Wenman are looking forward to the grand opening celebration.
Netko said Bright Horizons is excited to open in the Wellington area. "It's a vibrant young community that matches our striving for excellence, because that's what we provide," she said.
Wenman explained that the demographics of Wellington are ideal for the Bright Horizons program.
"We're represented in neighboring cities, but this city actually is a good match for the program that we're providing — a young, vibrant, educated population," Wenman said. "We hope that we're able to demonstrate what our program can offer families by providing hands-on activities."
At the grand opening, parents will learn how the school's curriculum, housed within its 13 classrooms, gym, art studio, media center and four playgrounds, works together with children and parents to foster learning. Students at various ages and levels learn social skills, how to play together, numbers, letters, math skills, writing skills, science skills and preparation for kindergarten. Bright Horizons students even learn yoga.
"The program is individualized to meet the child's needs," Wenman said. "We assess each child individually, continually, and we use that information to build our lesson plans week by week."
Combining fun and learning is a key part to the customized curriculum at Bright Horizons, where activities and lessons are catered to individual children's needs, interests and abilities.
Bright Horizons utilizes the World At Their Fingertips curriculum that engages students in learning and make every opportunity a learning experience.
For example, during a recent visit, one class read a book about insects, learned and discovered about insects on double-sided cards, used magnifying glasses to get a closer took, matched the insects to their images and identified physical characteristics of the insects, such as how many legs they have or the shapes of their bodies.
Programs are divided by age: infant, toddler, two-year-olds, preschool and kindergarten prep, and are available with a flexible schedule. The center is open Monday through Friday from 7 a.m. to 6 p.m., and children are able to be enrolled for anywhere from a few days a week to the entire week, and from sections of the day to the entire day. This way, the facility allows parents the opportunity to balance their family and work lives through flexibility.
With its indoor gym with a rock climbing wall and a ballet barre, along with other accessories, students are able to be active no matter what the Florida weather may bring. The pool, with swimming lessons, is also a unique amenity.
"Parents don't have that stress of having to picking up their child and having to take them for an activity during the witching hour, when they're exhausted from the day, because we do that for them during the hours that they're here," Netko said.
Wenman is excited about the grand opening celebration and invites families to come and visit.
"We want to partner with them in the care and education of their child. It's not something we just say," she said. "That's really what we set up as our focus. Parents are their children's first teacher, and we want to partner with them."
Enrollment fees vary, depending on the program. There are part-time and full-time options, as well as part-day and full-day options. Potty training is not a requirement for the school. Currently, parents pack and send snacks and lunches, but organic, all-natural catering will be available as the school grows.
For more information, call (561) 753-9140 or visit www.brighthorizons.com.
ABOVE: Bright Horizons Wellington Center Director Penny Wenman invites everyone to the Jan. 24 open house.