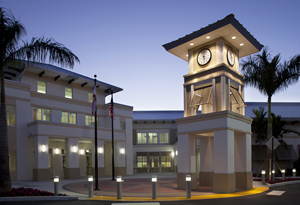 The Wellington Village Council will hear presentations Monday evening from applicants seeking to fill the seat of former Councilman Howard Coates. The next day, at the regularly scheduled council meeting, council members will review the applicants, and possibly select Coates' replacement.
As of Wednesday morning, four candidates had submitted applications for the position: Michael Drahos, Michael Vinci, Vincent Weber and Ernie Zimmerman. However, several more candidates are expected to apply before the noon Friday deadline.
The Monday review of candidates is tentatively set for 6 p.m., following the council's agenda review meeting at 3 p.m.
Coates submitted his resignation last week, effectively immediately, in preparation to accept an appointment as a judge on the 15th Judicial Circuit Court. The council must appoint a replacement by Feb. 11, but the charter does not stipulates a specific process for making the appointment. Previous councils have used a variety of different methods in the past.
At the last council meeting, Councilman Matt Willhite said that after reviewing the candidates, a new council member might be selected at the Jan. 27 meeting. If a consensus is not reached at that meeting, the council could postpone a decision until the first meeting in February.
Whoever is appointed would serve one year until the March 2016 election, then the final two years of Coates' term would be up for election. Anyone appointed to the post would have to seek election at that time.
Wellington is planning a special ceremony at the Jan. 27 meeting to honor Coates for his six years of service on the council.