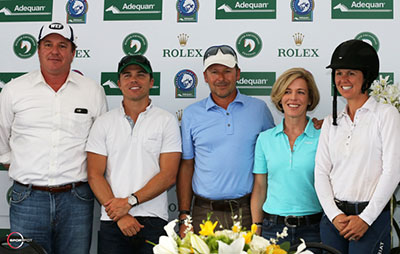 The 2015 Winter Equestrian Festival and the Adequan Global Dressage Festival kicked off this week at the Palm Beach International Equestrian Center, and show promoters are predicting a record-breaking year.
The WEF circuit will host thousands of the world's best horses and riders competing in the hunter, jumper and equitation disciplines from Jan. 7 through March 29, while the AGDF features the best of dressage from Jan. 8 through March 28.
Equestrian Sport Productions CEO Mark Bellissimo was joined by international show jumpers Kent Farrington, Eric Lamaze and Meredith Michaels-Beerbaum, and top hunter rider Liza Boyd, at a press conference for WEF on Tuesday.
Bellissimo noted the incredible growth of the competition, which this year will host four 5* weeks of show jumping and more than $8.2 million in total prize money.
"We are very excited about this edition of the Winter Equestrian Festival," Bellissimo said. "We are moving forward with a fantastic relationship with Rolex, and they have been a great sponsor. This year does mark a great year for us as we have gone to four five-star events this year spread out across the circuit, as requested by the riders. Within that schedule, we also have various hunter activities, including the big WCHR week six. We have record prize money this year and record stabling. We expect this to be the largest festival with a growth rate in excess of 12 to 15 percent from last year."
With renewed support from the Village of Wellington, Bellissimo and his team have made several improvements to the show grounds this year, including added parking, extra practice rings and daily video clips.
"The Village of Wellington, led by Mayor Bob Margolis and others, was very supportive to help us," he said. "We spent a lot of time working on the existing infrastructure so that it was a good experience for riders not only at the front of house, but the back of house as well."
Bellissimo looks forward to welcoming riders from 50 states and 33 countries.
Also on the panel for Tuesday's press conference was Farrington, who is currently the number-five ranked rider in the world. He noted that this year's WEF circuit will hold 48 FEI World Ranking classes.
"I think more important than the number of classes is the quality of classes," he said. "When you look at the list of riders that you have here, they are the top riders in the sport… Four five-star events is huge for North America. It gives us a chance to compete with the rest of the world and also stay current in the sport with the rest of the world."
The WEF circuit will also host its FEI Nations Cup during week eight, which will be an important event for international riders preparing for team competition at this year's Pan American Games in Toronto.
"Most years when you have a championship year, already at the beginning of the season, we start putting a plan together and choosing a horse that we are going to aim towards that competition," Candadian rider Lamaze explained. "For Canada, most of the horses are here. The Nations Cup here has always been a fantastic evening of show jumping, and it has been very good to us."
Three-time FEI World Cup Finals winner Meredith Michaels-Beerbaum discussed the great opportunity to bring along horses at every level during the circuit.
"I am very excited personally to have brought a nice string of horses over for myself." Michaels-Beerbaum said. "I brought eight horses here this year ranging from the old and mighty Checkmate at age 20 to young horses as well… It will be a great opportunity for me to get those young horses going here, and that is one of the things that WEF is so good for is to bring along horses."
Michaels-Beerbaum is also excited about participating in the Saturday Night Lights grand prix events.
"On Saturday night, the competition here is as good as it gets," Michaels-Beerbaum said. "There is nothing lacking in horse or rider here to be able to compete on Saturday night and to be one of the best. To win a grand prix here is extremely difficult, and that is great because the level is so very high here. We have seen that Rolex has played a tremendous part in bringing a lot of good riders and good prize money."
Along with the great show jumping competition, WEF features great classes for every level of hunter riding as well, including week six's $100,000 USHJA/WCHR Peter Wetherill Palm Beach Hunter Spectacular and week 12's $50,000 USHJA International Hunter Derby.
"The hunters are huge here," Liza Boyd said. "The quality is amazing. You really have to be at the top of your game here. An 85 [score out of 100] might be fifth place. The scores are in the high 90s class after class. You have to pick and choose the classes to do because we all aim for week six. That is our grand prix, that night class. I have been doing that class since 1997. I, as a rider, have grown with the class, and it is huge."
The Adequan Global Dressage Festival also kicked off this week. At a dressage panel discussion, Bellissimo was joined by Thomas Baur, Allyn Mann, Daniel Martin Dockx and Devon Kane.
"This is a fantastic transitional year," Bellissimo said. "We made a decision as a partnership to take it on and try to figure out a way to make it impactful and try to create a world center for dressage. I think AGDF has turned into one of the great dressage facilities in the world, and we are thrilled to have Adequan be a part of it."
He credited Michael Stone, Thomas Baur and Lloyd Landkamer for their leadership. "We expect there to be a massive influx this year, and I think it is a testament to the hard work that has gone into designing the Global Dressage Festival and then getting people behind it," Bellissimo said.
Baur, director of sport for AGDF, noted the further increase in international competitors this year.
"We have moved the CDIO Nations Cup to the last week because we want to give the countries from Central and South America the possibility to participate in this last tryout of the format of the Pan American Games, which will consist of small tour and large tour," Baur explained. "That is unique. We only have this format for the Pan American Games."
Mann, director of Luitpold Animal Health, the makers of Adequan, has been one of AGDF's biggest supporters from the start and looks forward to another fantastic season.
"This has just been a remarkable journey, and I am really thankful to Mark and the people behind him who have stepped up to support the dressage community," Mann said. "From a corporate standpoint, the opportunity to attach your brand to this world-class type of competition, it doesn't get any better. I am really looking forward to seeing a lot of new faces this year with the number of riders who are coming in and the quality of horses we will see this year."
One rider who will take part in the AGDF competition this year is Dockx of Spain, who is currently the 27th ranked dressage rider in the world and rides for Hampton Green Farm, owned by Kimberly Boyer. "For me it is a great opportunity. Everybody knows now in Europe the winter is very hard. The weather here is lovely. We have a great opportunity to get the scores in the beginning of the year," he said. "In my country of Spain, in the very beginning of the year, we do not have international shows. For us it is a great opportunity to come here, have this weather, and compete at this facility."
Devon Kane of Diamante Farms looks forward to the opportunity to develop some of her young horses throughout the circuit. She won the U.S. Dressage Finals Grand Prix Championship this summer on a horse named Destiny.
"I think for the exhibitors, it is fantastic because you can come and watch the young horses. We have everything from the FEI four-year-old and three-year-old classes to the top level," Kane noted. "You have the Europeans not only bringing their top quality horses, but there is enough going on that they can bring their young horses also, so you get to see a little bit of everything."
For more information, and for a full schedule of events, visit www.equestriansport.com or www.adequandressagefestival.com.
ABOVE: Mark Bellissimo, Kent Farrington, Eric Lamaze, Meredith Michaels-Beerbaum and Liza Boyd. PHOTO BY SPORTFOT