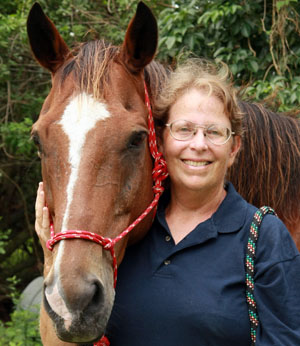 TALES FROM THE TRAILS
It's a small group with big plans. Brothers Rick and Trevor Steed have been riding, training and working with horses all of their lives. Originally from Utah, they moved to Canada, then spent 10 years in Las Vegas. Twelve years ago, they moved to South Florida.
"My wife wanted to move here," Rick recalled. "So I came out to explore the area and see if it was a good fit. I spent a summer here, from July through September. By then I had a full barn and a bunch of clients, and I knew we wouldn't live anywhere else."
The rest of the family joined him, founding Steed Training in three facilities: Okeechobee, Jupiter Farms and Indiantown.
"Riding is what we do all day," Rick said. "We're horsemen before showmen. The horse always comes first in our training program, our number-one priority."
Trevor's favorite discipline is showing reined cow horses. "I've done a little bit of everything — polo, jumpers, dressage. But reined cow horse showing is the most exciting. It's fast and furious."
And he's very good at it. In 2012, Trevor won the APHA Reserve World Championship, and the SPA World Championship in 2013.
But what they're most excited about is a new facility currently under construction on 10 acres at 2650 A Road in Loxahatchee Groves.
The other two members of the group are Tom DiRocco and Susan Shelly, sponsorship director and ambassador to the horse community.
Susan grew up riding western, then tried hunter/jumpers and cross-country eventing. Although she doesn't own horses, she still rides.
"My life is about love and service," she said. "I love working with Rick and Trevor. They have the gift to get inside a horse's mind."
Originally from Hyde Park, N.Y., Tom grew up riding hunter/jumpers and hunting with the Long Lake Hounds. He got out of horses for 30 years, then he and his wife attended a rodeo while visiting Wyoming, and she became enthralled. Back home in Royal Palm Beach, they started looking around for a trainer and found Rick Steed.
"He was the most talented guy in the industry," Tom said. "I'd never seen someone train horses with such total respect. He taught me a life lesson. There's never room for rudeness. If you ask politely, you generally get the right answer."
The group's main focus is right now is getting the new facility up and running. It will focus on bringing all western disciplines to South Florida.
"We'll be able to host any kind of western event here," Rick said. "We'll have a state-of-the-art facility, a top-notch venue for reined cow horse and other western disciplines with ample seating for spectators, and the capability to host arena polo as well, with a 150-foot by 300-foot arena and a 20-stall barn. We want to be the western equivalent to Wellington. It'll help a lot of local businesses, feed stores, tack shops, hotels and restaurants."
The group's other business, Horse Show by Appointment, already runs established shows throughout Florida, including the biggest reined cow horse show east of the Mississippi at the Triple J Ranch in Sarasota. Each event showcases talented riders and horses in different western disciplines and offers a casual, welcoming environment for spectators of all ages.
"We'll offer a minimum of 11 events, including a barrel racing series," Rick said. "The finals will have a $30,000 minimum. We'll add on new events each year. It has always been our dream to bring huge western events to South Florida. We'll have offerings for all levels of riders, from novices to seasoned professionals. We also sponsor charity events. Right now we're involved with Horses Healing Hearts, and we're always open to working with new groups."
Riders of all levels, from complete beginners to seasoned professionals, can learn the ropes from a well-schooled cow horse and feel the rush of working a cow under the expert guidance of the Steed Training team. Steed Training can also bring the Reined Cow Horse Experience to your farm in the South Florida area.
"Rick and Trevor are caring, compassionate, grounded," Tom said. "Everything they do is done the right way for the right reason. They treat everyone well, both horses and people."
For more information, call Rick Steed at (772) 263-6830 or Tom DiRocco at (561) 371-4997.