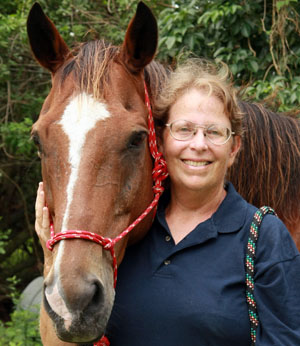 TALES FROM THE TRAILS
It was Sunday, Jan. 18, opening weekend of the 2015 South Florida Fair. I approached the horse tent with some trepidation, wondering what I'd find. In recent years, there had been times one had to search high and low to find horse events; times you couldn't even see a live horse. What would this year hold?
I was thrilled to find a horse show in progress. An actual show! Spectators applauded and whistled as riders entered to compete over fences as the first-in-a-long-time Hunter/Jumper Show unfolded. Classes ranged from Lead Line to Long and Short Stirrups (18-inch height), Beginner Hunter (2 feet), Schooling (2-foot-3), Children's/Adult (2-foot-6), Working (2-foot-9) and a few 2-foot-9 jumper classes.
"The show's going pretty well," announcer Lori Richards said. "It's small, but a lot of fun. We've had about four riders in each class."
At the in-gate, Meghan Garcia gave her student, Stephanie Twohill, riding Miss Jade, advice. "Keep your leg on her, find your pace, and remember to breathe!" she said.
The small arena held a full course of eight jumps, the footing was decent, and few dozen spectators sat on the bleachers. Stephanie completed her rides over the 2-foot-3 Limited Equitation course, earning the division's Reserve Champion.
"It's my first time showing in a tent," said Stephanie, 13. "And my first time showing at the fair. We were a little nervous at first, but then we relaxed. I'm definitely showing here again during the next two weeks in the Pleasure and Barrel shows."
Alexandra Speaker, 12, and her mom, Heidi, were also showing. They had brought along Secala, their 7-year-old rescue pony.
"It's a great environment for my daughter and her pony," Heidi said. "Stress-free, very enjoyable, clean and safe."
"The course was short and trappy," Alexandra added. "We had some issues, a couple of refusals, but then we won on the flat and got our confidence back. Secala's a really good boy. I love him."
The Speakers trailered in from their Jupiter Farms home each day for their events, which included the Hunter/Jumper, Pleasure, Barrel and 4-H shows, along with the Miss South Florida Fair Equestrian Pageant. Alexandra did on-stage modeling in Western pleasure show clothes, gave a speech and rode English Hunter for talent.
"It was a wonderful experience overall," Heidi said. "Just lots of fun."
Indeed, the horse tent had a full schedule. In addition to the Hunter/Jumper Show, there was the Extreme Trail Challenge competition, Jackpot Barrel shows each Friday night, a Pleasure Show, a Fun Show, One Turn for the Money, a 4-H Show, Draft Horse Pulling, Youth Horse Judging and numerous demonstrations: reining, roping, colt-starting, dressage, mustangs, the Pee-Wee Posse, drill teams, jumping, driving and a Las Vegas-themed costume contest where both horse and rider dressed up. No matter the time or day, anyone visiting the horse tent was bound to see horses and their people doing something, which was exactly the point.
"We wanted people to come and see all sorts of things and come back to visit again," Meghan Garcia said.
Along with Brianna Bennett, Meghan was one of this year's horse tent organizers.
"All of this was absolutely worth all the hard work," Brianna said.
"It was a collaborative effort. A lot of people helped. We wanted everyone to have fun and also show people the educational side of horses," Meghan said. "One of my goals was to bring back the horse shows. There always used to be shows at the fair. I think people missed that. At the end of the fair, we're even giving out a high-point saddle with the fair logo on it — a really nice all-purpose western saddle from Corriente Saddlery in Texas."
And there was more than just the shows.
"We have a great educational display about horses, feed, different tack, even a cart, and some of the local shows, done by the Palm Beach County Mounted Posse and Andrea Colombino of Dream Believer Stables and Darcy Gordon of Gateway Stables," Meghan said. "Vicki Moore of the U.S. Trotting Association did the Wall of Breeds. We're glad people can wander in and learn a lot."
Meghan's hope is that it might spark someone's interest in horses.
"I wanted to showcase horses' diversity and have people see all the things we equestrians do with our horses here in South Florida, how much we care about our horses," she explained. "So far, we've gotten a lot of positive feedback. People are excited. They ask questions and watch what's going on."
The Friday Night Buckle Series of Barrel Racing Shows was also popular. "My goal was to have one central main event each day, and a few more on the weekends. I'm really happy with how it turned out. Everyone had fun, the riders as well as the spectators. This was a good start," Meghan said. "I'm hopeful that next year, we'll do even better, and more people will think about coming back to show at the fair."