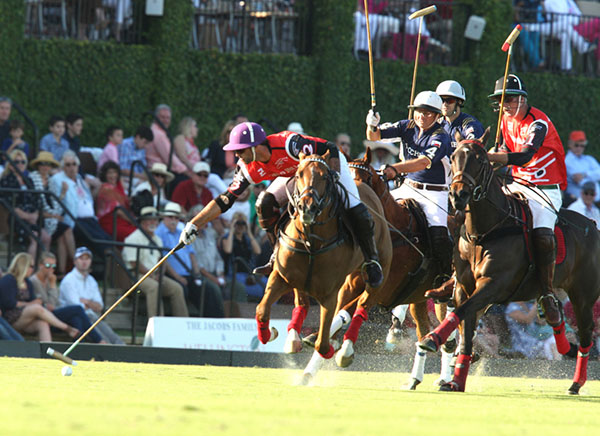 By Alex Webbe
Eight teams took the field last Sunday in the quarterfinals of the 2015 20-goal Ylvisaker Cup at the International Polo Club Palm Beach, with four advancing to the tournament semifinals.
In two Sunday morning contests, Audi (Marc Ganzi, Lucas Lalor, Nic Roldan and Fred Mannix) came up on the short end of a 14-8 loss to Coca-Cola (Gillian Johnston, Sugar Erskine, Julio Arellano and Mason Wroe), while Villa Del Lago (Jim Zenni, Agustin Obregon, Polito Pieres and Julian de Lusarreta) needed overtime to defeat Enigma (Jerome Wirth, Jeff Hall, Matias MacDonough and Carlucho Arellano) in a high-scoring 16-15 affair.
In a noon match, Valiente (Tommy Beresford, Peke Gonzalez, Santi Torres and Adolfo Cambiaso) broke open a 4-4 halftime tie to outscore Casablanca (Grant Ganzi, Guille Aguero, Mark Tomlinson and Juan Bollini) 9-3 in the second half to record a13-7 win.
In the 3 p.m. feature match of the day, Lucchese (John Muse, Magoo Laprida, Nico Pieres and Andres Weisz) scored the opening goal and never trailed as they handed Orchard Hill (Steve Van Andel, Lucas Criado, Facundo Pieres and Remy Muller) their first loss of the season, 10-7, to eliminate them from the tournament.
Orchard Hill entered the day with a perfect 3-0 record. Boasting the talents of 10-goaler Facundo Pieres and the 2015 Joe Barry Memorial Cup title, they were looking to remain undefeated in 2015 tournament play, but someone forgot to tell Lucchese.
Tight back-and-forth play set the pace for the opening minutes of play, with Nico Pieres converting a 60-yard penalty shot for the first goal of the game and a 1-0 Lucchese lead. Facundo Pieres (Nico's older brother) responded with a 60-yard penalty goal of his own just minutes later, making it 1-1. Magoo Laprida got Lucchese on the scoreboard again for an early 2-1 Lucchese lead.
The pace of the game picked up dramatically in the second chukker. Nico Pieres scored in the opening 15 seconds, making it 3-1. Facundo Pieres responded in kind, making it 3-2. Laprida gave Lucchese a two-goal lead with a goal from the field, and Nico Pieres added a 60-yard penalty goal, making the score 5-2. Lucas Criado closed out the chukker with his first goal of the day, but Orchard Hill continued to trail 5-3.
Lucchese was awarded a goal on a Penalty 1 to open the third period, but Orchard Hill tried to fight its way back into the game. A 60-yard penalty conversion from Facundo Pieres and a goal from the field from Remy Muller had Orchard Hill knocking on the door, 6-5. But an Orchard Hill foul in the final seconds of the first half sent Nico Pieres to the penalty line, where he converted a 60-yard penalty shot for a goal and a 7-5 Lucchese lead.
As badly as Orchard Hill needed a goal from superstar Facundo Pieres, he couldn't buy a goal on the day. A handful of shots that he has made a number of times in the past went wide of the goal or were blocked before going over the goal line. As ineffective as Orchard Hill might have been on offense, they made up for it on defense. Nico Pieres accounted for the only goal of the fourth chukker for an 8-5 lead.
The goal shooting continued to trouble the Orchard Hill team into the fifth. Facundo Pieres converted a penalty shot for a goal, but Nico Pieres responded with a goal from the field for the only other score in the chukker. Lucchese continued to hold the lead, 9-6, as the chukker ended.
Andres Weisz had turned in a stellar defensive appearance all day for Lucchese, with a goal in the final chukker just being icing on the cake. The final goal of the game went to Facundo Pieres with less than a minute on the clock, but it was Lucchese celebrating the 10-7 win.
Nico Pieres led all scoring with six goals, three on penalty conversions. Laprida scored twice and Weisz added a goal. Lucchese was also the beneficiary of one goal on a Penalty 1. Facundo Pieres scored five goals for Orchard Hill, three on penalty shots. Criado and Muller added single goals in the loss. Nico Pieres received MVP honors, while his horse, Footsie, was named Best Playing Pony.
The victory boosted Lucchese into Wednesday's Ylvisaker Cup semifinal match against Valiente, but Valiente won that contest 11-8. In the other semifinal match, Coca-Cola defeated Villa Del Lago 14-9. This puts Coca-Cola versus Valiente in Sunday's Ylvisaker Cup final.
Learn more at www.internationalpoloclub.com.
ABOVE: Lucchese overpowered previously undefeated Orchard Hill 10-7 at IPC last Sunday to advance to the Ylvisaker Cup semifinals. Photo by Alex Pacheco