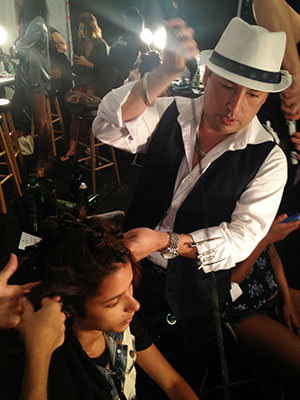 Wellington has an abundance of hidden gems that sparkle and glisten, and celebrity hairstylist and master hair designer Jorge Antonio Briceno is definitely one of them.
Briceno brings with him more than 23 years in the fashion industry. "I started at 17 years old when I met a designer in Lima, Peru, my city of birth. This designer took me as an assistant," he recalled. "That's why when I hire assistants for me here, I am so strict and I want them to learn the way I learned, because that's the way that will train somebody to be a good hairstylist if you really want to do it."
Briceno learned the art of styling hair with focused training, and the rest is history.
"I love to do a lot of extensions. I'm certified in extensions," he said. "I love to do color. I'm a colorist: highlights, lowlights, single process. Transforming people. It's just amazing how just a little bit of color in your hair can change your whole overall look."
If you're lucky enough to book an appointment with Briceno — he is often booked a month in advance — be sure to ask him about Fashion Week in New York. It just took place, and Briceno is one of the masterminds behind the fabulous, glamorous and elaborate looks that adorn the heads of the beautiful models.
He works with the designer to determine the look for the show, teaches the look to 20 or so designers, and then it is implemented on 20 to 30 models. Meanwhile, hair has to be done often at the same time as nails, makeup and other touches.
"If they're coming from a show that's all crazy and they have glitter and gel in their hair, you have to find a way to clean that without having a shampoo wall where you can clean the hair quick. Sometimes you just have to use bottles of water and a trash can," Briceno said, adding that all sorts of things happen backstage, and quickly. "It's very exciting, very hectic."
Once everyone is ready, he gets to sit down and watch his creations walk the runway.
Search for him on the Internet and prepare to be amazed. His work can be seen on the models for fashion designers Louise Goldin, Reem Acra, Zang Toi, David Tlale, Luli Fama, Libby DeSantis of Indah and Band of Outsiders.
Then realize, this man can work his magic on you. Wellington is his home base.
After a few years of focusing his practice on Palm Beach, he decided it was time for a change. In fact, Briceno might have performed miracles on your silken strands without you even realizing it. He was, after all, the owner of Eclipse Salon for seven years. "I always loved the equestrian community," he said. "After Palm Beach, I decided to purchase that salon."
More recently, he decided to switch things up and move to the new Hollywood Salon & Spa, located near Panera Bread in front of the Mall at Wellington Green. The feel, the look and the atmosphere of the new salon called to Briceno.
Recognized throughout the industry, Briceno is known as a designer, hairstylist and colorist. His attention to detail and eye for the upcoming has brought him to work and train around the globe, from his native South America to Europe, and now in the United States.
His career has had him training with the best of the best, including celebrity hairstylists and top designers such as Ted Gibson from What Not To Wear, Jason Backe, Didier Malige, Eiji Yamane, Ronnie Stam and Anthony Turner.
He was sought after as a lead hair designer for Miami Beach Fashion Week this year and last. As if that wasn't enough, Briceno is also a national educator with Rene Furterer and has worked with Bumble & Bumble, Oribe, Wella, Kerastase and L'Oreal.
"Every day you are learning something else," he said. "You have to be up-to-date with whatever's trending out there."
Briceno's prediction for a popular hair look in 2015: braiding. "The new trend will be having braid bars, just like how now we have blow-dry bars," he said.
At 43, Briceno is incredibly humble about his accomplishments and vast experiences.
"I'm just living my career and doing what I love to do. I don't see it as a job. I don't see it as something I have to come and do for a living because I have to earn a paycheck," he said. "When you do something with love and passion, it shows in your work."
Briceno goes through a thorough consultation with clients to learn about their lifestyles and what they do at home.
"We have to sit, so the first appointment is always extra time so I can be sure to get the right thing for you," he said. "I kind of tailor something to your lifestyle. It's not me just putting the color. If I know that you are not going to come here to maintain what I'm doing — creating something that you need to be here every four weeks — that won't work for you, unless you really want to change, unless you really want to do it. I have to concentrate and give you something that will work for you."
To schedule an appointment with Briceno, call (561) 301-8165 or (561) 784-3938.
ABOVE: Jorge Briceno hard at work preparing for a fashion shoot.