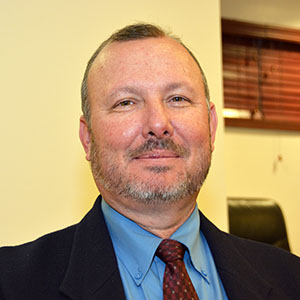 By Chris Felker
Former Royal Palm Beach Planning & Zoning Commissioner Darrell Lange casts himself as an outsider who has valuable experience voters cannot afford to ignore as he faces incumbent Vice Mayor Dave Swift and former Councilwoman Martha Webster in a three-way race for Seat 2 on the Royal Palm Beach Village Council in the Tuesday, March 10 election.
Several times in an interview with the Town-Crier, Lange stressed that he is most interested in hearing ideas from more varied viewpoints on issues facing the village than his opponents or the current village hierarchy are.
A former six-year member of the Royal Palm Beach Planning & Zoning Commission, Lange said he has no ax to grind against either opponent. He insisted that he's in it to win, not to be a spoiler.
"Honestly, if I didn't think I had a chance to win, I wouldn't [be running]," he said. "I think I have a good chance. I think I have a good base. I think my name recognition is fine."
Lange said he chose to run because he was tired of the same faces in the same positions. "The Village of Royal Palm Beach deserves more than a rematch," he said.
The 50-year-old Lange is a native of Palm Beach County who grew up in the Lake Park/Riviera Beach area and graduated from Suncoast High School. He has lived with his wife and three sons in Royal Palm Beach for 14 years and is employed with the Palm Beach County Capital Projects Department as a project supervisor.
Lange participated in youth athletic programs as a youngster and has strived to repay the opportunity, he said, by coaching various sports teams for more than a decade. He is also assistant scoutmaster of Boy Scout Troop 111 based in the village.
Lange started in the hardware business after high school, working his way up the corporate ladder. He left that line of work after his employer was bought out. After attending the Savannah (Ga.) College of Art and Design for several years, he started working with architectural firms. "I got to work on country clubs and schools, and hundred-million-dollar towers and high-rises," he said.
Lange said his current job has been a great primer for local government.
"I deal with developers and multiple municipalities throughout the county," he said. "I get to interact with a lot of those professionals at different levels."
Lange is also very proud of his volunteer work with children. "There's nothing better than to be involved with a program over a long time and to have children that you knew at age 5 still calling you 'coach' at 15," he said. "I'm very proud of that kind of involvement with the community — the direct involvement."
He emphasized that in his professional experience, even some of the smaller voices in a room can be the source of excellent new ideas, whether they're junior workers or supervisors in the field.
"I want to enhance the legacy of Royal Palm Beach and to build off those different viewpoints. I want to be the one to encourage our residents to get more involved," he said.
Getting more outside viewpoints is also a key part of his goals for the future.
"I want to successfully bring developers and residents into a partnership with the village staff," Lange said. "If you have that partnership and you have residents ready to invest their time and their future to keep our neighborhood and hometown feel, that would be a big accomplishment."
He said the top three issues of the campaign include the State Road 7 extension, which may require pushing from local governments since financing has been delayed. Lange also cited "future development of some of our empty spaces, such as the spot across the street from the high school, Cypress Key and the senior center."
He wants the village to be more creative when it comes to dealing with traffic.
"We need to make sure that we're looking at lane changes, plus lights, plus visual lanes. For example, putting in a bike lane, you're able to reduce [the size of] the lanes, and people tend to drive slower if they think the lanes are narrower," he said. "I think it's not just one approach, it has to be a comprehensive approach."
Lange said that Village Manager Ray Liggins is generally doing a good job but faulted him for the lack of advance information being disseminated to residents before proposals reach the council.
"It's not that I want to increase work for the staff, but I think we can, as a council, working with Mr. Liggins, make sure that we don't have an issue like we did at Crestwood [the former wastewater treatment plant site], where they spent money and staff time with an idea that the residents were absolutely against," he said.
Lange does not believe that rising costs for maintaining Commons Park will put a hole in the village budget.
"I'm not convinced there needs to be budget shortfalls," he said. "I think when it comes to Commons Park and our other parks that we do a very good job on, we're kind of a victim of our own success. The more we use it, the more maintenance, the more ideas we have to come up with, but what we're also seeing is an increase in revenue. Real estate values are up 9 percent, and if we keep getting back to where that rises, you're going to see… more revenue come into the village."
He suggested that the village should seek more support from local stakeholders. "Who can we bring in as a partner to the community? Can we get sponsorships, bigger sponsorships, with our sports?" Lange asked. "Can we bring the county in more?"
About traffic jams at major events at Commons Park, Lange said the village should reconsider small-scale mass transit by utilizing unused village parking areas and perhaps a rented trolley to expedite travel. He also noted that a pedestrian entrance at the north end will help because it offers an option for nearby residents to avoid driving.
Regarding Lennar's new residential community at the former wastewater treatment plant site, Lange said he wants it to be compatible with the area and to provide some green space.
"I think definitely we have to keep the same atmosphere of Madison Green and Saratoga Pines," he said. "That seems to be what the residents and my neighbors would like to see… Then I would also like to make sure that we do have public access through the waterway in that area."
Lange praised the village's accommodation of a new Aldi distribution facility on SR 7 and said that any future large industrial or commercial development must be kept to commercial corridors.
"That way we don't lose that hometown, neighborhood feel. You want to just make sure that you're keeping those commercial developments in a commercial area. As long as they keep to their traffic operations to early-morning hours, I think it's going to be a big success for Royal Palm," he said.
Lange stressed that with more development in the region, Royal Palm Beach needs to be more engaged in the planning process. "You want to make sure that we're part of that discussion," he said. "The commitments have to be there to have that partnership with the county and the surrounding communities."
Lange said he's happy with progress at Royal Palm Beach High School and that the village should engage with Principal Jesus Armas, "to see what he needs." He is for being cautious regarding the proposal to possibly build a charter high school directly across the street. "You want to make sure that any program that's being brought in, whether it be charter or public, you don't want one hurting the other," he said. "I don't see that the advantages outweigh the disadvantages of selling that right now."
He brushed aside criticism by his opponents of his zoning board service, particularly that he went beyond his role as an adviser and was sometimes abrasive.
"I think if you go back and you look at what specific instances they might cite, you're going to see that I try to do my homework as best as possible," Lange said. "If [petitioners] don't bring in the information that they're supposed to, or staff, if they're not going to bring in the information or be consistent in the information they provide, then I'm going to ask questions."
Lange said he will bring a new point of view to the council. "I think I offer a different approach; an engaging approach," he said. "I want to hear all sides, and I want to represent everyone. I don't want anybody left out."
That is what differentiates him from Swift and Webster, he said.
"It's not that I dislike either one of them personally, but I think I would do a better job at bringing people together. I think I would do a better job of moving people forward," Lange said. "People constantly talk about how they want more people involved in their community. They want options; they want new blood. I think they should vote for me because I do offer that."
ABOVE: Darrell Lange