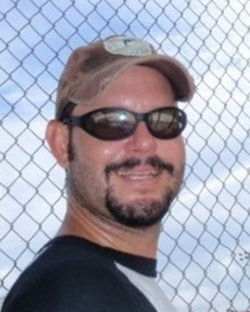 On Nov. 30, longtime Royal Palm Beach resident Dave Spall, 36, boarded a cruise ship in Miami with his aunt, his uncle and his fiancé. Destination: the Caribbean. He never arrived.
Instead, he lies in a hospital bed at Jackson Memorial Hospital with family members and friends maintaining a vigil at his bedside and wondering how this could have happened.
According to his mother, Karen, it happened due to a series of unfortunate mistakes.
"They were just a few hours out of port when they decided to visit the buffet," she said. "Dave took a piece of meat and put it on his plate and remarked to his aunt, 'This looks really good.' He started toward his seat, and she went back to help her husband. About four minutes later, she returned to their table and found a lot of activity. Evidently, Dave had put down his tray, gone limp and fallen backward."
Unsure what was happening, the aunt asked if he was choking but was told that Spall was not — he was having a heart attack. Cruise ship staff told her they had it under control, but no one checked Spall's airway where, indeed, a piece of meat was lodged.
"We're not sure if he put a piece of meat in his mouth as he was walking back or not," Spall's mother said. "But who assumes a 36-year-old man is having a heart attack? 'Check the mouth' — everyone who has ever taken CPR knows that."
Spall wasn't breathing, yet valuable time was lost searching for a wheelchair and getting him to the onboard infirmary. By the time the meat was discovered, he had already lost vital oxygen to his brain. The damage was further compounded as minutes ticked by due to miscommunication regarding getting him airlifted off the ship to a hospital.
Spall suffered severe brain damage but is finally breathing on his own. His parents were awarded legal guardianship of their adult son last week, and the push is on to bring Spall home to Palm Beach County, where he can get the help he needs at a long-term care facility.
Spall grew up in Royal Palm Beach, was a sponsor of a Royal Palm Beach Youth Athletic Association team and had purchased a home in The Acreage. Usually, he was the first one to help anyone in need, Karen said. Now, the community he loves has rallied around him.
A successful yard sale got things off to a good start. Furniture, home décor, water skis, designer fabrics, lighting fixtures, clothing and more were donated and sold last weekend, earning more than $2,000. More events are being planned.
"I used to tell him, 'Dave, you do too much,' and he said, 'Mom, I take after you.' I just spent 30 hours with him the other day," Karen said. "His eyes are open, but he is unconscious. Nonetheless, he was able to raise his left hand. He definitely hears you — there's no doubt about that. He is responding. I take his head and say, 'Focus. Focus,' and you can see him coming down and trying to focus and relax, but you have no control. That's why we're trying so hard to get him out of there and into therapy. It's a long, slow process, but we're family. We'll be there."
On Wednesday, Feb. 11, Dave Spall turned 37. He celebrated in the Miami hospital, his 11th week there.
"We'd like to bring him closer to us," Karen said. "But, as it is, we don't leave him by himself. One of us is there 24 hours a day."
To help, look for announcements of upcoming fundraisers, such as a planned softball tournament, or donate directly to the David Spall Donation Fund, set up at Wells Fargo Bank.
ABOVE Dave Spall
See photos from the yard sale here.