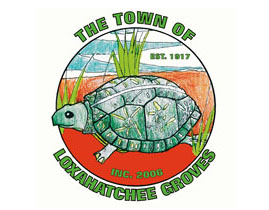 An unusual number of unauthorized temporary dwelling units have popped up in Loxahatchee Groves, believed to be outflow from equestrian activities in Wellington, and the Loxahatchee Groves Town Council authorized its manager Tuesday to do a survey and report back.
The council also authorized code enforcement to take immediate action on two properties believed to be in violation of dwelling unit codes.
"This is relative to RVs [recreational vehicles] and trailers in the [agricultural residential] zoning district," Town Manager Bill Underwood said. "I tried to identify the problem, and in these last few months, the town has experienced a significant influx of unauthorized living units."
Underwood said the town's Uniform Land Development Code does not appear to address the issue specifically, but added that he thought it could be a health issue and pose an undue burden on residents who pay for solid waste removal.
"Part of the issue, then, is that these places are living abodes, and the town residents are paying for the solid waste removal, not only for themselves, but for places that are not paying," he said.
Underwood suggested that code enforcement do a targeted sweep throughout the town to identify those areas and report back to the council. "I don't know the extent of the problem, but it is a problem," he said. "We have several code cases filed against people who have multiple trailers and may be running an RV campground. I can tell you, code enforcement is a very slow process. If you find somebody out of compliance, by the time it can be resolved and mitigated, then it's gone."
Underwood said the problem could be strictly seasonal or year-round. "We don't know," he said. "But we do know that we have seen a significant influx since October. Additional living units are not supporting themselves, at least relative to the solid waste removal."
Vice Mayor Ron Jarriel said he did not agree with doing a sweep of the town but believed that some form of action was needed.
"I do feel like we need to do something about this," he said. "We've got one that has been filed… because our utility director had to go out because of a situation."
Jarriel specifically referenced a location on C Road.
"He had 35 trailers there — I think two were motor homes and the rest were RVs — all putting their garbage and stuff out, and here we are, the taxpayers of Loxahatchee Groves, paying for it," Jarriel said.
Jarriel said the property is believed to have water and electric hookups for the units.
"This, to me, is no different than the horse shavings and horse manure," he said. "I'm tired of people dumping their stuff in Loxahatchee Groves and making their money in Wellington."
Jarriel said they are in Loxahatchee Groves because Wellington, Royal Palm Beach and Palm Beach County don't allow it.
"These people are not paying tourism tax," Jarriel said. "We can look at it any way we want to. You may have a health problem. You may have a fire hazard when you have all those units drawing off an electrical supply. No permits were pulled; he just figured that he could come into Loxahatchee Groves and do whatever he wanted."
Jarriel said he would like to direct the town manager to take care of the problem, whether it's through code enforcement or county departments.
"The county would not allow this," he said. "Why would we allow it? We need to direct staff to handle the problems as they come up, but not do a sweep through the town looking for stuff."
Councilman Jim Rockett said he would favor a sweep targeted at unusual numbers of RVs and a report, but would prefer that the C Road property be dealt with immediately, pointing out that the town manager has already limited the amount of garbage collection there.
Councilman Ryan Liang said his biggest concern was overloading septic tanks that could contaminate well fields. "I was told that at one site there was actually waste coming out of the ground less than 200 feet away from a well," he said.
Mayor Dave Browning said he never envisioned that many trailers in town. "They need permits to hook up and inspections," he said. "We need to get to the bottom of it."
Underwood said he would instruct code enforcement to ride the roads and report back regarding code cases.
Town Attorney Michael Cirullo said the owner could be found to be operating an unpermitted boarding house.
"If it is a seasonal RV park, they need to be licensed," he said.
Underwood pointed out that unless there is a written code complaint, nothing will happen, and Browning said neighbors seem to be hesitant for fear of retaliation.
Jarriel said he would sign the complaint, adding that it was nothing against the horse industry, which he strongly supports.
"The professional equestrians are one of the best things that have happened to Loxahatchee Groves," he said, pointing out that horse people have helped by buying foreclosed homes and reviving them and living by best management practices.
He added that he was aware that by signing the complaint, he would have to recuse himself from voting on related matters, but was confident that other council members would support any further action.