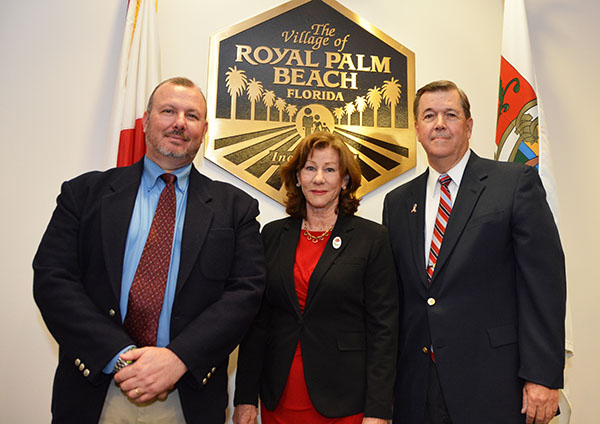 The three candidates seeking Seat 2 on the Royal Palm Beach Village Council squared off Tuesday in a televised candidates forum hosted by the Town-Crier.
Incumbent Vice Mayor Dave Swift, former Councilwoman Martha Webster and former Royal Palm Beach Planning & Zoning Commission Member Darrell Lange made their pitches to voters in advance of the Tuesday, March 10 municipal election.
Lange, 50, a native of Palm Beach County, has lived in the village for almost 14 years with his wife and three sons. He currently works for the Palm Beach County Capital Projects Department, supervising project managers.
"My community service has been working directly with various organizations, staff, volunteers, parents and kids in our community," he said. "I learned during my six years on Planning & Zoning that public engagement is critical. With all the social media and technology available, residents should be able to voice their concerns and easily make comments and express their ideas. Yes, transparency is needed, but engagement allows the residents to become more involved in the community and more confident to express new ideas."
While on the commission, Lange said he learned the importance of good planning and enhancing the quality of the village. "I always put in a lot of time and effort to research issues before making up my mind," he said. "Once I've done my homework, including listening to others, I form my opinion and communicate it with passion and commitment."
Lange noted that he participated in youth athletic programs growing up and has given back by coaching teams of various ages for most of the past 10 years, including as a division coordinator. He is also an assistant scoutmaster. Lange said he would offer residents a new option for fresh views in the years to come.
Swift, 70, is a 37-year village resident, married with children and grandchildren. He has served almost continuously on the council for more than two decades. Now retired, he worked for the South Florida Water Management District as an environmental scientist for 34 years.
"I was involved with the early development of the village starting
back in 1984 as the past chair of our Planning & Zoning Commission, and as your councilman and vice mayor for the past 20 years," he said. "It has been an honor to serve you as your elected representative. I've had the good fortune to work with a village council that works together as a team to get thing done."
Swift pointed out that the village has had no increase in its tax rate for 19 years. "In these economic times, that's phenomenal," he said. "Our current millage rate is 1.92 mills. That is one of the lowest in Palm Beach County."
In those years, the village merged its former municipal police and fire departments with county services, significantly improving public safety, and built or improved 22 public parks, he said. He was also on the council when the village sold its water utility to the county, and more recently sold the former wastewater treatment plant site to Lennar. "That has placed our village in an excellent financial condition," Swift said.
Swift noted that he has been endorsed by the Professional Firefighters & Paramedics of Palm Beach County, the Palm Beach County Police Benevolent Association, State Sen. Joseph Abruzzo (D-District 25), State Rep. Mark Pafford (D-District 86) and District 6 County Commissioner Melissa McKinlay.
Webster, 68, said she cares about the village and wants to be involved in decisions that shape its future.
"I've spent 50 years here in Palm Beach County involved in community and public service," she said. "As your councilwoman for five years, I was involved on the executive board of the Treasure Coast Regional Planning Council and the Florida League of Cities. I was also a member of the Western Communities Council and the Metropolitan Planning Organization."
Webster also served on the Royal Palm Beach High School Medical & Science Advisory Board and the Homeless Coalition of Palm Beach County. She has also participated in the veterans group Project 425 and is a founding member of the recently formed Western Business Alliance.
"I am very grateful to be able to say that I have been endorsed by my friend and former Commissioner Jess Santamaria, and I also have the honor of being endorsed by our mayor, Matty Mattioli," she said, noting that she was not invited to interview with the fire and police unions. "If I was invited for an interview, here is what I would have to say: I believe that our firefighters are the front line of public service for our community… I have always stood by the police and firefighters. These are dedicated men and women, and with or without their endorsement, I will continue to stand by them."
After opening statements, the candidates answered a series of questions posed first by Town-Crier staff members, and then questions submitted by the audience.
Asked about their top goals for the next two years, Lange said he would more actively engage residents and make the process more transparent to residents. "I would also like to continue our good fiscal policy to ensure that we're not using any resources for expanding our debt," he said.
Swift said his top goals are to develop a senior living complex and have it operational in two years, complete State Road 7 to Northlake Blvd., and make sure that several large projects that have been under discussion by the council benefit the village.
Webster said she is also for transparency in government, including full discussion of council agenda items, and would like to discuss with residents any improvements they would like to see, as well as complete things that have been discussed, including the senior living facility and plans for the new residential project at the old wastewater treatment plant site.
Asked about their thoughts on the village budget and what changes they would like to see, Swift reiterated that the village has maintained its low tax rate for nearly 20 years.
"We're taking a look at a number of capital projects that will enhance the village and new amenities," he said. "We have a dog park that will be completed very soon, and we have a number of other amenities that we're bringing on at Royal Palm Beach Commons Park that will benefit our residents. This year, for example, we brought on the green market, and we expect to expand those sorts of things."
He suggested that for more information, residents review the village's strategic plan, which enumerates projects in the capital plan.
Webster said that the village has many nice amenities and services but expressed concern about maintaining their financial sustainability.
"We are a fortunate municipality," she said. "We have some very good things in the works, but I still have a question. I would really like to have an evaluation of the programs that we have and the money we are spending. They are wonderful for our residents. They enjoy our parks, but what I'm really interested in is, are we really getting a bang for the buck? Parks are a resource that are entertaining and great for our residents, but do not bring in revenue, so we always have to look carefully at how and where we spend our money on the parks."
Webster said she supports the numerous capital improvement projects, including cleaning out the canals, but would like more resident participation for other projects.
"We are also looking at road improvements, but I think in the future we should be looking at some additional capital improvements," she said. "I would at least like a discussion on things like, do we want gas for some of our new projects so that they can have gas water and a gas stove?"
Lange said the village appears to be in good position mainly because of the sale of the water utility and the treatment plant property, and the use of the tax stabilization fund, which has helped control ad valorem taxes, but said he wants to see if the village's $4.1 million debt could be reduced with the village's revenue windfalls.
"I would also like to review residents' needs to make sure that we have an informed decision, not steer, but engage residents for input to make sure that we keep that hometown feel, including maintaining our park services, which I think is very important for the residents and the community, to make sure we increase, not decrease, services," he said.
A question regarding support for the Office of Inspector General led to a clash between the candidates.
Webster said she supports the county agency. "I think it's an office that we need here," she said. "I believe in open and honest government, and I support the inspector general. I also support… the funding mechanism that was voted on by more than 72 percent of the residents for that office."
She said oversight is difficult, and it needs to receive full financing.
"It takes a lot of staff to do that because where the fraud and abuse and where we're having problems is not that easy to see or find," Webster said. "We have had problems here within our community, but I believe having our inspector general right here is a benefit to make us sure that our government is doing for us what we want it to do, serving us honorably."
Lange said he supports the Office of Inspector General because in his personal experience supervising contractors, they provide oversight that makes his job easier.
"I have an ongoing good experience with the office since I do so many construction projects in the county," he said. "It's a good relationship. I believe that the inspector general identifies best practices within our community. They are basically a nice double-check."
Swift challenged Webster's position on the inspector general, saying that during her term in office, she was a board member of the League of Cities and urged the village and other municipalities to join in a lawsuit that was fighting the office's financing.
"Her position caused great concern to then-Commissioner Jess Santamaria," he said. "Now that Martha wants Mr. Santamaria's help to get her back in office, she has changed her tune. She recently wrote a letter to the Town-Crier on Feb. 6 which stated she now strongly supports the inspector general and will continue to… My question is, why at this late date has she changed her position?"
Webster said that Swift had stated false information about her position on the inspector general.
"I never came to this village and encouraged the lawsuit with the League of Cities," she said. "That is a totally false statement… I'll tell you what I did do, with the rest of the council, is that once that lawsuit was in place, there was a letter from [Assistant County Administrator] Brad Merriman, who asked the municipalities if they would go ahead and pay the fee."
She explained that Palm Beach County Clerk Sharon Bock had suspended payments while the suit was in process because they were not sure what the outcome would be.
"That letter asked, 'Can the municipalities continue to pay?'" she said. "How this council replied, and I voted to agree with them, was that we would make those payments on the contingency that if the lawsuit prevailed, we would get our money back, but I have always supported the inspector general."
Other questions for the candidates included issues at Royal Palm Beach High School, economic development initiatives, the future of Royal Palm Beach Commons Park and many more. A video of the two-hour forum is available for viewing on the village's web site here.
ABOVE: Candidates Darrell Lange, Martha Webster and David Swift at Tuesday's candidates forum sponsored by the Town-Crier.