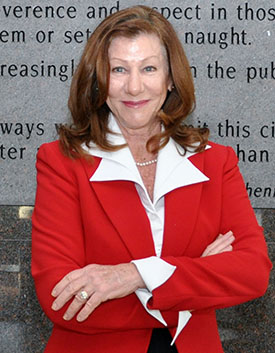 So far, next month's Royal Palm Beach municipal election is looking like a repeat of 2013.
Former Councilwoman Martha Webster announced plans this week to challenge Seat 2 incumbent Vice Mayor David Swift, seeking a return to the dais in the same seat Swift took from Webster two years ago.
In Royal Palm Beach, filing closes at noon on Tuesday, Feb. 10 for the election set for Tuesday, March 10. Aside from Seat 2, Seat 4, currently held by Councilman Fred Pinto, is also up for election.
Webster, who served as councilwoman from 2008 to 2013, including a stint as vice mayor in 2010, wants to see her name returned to the currently all-male council.
"I enjoyed working for the village and the residents of Royal Palm Beach," she told the Town-Crier on Wednesday. "I just feel that I've got a lot more to give to the village, and it's time to work to get back on the council. I have many, many years of community and public experience, and I just want to continue to serve."
It will be Webster's third Royal Palm Beach election in two years. After losing to Swift in 2013, she ran for mayor last year, coming in third in a four-way race won by incumbent Mayor Matty Mattioli.
Webster, who has lived in Palm Beach County for the past 49 years, and Royal Palm Beach for the last 19, has worked with a variety of boards, councils, associations and organizations, including the Homeless Coalition of Palm Beach County, the Palm Beach County Health Care District PATCH Board, Habitat for Humanity, the Central Palm Beach County Chamber of Commerce, Project 425 and the newly formed Western Business Alliance.
"I do feel that I have a lot of support within the community, who did like the way that I represented them, and so I'm going to make an effort to come back," she said.
Webster said her decision to return doesn't stem from a particular issue, but rather from her desire to be involved in the policy-making and decision-making of the community she loves.
While in office, she represented the village on the executive board of the Palm Beach County League of Cities, the Treasure Coast Regional Planning Council and the Palm Beach Metropolitan Planning Organization.
"I feel that my presence on those boards and my representation of the village was very important in seeing to it that the village had a voice when decisions that were going to affect the village were made," Webster said. "I was very proactive in making sure that Royal Palm Beach had a voice there. That is something that I would like to go back to, and I'd like to see us have again."
A supporter of the Office of the Inspector General and open government, Webster is striving for more transparency in Royal Palm Beach.
"A lot of business is done by the consent agenda, and I think that the public needs to hear more of what is going on," she said.
To learn more about Webster and her current campaign, find her on Facebook at "Martha Webster for RPB Council Seat 2."
The Town-Crier will host a televised Royal Palm Beach candidates forum prior to the March 10 election. The forum is scheduled for Tuesday, Feb. 17 at 7 p.m. in the council chambers.
ABOVE: Martha Webster