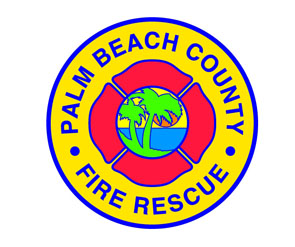 According to Palm Beach County Fire-Rescue Battalion Chief Michael Arena, more calls were answered last year in Royal Palm Beach than in the previous year, and response time was slightly slower, largely due to increased traffic.
Arena gave his annual report to the Royal Palm Beach Village Council on Thursday, Feb. 5.
There were 3,713 total calls in fiscal year 2014, about 100 more than the year before. Of those, 2,740 were medical, 367 were vehicle or boating accidents and 85 were fires.
The average response time ticked up slightly to 6:05 in 2014, compared to 6:01 in 2013.
"We're working on some remedies to hopefully improve that a little bit," Arena said. "One of the reasons for the slight uptick in response times has been traffic. Traffic has been one of those things we've been struggling with since I've been here."
Arena noted that traffic is particularly troublesome on Royal Palm Beach Blvd. and State Road 7 during certain times of the day. Meanwhile, there has been an uptick in calls from further-flung areas of the village. "We're also starting to get more calls on the south end of the village, over in Shoma and Victoria Groves," he said.
When those responses there are factored out, the responses times are good in the area served by Station 28, located near the village's municipal complex.
"The majority of responses are still in the core, typically 4-minute or 5-minute responses," Arena said, adding that response time includes call handling and turnout time, as well as drive time. "We're working on improving turnout time and shave seconds off everywhere we can."
Call handling is down to 37 seconds, and total response time for December was down to 5:49, during typically the busiest month. He also pointed out that Royal Palm Beach's response times are among the best in the county. The department's target time is 6 minutes.
Vice Mayor Dave Swift said he was concerned about the increase in traffic in the northwestern area of the village, especially with new developments planned in that area, and the longer distance to travel south of Southern Blvd. He asked whether a contract change might be necessary.
"I think that it would be unrealistic to be able to meet 6 minutes in some of those places all the time," Swift said.
Village Manager Ray Liggins said the fire-rescue contract would be up for review in September, and the council could consider any changes at that time.
Councilman Fred Pinto asked whether the traffic issues are due to drivers not responding to fire-rescue vehicles' lights and sirens.
Arena said there is more traffic on the road during the week, especially during rush hours.
"Royal Palm Beach Blvd. is a two-lane road," he said. "School lets out, you've got the elementary school, the middle school. You've seen the traffic. When we're averaging 3,000 calls, a few seconds' delay can uptick that a little bit."
Another thing that has changed since the village's fire department merged with the county in 1999 has been the build-out at Madison Green and Saratoga.
"Those calls, just the sheer travel, take longer, and those calls are averaged in," he said. "The core calls that you had in 1999, which are basically right here on Royal Palm Beach Blvd., that's where most of the calls are. Those response times really have not changed. In fact, we've improved on them because of the call handling time."
Pinto asked if another station is needed in addition to the current two in the village, and Arena said that all 49 PBCFR stations work together, and Station 25 in Wellington actually responds to many calls on the south end of Royal Palm Beach because it is closer.
"It's not uncommon for one of those stations in Wellington to be running a call here, and it's not uncommon for one of the stations in Royal Palm to be handling a call there," Arena said. "If you look north, we also have the stations in The Acreage. We've also got the station on Okeechobee [Blvd.], and they run when needed. We also have the station on Benoist Farms [Road]. Your coverage is almost like a web. When one goes out, another one comes in. They're all running together."
Councilman Jeff Hmara asked about the progress of a county control center that regulates traffic lights during emergency runs, and Arena said PBCFR has done some pilot tests in the south county and north county areas.
"We're going to try to bring that out here very soon, and hopefully that is going to help a little bit," Arena said. "The technology we're working on actually predicts the travel time of the truck to that intersection, and it will turn the light green for us as we go through that intersection. If we could shave a few seconds, it would make a noticeable difference."
Continuing with his report, Arena said auto accidents are typically the most serious calls answered by PBCFR due to the associated trauma. Staffing levels have not changed, but the station got a new district chief vehicle last year, with some other vehicles scheduled for replacement soon under the capital replacement plan. "We typically replace our fire engines in the 10- to 12-year mark and our rescue trucks in the 7- to 10-year mark, or sooner if they need it," he said. "They're all pretty much within that realm right now."
Meanwhile, fire-rescue officials spend time working special activities, such as hosting scout troops and conducting demonstrations.
"We probably have something going on every weekend," Arena said. "There's always something going on there at the fire station."
PBCFR personnel also go out regularly to schools and other organizations to conduct various safety programs, including car seat demonstrations. Staffers train regularly at the PBCFR facility on Pike Road, and there were also 1,243 fire inspections conducted in the village over the past year.