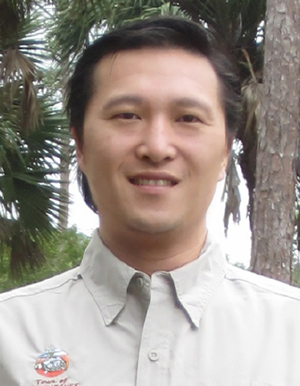 Two-term incumbent Ryan Liang is being challenged for Seat 3 on the Loxahatchee Groves Town Council by community activist Keith Harris, chairman of the town's Roadways, Equestrian Trails & Greenway Advisory Committee.
The race is one of two council contests on the Tuesday, March 10 ballot, which also includes several ballot questions.
"I'm seeking my third term, and I'm basically just looking to continue what I've started," Liang told the Town-Crier. "The town is still in its infancy, and there's still a lot of issues we still have to fix. I'd like to stick around and help resolve those problems."
Liang's family has lived on a farm in Loxahatchee Groves for 18 years where they grow fruit trees. He also works as a chef at a restaurant in Palm Beach Gardens. "My other full-time job is working with the town," he said.
Liang feels that he is the better candidate because of his experience with town government.
"I would challenge anyone to seek out more knowledge in regard to current issues and future issues that the town is facing, and I think that's important, especially for such a young town," he said.
He also pointed out that he is a "team player," ready to work with others to support the town.
"I try to work with everybody, not only people who support me, but also my opponents or people who don't feel that they might have a voice," Liang said. "I always try to keep an open mind in regard to any issue that comes before the council. That's what we need, as opposed to closed-mindedness and divisiveness."
For Liang, a top issue in the campaign is the continued effort in cooperation with the Palm Beach County Sheriff's Office to stop illegal manure hauling into Loxahatchee Groves. "We recently arrested several haulers," he said. "That's an ongoing process. I think it will be an ongoing process throughout the years until we control the illegal dumping."
Another issue is the current investigation into illegal trailer and RV parks.
"We need to get a better handle on that," Liang said. "It seems like they're cropping up all over town. My main concern is the sanitation and garbage. I think it's unfair to the rest of the community to support an illegal business not paying their fair share and not having the proper sanitation on their properties."
Another issue is the potential widening of Okeechobee Blvd.
"I know that's probably not going to happen in the next five years, but we need to be proactive and we need to have a good dialogue with the county," he said.
While Liang would prefer a two-lane roadway, he understands that a four-lane Okeechobee Blvd. is probably inevitable, but he wants the design to be compatible with the needs of the town.
"I believe that we shouldn't waste our efforts trying to fight the proposed plan for Okeechobee, but I do feel that we need to work with the county and the surrounding neighbors to try and get a rural parkway with a median, trees, nice landscaping, some trails along Okeechobee and good equestrian crossings at certain points," he said.
Liang thinks that the town and the Loxahatchee Groves Water Control District have been working well together.
"As two entities, we need to work together to provide the services [residents] need, and that relationship is changing, as far as road ownership and whatnot, but we are still intertwined quite a bit, and we rely on each other to provide these services. At this moment, working together is the proper relationship," he said.
While his opponent has asserted that the water control district is taking advantage of the town financially, Liang said that the town's finances have strict oversight, including legal and financial staff, as well as the Finance Advisory & Audit Committee.
"Every single dollar that is sent over to the district is invoiced and is shown where it goes to," Liang said. "I don't think we're overpaying. Actually, I think we're saving because a lot of the contract work that we do with the district is competitively bid, and the district wins them just because their bid happens to be the best. If an outside contractor can provide a better rate, we're more than happy to work with another contractor."
Asked whether there are any services not provided by the town that should be, Liang said residents aren't as interested in services as much as keeping taxes low.
"In the future, if there is a need for additional services, I'm more than happy to include them, but at this moment, I feel the residents are more concerned about their taxes," he said.
Asked if the town needs more commercial development, he noted that there are three commercial developments underway currently, two at Southern Blvd. and B Road and another at Okeechobee Blvd. and Folsom Road, and that he would want to see those completed before considering more.
"The town needs to see how those sites progress, and if there is an additional need after that, we can definitely address that," he said. "At this moment, I think that's plenty of commercial within the town."
Liang feels that the town manager is doing a good job, especially since Underwood Management Services CEO Bill Underwood took over as day-to-day manager.
"I think he brings a lot of experience to the town," he said. "He's been in town government for, I believe, over 30 years. I believe that's a great asset for the town."
The town is now finalizing the purchase of the Central Palm Beach County Chamber of Commerce building, which Liang thinks will give the town a better face. "It will make the town look more professional," he said. "I think it's in a better location, being adjacent to, actually a part of the park. It gives us that rural feel. When you come to the chamber office, or the future town office, you're going to see it surrounded by trees. It has room for staff meetings and room for the town to grow in. That's a great thing for the town."
Liang believes that the town is doing a good job with its budget. "The town's budget is very tight," he said. "The staff is doing great, and the FAAC committee is awesome. It proves by our millage rate. We have the lowest millage in the county."
His vision for the future of the town is to try to control encroaching development so that it has a minimal impact.
"We are on a tightrope trying to balance development surrounding us and keeping the rural character of the town," Liang said. "That's always going to be a difficult for whoever's on the council, but with the right people on the council, we can manage that tightrope."
Liang tends to be the least vocal of the sitting council members but said he works with other members on town projects.
"I'm probably not the most publicly open as far as trying to take credit for things happening in the town, but I try to work with everybody to move things forward," he said, pointing out that during the passage of a local bill to turn over ownership of district roads to the town, he was active with state legislators and county staff to get them enacted. "I'm not seeking recognition for that. I'm just trying to do the best I can for the town."
He is also very proud of being on the council that brought Palm Beach State College's new campus to the town.
While his opponent has been critical of the slow progress by the town and the district on horse trails, Liang said the town and district have been working diligently to get legal use of the district's canal easements to use for horse trails.
"I think that just shows the lack of knowledge [of] my opponent," he said. "Government moves slow, and in order to do things right, we have to be diligent to make sure that everything is done right. If we make a mistake, we could lose everything."
Liang was critical of Harris for being divisive and attacking people. "He has used the media and the committees that he has been on and also public comment during council meetings," Liang said. "He likes to attack people. I don't think that's a quality that one should have on the council."
Liang's detractors have tried to tie the Liang family to the Minto West project, but he has produced documents refuting those accusations.
"It seems that the same people who have issue with that have traditionally been my opponents," he said, pointing out that complaints filed with the Palm Beach County Commission on Ethics have been dismissed. "They try to portray me as a boogeyman, and it's not the case. However, it's always conveniently when I'm running for re-election. They're trying to confuse the voters, but I believe the voters are a lot smarter than my opponents give them credit for."
Liang described himself as a good listener who is patient and impartial.
"I think listening is a great asset to have as a council person or anybody in public service," he said. "I love fishing, so that speaks to my patience. I also teach swimming and am a water polo coach. I try to hear all sides. I really do pride myself as being impartial."
ABOVE: Ryan Liang