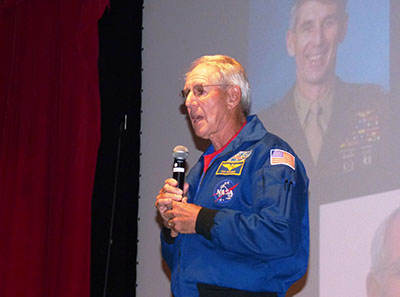 The Kennedy Space Center Visitor Complex became a hands-on science lab for about 150 top math, science and engineering students from Palm Beach Central High School who took a customized tour last Friday, which included meeting NASA astronaut Bob Springer and participating in simulations and an engineering challenge.
Springer, a combat pilot who flew two shuttle missions after his selection to the astronaut program, called space flight "the world's greatest teamwork exercise."
"That shuttle is fitted on top of 5,000 pounds of explosives. When I experienced my first flight, once we got into space, I took my helmet off and floated over to the window, and that's when it hit me how incredible it was… 8.5 seconds earlier I had been sitting on the launch pad," he recalled.
The field trip was designed to engage students taking the most challenging STEM classes and perhaps spark their desires for a future in the space program.
"Even though the space shuttle program has ended, we're still selecting astronauts for future programs," Springer said. "In the future, we hope to put humans on Mars in the next decade or two, and some of you could be involved — you who would dare mighty things."
The trip for top students in Wellington's public high schools is underwritten by the Jacobs family of Wellington, whose company, Delaware North, operates the Kennedy Space Center Visitor Complex for NASA.
On Friday, Feb. 13, students from Wellington High School will take the trip. This marks the third year that the Jacobs family has sent top students from Wellington to experience the Kennedy Space Center Visitor Complex, bringing the total to nearly 1,000.
"Meeting the astronaut made it more personal," Palm Beach Central senior Haley Stark said. "You can see all the documentaries you want, but this made it real."
Not only did they learn about the space program's future, but also about its past through a tour of the Astronaut Hall of Fame and a visit to the Space Shuttle Atlantis.
"Seeing the real shuttle, that was amazing," junior Chantal Lacouture said.
Jonathan Cheatham, a senior who was repeating the trip this year, was so inspired by the experience that he applied and was accepted into Embry-Riddle Aeronautical University.
"I was fascinated with what goes into every part of the space program," Cheatham said. "It's actually interesting how they find different ways of solving problems. This trip teaches you about the space program and technology advancement."
The Kennedy Space Center is one of the few destinations in the world where the adventure of visiting is also an immersive education experience. The field trip, designed with input from the Wellington educators, is one of several programs offered at the Kennedy Space Center Visitor Complex. Others include Overnight Adventures and Camp Kennedy Space.
"Mr. and Mrs. Jacobs' generosity to these students will expose them to an incredible opportunity to learn more about space. A trip to the Kennedy Space Center Visitor Complex brings science, technology, engineering and mathematics to life for students by touring Kennedy Space Center, hearing from space experts, experiencing real flown spacecraft and engaging in interactive simulators and exhibits," said Therrin Protze, chief operating officer of Kennedy Space Center Visitor Complex. "This program shows the influence a visit to Kennedy Space Center can have on students preparing for their college majors and career choices."
ABOVE: NASA astronaut Bob Springer speaks to Palm Beach Central High School students during their visit last week.